PS Game Home - Racing & Flying Games:
PS Racing & Flying Game Index
Driver 2
by Infogrames Entertainment

Platform: PlayStation
ESRB Rating: Teen
ASIN: B00004ZCP0

• Play as undercover cop Tanner
• Infiltrate crime rings by using your driving skills and cunning
• 4 new, realistic cities--Las Vegas, Havana, Rio de Janeiro, and Chicago
• Features curved road systems, proper sliproad/exit-ramp system, and greater variety of vehicles
• Split-screen multiplayer modes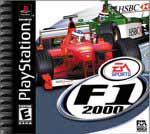 F1 2000
by EA Sports

Platform: PlayStation
ESRB Rating: Everyone
ASIN: B000038AB9

Formula One racing may pale in comparison to the U.S. popularity of NASCAR, but that doesn't mean that a good F1 game isn't worth your attention. Rather than create a game for the casual racing masses, EA Sports stayed loyal to the hardcore F1 fans with F1 2000, providing more of a simulation than an arcade-style speed burner.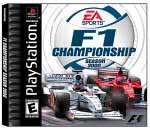 F1 Championship Season 2000
by EA Sports

Platform: PlayStation
ESRB Rating: Everyone
ASIN: B00004W4QM

Only eight months since its F1 2000, EA Sports returns once again with its latest Formula 1 racing game, F1 Championship Season 2000. While this iteration uses the Visual Systems F1 2000 engine as its base, a multitude of refinements and additions helps elevate F1 Championship Season 2000 above mere sequel. The game includes all the real drivers, teams, and tracks of the 2000 FIA Formula One World Championship season as well as the usual smattering of time trial, GP weekend, championship, versus, and practice modes common to F1 video games.



F1 World Grand Prix 1999
by Eidos Interactive

Platform: PlayStation
ESRB Rating: Everyone
ASIN: B00001ZUH3

Developed by Lankor, Official Formula 1 Racing brings players to the next level in racing simulation. Based on the 1998 season data using the official FIA License, players can choose to take part in an entire season, or jump in and race on any of the 16 circuits. All 11 teams and their cars have been represented in the highest detail. The advanced graphics and stunning lighting ensure the cars are visually stimulating. All 16 circuits from the 1998 season have been included and modeled to the most minute detail for ultimate realism. Supported by the Official FIA License, includes all 22 cars, 16 circuits and official data from the 1998 World Champion season. Features Multi-player support for up to eight players. Also features fantastic graphics and speed, 3D accelerator and Force Feedback support, accurate simulations and fun-to-play arcade modes, over 20 camera angles and ability to create your own new camera positions, informative helicopter fly-over to each circuit, 3 difficulty settings, and realistic and changeable weather conditions.



Gran Turismo
by Sony Computer Entertainment

Platform: PlayStation
ESRB Rating: Everyone
ASIN: B00000DMAU

Gran Turismo is the new definition of a great racing game. With wonderful graphics, TV-like replays, and an entire host of cars to chose from, this instant classic goes beyond a driving game into the realm of driving simulator. You can choose between the arcade version (featuring classic cars such as Corvettes and Aston Martins) or the simulation, which is the true heart of the game. The simulation starts you on an entire racing career beginning with a cheap used car and second-rate tracks. You will find yourself longing for the Dodge Viper as your sad $10,000 starting fund puts you behind the wheel of a used Honda Prelude or Mazda RX-7. As you win races, acquire money, and earn advanced licenses, you are able to buy better cars and race in more competitive matches right up to the GT World Cup.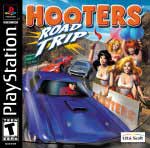 Hooter's Road Trip
by UBI Soft

Platform: PlayStation
ESRB Rating: Teen
ASIN: B000063CJZ

• Muscle your way to the checkered flag
• 16 cars
• Control the radio
• Take first place for a chance to hang out with Hooters girls
• Cruise from Florida to California

Buckle up for some good-ol', full-throttle action racing from Florida to California and compete for your chance to hang out with the Hooters girls. Choose from a garage full of smokin' rods. There are 16 cars from which to choose, including seven bonus cars to keep pace as the race heats up. You can also blast tunes from Hooters rockin' presets.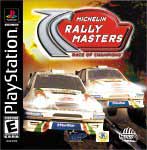 Michelin Rally Masters
by Infogrames Entertainment

Platform: PlayStation
ESRB Rating: Everyone
ASIN: B00002STP6

Rally Masters throws you into the Michelin Race of Champions by setting new standards in driving physics, graphical presentation, and depth of gameplay. The title features more than 17 licensed rally cars, including Subaru Imprezza WRC '98, Seat Ibiza Evo 2, Skoda Octavia WRC, Peugeot 306F2 Evo, Citroen Xsara Kit Car, Renault Megane Kit Car, Lancia HF Della Intergale, and Lancia Stratos. There are also 30 new, WRC, and legendary rally drivers; more than 40 tracks based on real-world locations; four unique championship game modes, including time attack competition where you battle your own best time; real-time damage; dynamic environment mapping on all cars during gameplay, with dirt accumulation, smoke, sparks, skid marks, and reflection; realistic weather and driving surfaces that affect driving conditions; and a custom championship editor with three divisions on all championships, five difficulty settings, and car and driver historical statistics.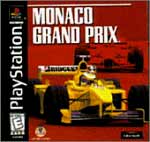 Monaco Grand Prix
by UBI Soft

Platform: PlayStation
ESRB Rating: Everyone
ASIN: B00000JX33

Innovative 4-point physics engine calculates and monitors all 4 tires independently creating the most precise simulation of Grand Prix style racing you will ever experience. 16 international courses. All tracks to scale with realistic dimensions scenery and environments. Cars modeled to Grand Prix specifications. Dial in track specific parameters for your suspension wing angles steering alignment brake balance & body height. Up to 22 racers competing on each track-Amateur Expert and Pro Modes-indestructible cars or real-life damage dents & shrapnel-With or without penalties-Weather effects & multiple road conditions.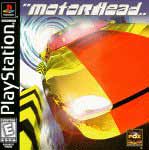 Motorhead
by Fox Interactive

Platform: PlayStation
ESRB Rating: Everyone
ASIN: B00001ZWXE

Separate the pros from the pawns in this futuristic, fluid racing rush. Race across futuristic landscapes. Test your skill on the eight legendary venues of the TransInternet Speed League. Race against your friends via the mulit-player options. Visually it looks stunning, featuring 60 frames per second.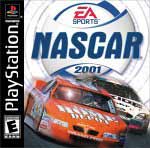 NASCAR 2001
by Electronic Arts

Platform: PlayStation
ESRB Rating: Everyone
ASIN: B00004W4QK

NASCAR 2001 sports a new game engine that has enhanced the graphics, car physics, and artificial intelligence over previous installments in the series. There are over 18 tracks to race on, including the famous Daytona, as well as fantasy road courses. Choose to race as one of 30 top drivers, including Dale Earnhardt, Jeff Gordon, Dale Earnhardt Jr., Tony Stewart, and Mark Martin. Computer-controlled opponents follow the tendencies of their real-world driver models. Players can create their own driver, and race through full or half seasons--or even multiple seasons in the game's career mode.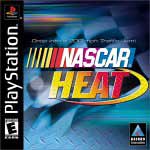 NASCAR Heat
by Hasbro Interactive

Platform: PlayStation
ESRB Rating: Everyone
ASIN: B00004SPYI

Don't just sit there and watch NASCAR on your TV--race against the most recognized wheelmen in the business with NASCAR Heat. Based on the 2000 season, you'll compete against 30 NASCAR drivers, including Richard Petty. NASCAR Heat offers both single-race and championship modes where you choose the driver and track, but certainly more interesting is the Race the Pro mode that matches your skills against the replicated laps of professional drivers. And with realistic scratches, sparks, skids, and collisions--as well as a variety of TV-style camera angles--built into the game, you'll wonder where the motor-oil commercials went.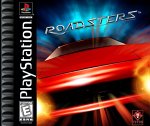 Roadsters
by TITUS SOFTWARE CORP

Platform: PlayStation
ESRB Rating: Everyone
ASIN: B0000206HB

Nothing compares to enjoying the open road in a luxury convertible. Crisp mountain air streaming through one's hair, window-free views of gorgeous natural vistas zipping by, fellow roadsters just inches away from your slick paint job as the metallic mass negotiates a hairpin curve at breakneck speeds. Yep, nothing like it at all. Far from the traditional racing game, Roadsters combines fast racing action with the ability to bet on races and trade cars. Wrangling cash out of fellow racers allows one to upgrade to progressively beefier vehicles and enter more demanding competitions.



Rollcage Stage 2
by Midway Home Entertainment, Inc.

Platform: PlayStation
ESRB Rating: Everyone
ASIN: B00004TTIC

First came Rollcage, a mildly innovative Wipeout-on-wheels whose hook was the ability to drive on walls and ceilings. The game had decent gameplay and an awesome soundtrack, but its short courses and frustrating grip physics diminished its lasting appeal. Now comes Rollcage Stage II, a sequel that purports to fix the previous game's flaws while offering a number of new features. Rollcage Stage II seeks to lure a thirsty racing audience with six main improvements: less frustration, lengthier tracks, more vehicles, more weapons, improved two-player support, and a ton of hidden secrets...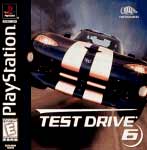 Test Drive 6
by GOODTIMES INTERACTIVE

Platform: PlayStation
ESRB Rating: Everyone
ASIN: B00001ZUGL

Forget driving overpriced cars up and down Car Lot Avenue all weekend long--stay at home and take the ultimate test drive. Strap into a car built for speed, open the throttle, and experience the engine's muscle as the gorgeous scenery blurs by in Test Drive 6, the latest version of the acclaimed car racing series. Buckled behind the wheel of the latest and greatest road machines, drivers push the limits on 11 new tracks set in such exotic locations as London, Paris, Maui, Rome, Ireland, Tahoe, and Egypt.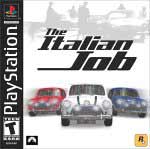 The Italian Job
by Rockstar Games

Platform: PlayStation
ESRB Rating: Teen
ASIN: B00006409W

In 1969, the film The Italian Job was released in the U.K. and almost immediately achieved cult status. This game, like the film, concerns Charlie Croker, who is out of jail and on the make again. He is attempting to steal $4 million in gold in broad daylight from under the noses of the Turin polizei and the Mafia. The title features a total of six playing modes in which gamers thrash three Austin Mini Coopers and 11 other vehicles around massive, freeform areas in London, Turin, and the Alps. Road, off-road, and rooftop driving are all included in The Italian Job, which delivers the ultimate mix of high-speed pursuit and thrilling chases.



Vanishing Point
Other products by Acclaim

Platform: PlayStation
ESRB Rating: Everyone
ASIN: B00004RBEO