PS Game Home - Racing & Flying Games:
NASCAR Heat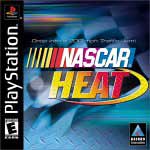 NASCAR Heat
by Hasbro Interactive

Platform: PlayStation
ESRB Rating: Everyone
ASIN: B00004SPYI

Check price @ amazon.com , amazon.ca , amazon.co.uk


Features:
• Includes cars, sponsors, and tracks from 2000 NASCAR season
• Compete in Single Races, Championship Season, or Race the Pro
• Normal and Expert levels of difficulty
• Realistic damage, dents, scratches, sparks, skids, and collisions
• TV- and game-style views

Amazon.com: NASCAR Heat has some good things going for it. For starters, it's packed with pro drivers and their cars, which are detailed with every decal that fans could ask for. It also features every track on the circuit, from the superspeedways to the short courses. Of course, any NASCAR game that didn't have these features would be a disappointment.

Surprisingly, the gameplay adds a few twists to the standard paradigm, including a draft meter, which can be used to determine the best time to pass other cars. The concept of drafting has been used in previous racing games; here, however, players actually can tell how much speed they're gaining from friends in front of them. Also helpful is a break meter that tells players what percentage of breaking power they're using, and the game gives advice on how much breaking should be done in specific turns.

The best part about NASCAR Heat is its collection of challenges, which are prefaced by video tutorials. About the only place in which this game fails is the graphics and sound department. The grainy cars and tracks, along with a lack of music during races, detract from the overall experience. Also, don't expect any mind-boggling crashes. --Robb Guido

Pros:
Long list of challenges
All of the cars, drivers, and courses

Cons:
Grainy graphics, and nonexistent music during races

Product Description: Don't just sit there and watch NASCAR on your TV--race against the most recognized wheelmen in the business with NASCAR Heat. Based on the 2000 season, you'll compete against 30 NASCAR drivers, including Richard Petty. NASCAR Heat offers both single-race and championship modes where you choose the driver and track, but certainly more interesting is the Race the Pro mode that matches your skills against the replicated laps of professional drivers. And with realistic scratches, sparks, skids, and collisions--as well as a variety of TV-style camera angles--built into the game, you'll wonder where the motor-oil commercials went.

Customer Reviews:
my review (please read), April 17, 2002
Reviewer: Billy from bangor, pa
well this is the best nascar gmae yet, on the playstation its the best nascar game yet, not only in graphics but in realism and gamepaly, with champoinship,race the pro, beat the heat, and single race its a fun multi player racing game! on the computer its the best racing game ever with excellent graphics, [great] realism and difficulty, if u set the realism setting to high, u give some one alittle bump and the spin around! its a great game, i have all the nascar games for playystaion and pc and this is the best 1 yet! its absoluitley worth every penny!

Fun...but there is always a downfall for racing games..., December 31, 2001
Reviewer: imander
I was somewhat disapointed...first off having problems using a racing wheel with this game..what else would you use a wheel for in a racing game? Geesh...the graphics are kind of disapointing as well,after seeing the intro graphics leading into the game you get excited...but when the games auctually starts...seems they could have easily of done better compared to the PC Nascar heat game...when driving the emcee repeats the same phrase just about everytime you hit the side of the track or go into the grass..."Watch the paint"...I was about ready to blow the 12th time he said it in a 2 minute period...

The Damage graphics barely work,with the feature turned on,you'd swear there off...and when you make turns ocasionally you'll go into an uncontrollable spin,I know I didn't make that sharp of a turn...and it's hard to get back on the track...

Well...if you're a nascar game collector,pick this one up,if you want extreme fun...look elsewhere...

This Game is the Absolute Worst, August 10, 2001
Reviewer: Darren from North Carolina
If you ever played the original Nascar Racing Game from Papyrus on your PC, don't waste your time with this piece of junk. If you've played games like N3 or N4, you'll probably have congestive heart failure at the sight of this game's HORRIBLE graphics, WORSE engine sounds, and total lack of ability to have a "cockpit", like 9/10 of the other racing games out there. If you're looking for a sim, keep looking, because you certainly haven't found it here. If 0 stars was a choice for it's rating, I would have given it that, because one was too many!

Get's your adrenalin pump'n, January 13, 2001
Reviewer: A gamer from LA
This is really a great game with som of the best carphysics and control you can find in a Playstation game. The AI is very challenging and really get's your adrenalin pump'n try'n to beat that AI on expert setting, enticing, that's what racing is all about and whats keep you comming back for more and I've no hesitation in giving NASCAR Heat 5 stars, that's how fun this game is.

Nascar Heat, January 7, 2001
Reviewer: David S. Knauff Sr from Brigantine, N.J. U.S.A.
My main disappointment was it would not work with my V3 steering wheel.How can you do simulation with buttons?I guess it's just an arcade game.

High-powered Nascar action, December 19, 2000
Reviewer: A gamer from Texas
High-powered Nascar action with some new features similar to Gran Turismo. You'll love the "Beat the Heat" mode!

This is not an "arcade style" racer, it's strait-up-intense-stock car action! The "Beat the Heat" mode will test your skills. It's a series of 38 challenges that were all designed by Nascar drivers like Bobby Labonte. This feature is similar to attaining your license in Gran Turismo. There is a "Race the Pro" mode where you race against a "ghost" of a Nascar driver. In the Classic Championship mode you pick a driver, or create one yourself, and race through the season. There are 30 different drivers to choose from. Good luck trying to unlock the hidden racers like Richard Petty. The drivers cars are identical down to each decal of their respected cars. It's a 2-player game as well, so have fun with a friend!

This game really rocks, December 15, 2000
Reviewer: A gamer from CA
Well i have played all of EA's NASCAR games, and i must say, they are truly good but they don't "Beat the Heat".

What i love about NASCAR Heat is the two inventive new gameplay options, Beat the Heat mode, which challenges you to beat a preset time or position during 36 individual mini-scenarios, and a Race the Pro option, in which you try to beat a ghost car lap established by a real-life NASCAR ace, are both marvelously entertaining additions to the standard racing fare. Each of these addictive scenario-based modes also feature some highly polished introduction sequences from Speedvision's Allen Bestwick and a number of top Winston Cup drivers.

I would I recommend NASCAR Heat to any fan of the sport, or motorgames.

Surprisingly good racing!, December 15, 2000
Reviewer: A gamer from Seattle
This surprisingly good racing game packs quite a bit of punch in terms of play modes and crazy fun.

Games based on the NASCAR license have always tended to be either hardcore simulations geared towards diehard fans of the sport or straight-up arcade-style racers aimed at racing fans in general. However, in Hasbro Interactive's NASCAR Heat, which seemingly came out of the blue, we finally get a game that has qualities that should appeal to both the simulation and casual fan almost equally.

GAMEPLAY In what should please diehard NASCAR and simulation fans, the game has been given an amazingly large feature set and the gameplay is fully customizable. The console version of the game isn't quite as deep as its PC cousin, but that's kind of expected and it's still pretty loaded. First, the game has four different difficulty levels that range from Rookie to Legend. Rookie is overly easy as it's near impossible to not finish in first on this setting, while Legend is on the complete opposite end of the spectrum as most gamers will find it bordering on impossible to beat. Simply running a clean and error-free race isn't enough to come out victorious here, as skilled-driving and effective use of drafting plays a key role in the outcome of the races.

Second, the game contains a nice set of play modes that include single race, a championship season and two original gameplay modes in the form of Beat the Heat and Race the Pro. The single race mode lets players take on the competition on any of the game's nearly 20 real-life NASCAR tracks with any one of the 25-plus real drivers that are included in the game. Races can also be customized to be of various different lengths lasting anywhere from four to over 400 laps depending on the venue and can be played with Wear on or off.

The seasons are equally as customizable, so gamers looking for a easy, fast-paced arcade fun can turn off the Wear, tune down the difficulty level and trim down the number of laps to get a quick and fearless ride. While simulation fans can turn on the Wear, up the Pack Size, and turn up the number of laps to get more of a realistic NASCAR Racing experience. The only things that might turn off simulation fans are the facts that there's not really a way to adjust the game's racing physics, which are generally much too forgiving and arcade-like, especially when compared to the NASCAR sims on the PC. Additionally, the level of customization that can be done with the cars in between races isn't quite as detailed as it could be when compared to other NASCAR sims. All the same, this is somewhat forgivable given that the game's AI on the Legend level requires players to take turns more realistically and depend on drafting much more than any other NASCAR-based console game.

The aspect of this game that really sets it apart from its competitors is its unique Beat the Heat mode. With this mode, players are given a variety of challenges that begin with some easy challenges that are slowly and gradually increased with difficulty. The challenges are very similar to the License Tests in Gran Turismo, in that it has players do things like a complete a single turn or set of turns under a certain time limit with Gold, Silver and Bronze awards. One of the most interesting things learned from this play mode is that while NASCAR tracks are seemingly bland and uneventful because of their oval designs, there is a lot of skill involved in how each of the corners are taken. And what's more, you'll learn that taking a corner well can make a huge difference in the time it takes to get around the track.

NASCAR Heat's other novel feature is its Race the Pros mode that lets players race against ghost cars of real-life racers on different tracks of the drivers' choice. There's nothing really amazing here, but it's a nice little added feature that helps extend the game's overall play value, as it's pretty cool to do these one-on-one against the pros.

Nascar Hurt, December 13, 2000
Reviewer: Steven G. Fowler from Durham, NC USA
Well, If you played the PC version of Nascar Heat, you have a good racing game. If you are playing the Playstation version, you have a poor conversion and a poor game. Graphics : 50% Even for a Playstation game, the graphics are ugly. GamePlay : 70% The standard Season Mode where you race a full Nascar season in hopes of becoming the champion is unbearable. With the horrible framerates, the ugly graphics and the goofy spotter, you should get an award for completing a season. Hasbro deserves credit for showing some initiative in other gameplay areas, most notably the "Beat the Heat" mode, where you must conquer some preset racing scenarios. This is good, and is one of the few good qualities to the game. The Race the Pro mode is interesting but not very exciting, where you race a "pro" around the track and try to beat them. This is supposed to help train you to find the best line around a track. However with the arcade physics it doesn't matter. Other notes: No Yellow Flags! Your car is super strong and sustains only minimal damage. Customization is weak and limited. The four diffuculty modes are almost identical. You have limited views for racing and Hasbro mistakenly left out a cockpit view.

Sound : 70% Music and Voices are okay. Overall, if there is anything to recommend, it would be the Beat the Heat mode. The rest of the game is forgettable and after playing for @ 20 hours, I put my copy up for sale. Maybe next time, or wait and see if the PS2 release is any better. If you must have a Nascar game for Playstation, try either Nascar 2000 or Nascar 2001, or for pure goofy fun, Nascar Rumble.

Wow! this game i awesome!, November 25, 2000
Reviewer: A gamer from NY
NASCAR Heat brings you the best drivers, the most famous tracks, tight racing and a never ending action!

The "beat the heat" and "race the pro" modes are total blast, and then you have the Single Race/Championshipmodes. The Graphics, Audio, Artificial Intelligents and Car Physics are great. This game is made with this year's Winston Cup leader, Bobby Labonte, as technical advisor.

Beat the Heat: This one of a kind Beat the Heat mode puts you into special scenarios; one has you in 16th place in Dover, with just 10 laps to go to get to first for the Gold, 3rd or Better for the Silver, and 6th or Better for the Bronze. There are 7 of these excitement built chapters that have 5 scenarios in each chapter to beat and possibly a little bonus after when your done.

Race the pro: Instead of racing ghost cars of your previous laps or your Hot Lap, you can race against some of your favorite Drivers Hot Lap. Some of the biggest names in stock car auto racing like Dale Earnhardt, Dale Earnhardt Jr., Bobby Labonte, Rusty Wallace, and many more are found in the Heat Challenge showing you around many of the NASCAR Winston Cup tracks at lightning quick speeds. This is a thriller for all to watch, and a good learning curve to find the line on all of the Winston Cup tracks.

This is is the best Nascargame ever made!