PS Game Home - Soccer Games:
PS Soccer Games Index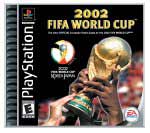 2002 FIFA World Cup
by Electronic Arts

Platform: PlayStation
ESRB Rating: Everyone
ASIN: B00006409N

The FIFA World Cupis the world?s largest, most-watched sports event. The passion, drama, and character of the tournament, coupled with the EXCLUSIVE 2002 Fifa World Cup license, are the basis of this unique collector's product. EA SPORTS 2002 FIFA World Cupcaptures every moment of glory, every emotion, every sound, and every aspect of a truly global event.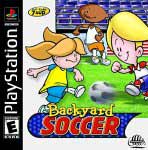 Backyard Soccer
by Infogrames Entertainment

Platform: PlayStation
ESRB Rating: Everyone
ASIN: B00005NZTM

Backyard Soccer offers exciting plays and action and access to junior versions of Major League Soccer stars such as John Harkes and Tiffeny Milbrett. You can also pick from your favorite Backyard kids. When looking for players to put the ball in the back of the net, young coaches can strategize for fun. With Backyard Soccer, kids are free to dribble, pass, or shoot the ball while learning what makes each player unique and how a little lack of coordination or the occasional daydreaming by a defender can affect gameplay.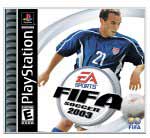 FIFA Soccer 2003
by Electronic Arts

Platform: PlayStation
ESRB Rating: Everyone
ASIN: B00006Z7I9

FIFA Soccer 2003 lets you play with all the best clubs, players, and national teams. The Club Championship highlights the top 18 club teams with intense detail, including team-specific stadiums and chants. You will have Total Ball Control. Use your feet and head to control the ball like never before. You will also be able to use free kicks and corner kicks to set up a shot or even score directly. Computer opponents will adopt tactics based on game situations.



Super Shot Soccer
by Tecmo

Platform: PlayStation
ESRB Rating: Everyone
ASIN: B000068UWT

Super Shot Soccer brings the excitement and action of this traditional sport's favorite right into your living room during soccer's most anticipated time. But this is no ordinary soccer game! Lead your team to victory and become the world's best soccer team using extraordinary, country-specific special moves and shots to defeat your opponent. Watch as the team from China drops the Great Wall in the middle of the filed to block opponents' moves. Or choose the French team and paralyze your opponents using the Eiffel Tower to shock the competition allowing your team toshoot and score! this is soccer like youve never seen before; totally outrageous and completely off the wall. It's wacky, crazy and fun.