PS Game Home - Classic & Arcade Games:
PS Classic & Retro Arcade Game Index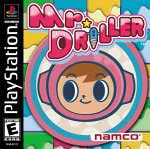 Mr. Driller
by Namco

Platform: PlayStation
ESRB Rating: Everyone
ASIN: B00004U8QU

In Mr. Driller, your objective is to drill through stacked colored blocks to the bottom of each level as quickly as you can. Like-colored blocks bond together and, depending on the path you burrow, will prevent other blocks from falling on your head. Find the air bubbles to keep you alive while you drill for a higher score. You'll also find tanks of air down there, but be careful going after them--you could end up squashed by the blocks above.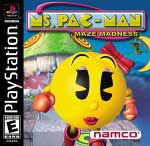 Ms. Pac-Man Maze Madness
by Namco

Platform: PlayStation
ESRB Rating: Everyone
ASIN: B00004U1TU

Ms. Pac-Man makes her return to the screen in Ms. Pac-Man Maze Madness. Explore 180 mazes throughout four worlds. While the environment has moved from 2-D to 3-D, the game controls have remained true to the original arcade game--only the directional pad is used. Pick up power pellets to chomp on ghosts and new enemies, such as centipedes, Neander-Pacs, and baby dragons. Up to four players can engage in a variety of games, which include Ghost Tag, in which three players are ghosts, and one player is Ms. Pac-Man; and Dot Mania, in which players compete to eat the most dots in a maze.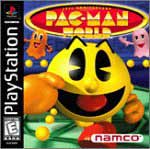 Pac-Man World
by Namco

Platform: PlayStation
ESRB Rating: Everyone
ASIN: B00000K1VK

Pac is back like you've never seen him before! Rescuing imprisoned friends is just the beginning of the challenges facing Pac-Man in this all 3D adventure. What dangers await our dot-chomping hero as he eats, bounces, swims, and jumps through factory, funhouse, space, pirate, mansion levels, and more? Pac-Man World features an all new 3D Pac-Man action platform adventure, plus an all new 3D maze mode and the original classic Pac-Man arcade game! But don't worry, we've also kept all of the great fun from your favorite classic Pac-Man games, including mazes, power pellets, chomping, ghost-chasing, and even the original Pac-Man arcade game!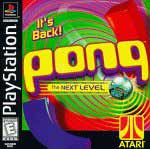 Pong
by Hasbro Interactive

Platform: PlayStation
ESRB Rating: Everyone
ASIN: B00001QHX0

A Legend is Reborn! First, there was Pong. Easy to play, addictive, and fun, this legendary title ignited the entire video game industry. Now Pong has returned to wow a new generation of gamers. Your objective is clear, as it was in the classic game that started it all - for high score, avoid missing the ball. With new paddles, power-ups, and playing fields, the challenges and rewards are never-ending. And with great 3D graphics and single or multiplayer capabilities, you can have fun honing your skills before you take on the world. Pong is back and it's simply awesome!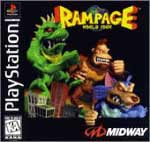 Rampage World Tour
by Midway Home Entertainment, Inc.

Platform: PlayStation
ESRB Rating: Teen
ASIN: B000021Y5R

Rampage World Tour is a fun remake of the old 1980s arcade classic. You are a mutated human who has grown to colossal size by an experiment gone wrong at the highly dubious Scumlabs International. In your newly formed mutated state, you play the part of one of three Godzilla-size monsters: Lizzy the Dinosaur, Ralph the Wolfman, or George the Gorilla. Your task is to eat as many civilians and to destroy as many cities as possible while on a rampage of revenge against Scumlabs.