PS Game Home - Football Games:
PS Football Game Index
Madden NFL 2003
by Electronic Arts

Platform: PlayStation
ESRB Rating: Everyone
ASIN: B0000690ZS

NFL football is back, and so is Madden! For the 12th year in a row, Madden NFL Football brings the realism of the pro gridiron right to your fingertips. With all the teams, players, and features that you've come to know and love, Madden puts you right on the field with the big hitters! Play a full season with your favorite team and take them to the Super Bowl, or try the franchise mode and build a dynasty. You can even create teams and players so you can start from scratch! With all-new realistic player animations, Madden Cards, a training mode, and the Two-Minute Drill, Madden truly has it all!



Madden NFL 2001
by EA Sports

Platform: PlayStation
ESRB Rating: Everyone
ASIN: B00004W4QG

John Madden is back and, again, he's brought the entire NFL with him into your PlayStation with Madden NFL 2001. The game includes the updated rosters you'd expect, but new this season is the addition of coaches on the sidelines to give you specialized advice. They also often "encourage" the players and shout "helpful advice" out to the referees. Finer details for this version include wristbands, visors, facemasks, and turf tape--specific to what each player favors in the real NFL. Collisions now factor the weight and height of players, making for more realistic hits. EA has even gone to the trouble of replicating some of the touchdown celebration dances and taunts of real players.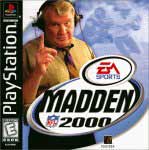 Madden NFL 2000
by Electronic Arts

Platform: PlayStation
ESRB Rating: Everyone
ASIN: B000031KJI

Madden NFL 2000 has the look, the feel and the excitement of NFL football. For PlayStation owners who love football, Madden NFL 2000 delivers all-new motion captured hits and unique moves that allow you to control the action on the field. New, dynamic commentary from John Madden gives you the play-by-play perspective from in the booth, and new on field audio lets you hear it from the crowd. Add in Madden's legendary, tournament-tested gameplay, and Madden NFL 2000 brings the NFL to life on your PlayStation.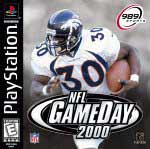 NFL GameDay 2000
by Sony Computer Entertainment

Platform: PlayStation
ESRB Rating: Everyone
ASIN: B00001ZT48

What type of football fan are you? The casual kind? Or the one who really gets into it, wearing face paint, leading the tailgate party, outfitted head-to-toe in NFL garb? For all its efforts at "simulation realism," Gameday 2000 is still a tattered mix of arcade style gameplay dressed up with pseudo-simulation options. Although the series has improved every year, it still caters to the casual football fan who couldn't care less about the subtle differences between double slants and low post patterns.