PS Game Home - Bike Games:
PS Bike Game Index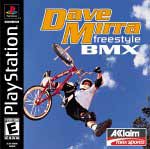 Dave Mirra Freestyle BMX
by Acclaim Entertainment, Inc.

Platform: PlayStation
ESRB Rating: Everyone
ASIN: B00004TJDL

• Motion-captured BMX moves by Dave Mirra and Ryan Nyquist
• 12 interactive environments focused on vert, dirt, and street riding
• Use modifier button to expand your repertoire to more than 1,300 moves
• Skeletal Dynamics System generates real-time crashes, different every time
• 10 different multiplayer games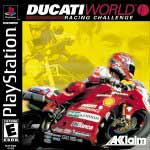 Ducati World
by Acclaim

Platform: PlayStation
ESRB Rating: Everyone
ASIN: B000053UW8

If you're a fan of motorcycle racing games, then you might want to book some private time with your trusty game console. Acclaim's motorcycle racer has plenty of good ideas going for it, but substandard follow-through and too-easy races keep it trapped in the middle of the pack.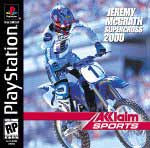 Jeremy McGrath Supercross 2000
by Acclaim

Platform: PlayStation
ESRB Rating: Everyone
ASIN: B00001ZWMK

Jeremy McGrath Supercross 2000 utilizes an all-new racing engine that features state-of-the-art graphics, physics, and motion. Players can race as or against Jeremy and other superstar riders: Kevin Windham, Sebastian Tortelli, Jimmy Button, John Dowd, Nathan Ramsey, Greg Albertyn, and Larry Ward. Supercross 2000 also features eight supercross stadium courses, eight licensed motocross tracks, a custom 3-D track editor, motion-captured riders, and authentic rider uniform and bike designs. In addition, there is an exclusive, over-the-top stunt competition featuring rookie Travis Pastrana, the winner of a recent X-Games freestyle competition.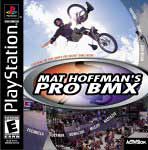 Mat Hoffman's Pro BMX
by Activision

Platform: PlayStation
ESRB Rating: Everyone
ASIN: B00004TEXX

• BMX extreme-sports game
• Utilizes Tony Hawk's Pro Skater game engine
• Play as Mat Hoffman, or one of 7 other BMX pros
• Hundreds of trick combinations
• For 1 or 2 players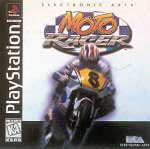 Moto Racer
by Electronic Arts

Platform: PlayStation
ESRB Rating: Everyone
ASIN: B000038ABB

When I was in high school, a friend of mine came into possession of a brand-new speed bike. We were all shocked when he sold the thing five months after having bought it. "Too fast," he claimed, describing some near-miss situations he'd experienced on the San Diego freeway. After playing Moto Racer, my friend's reasoning has become a bit clearer. Not that Electronic Arts' latest racing title is toofast. But the gut-turning velocities achieved during parts of the game - and the requirement that your reflexes one-up this pace - is definitely where the challenge lies in Moto Racer...



MTV Sports: TJ Lavin's Ultimate BMX
by THQ

Platform: PlayStation
ESRB Rating: Teen
ASIN: B00004WLQS

• Control 1 of 10 professional BMX riders
• Compete in 3 events: dirt, vert, and street
• Over 50 land and air tricks, including 720s, tailwhips, and crooked grinds
• Real sponsors, upgradeable equipment, and progressively difficult riding environments
• Go head-to-head in multiplayer modes



Super Cross Circuit
by Sony Computer Entertainment

Platform: PlayStation
ESRB Rating: Everyone
ASIN: B000034DC4

Fly through the Whoop-De-Doos and launch off the Triple! Experience incredibly realistic motocross and supercross action by virtue of "Dirt Bike Physics," a specifically-designed physics engine that will exhaust gamers who make it though a grueling, hard-fought race. Sixteen stadium supercross courses and twelve more motorcross tracks, display tell-tale signs of wear (tire ruts, puddles, etc.) with the help of "EnviroFX". FEATURES: Motocross Realism, 15 Professional Riders, Track Sculpt Feature, Real Professional Courses, New "EnviroFX", Motocross "Proving Grounds", "Dirt Bike Physics", Free Ride Arena, Real Racing Effects.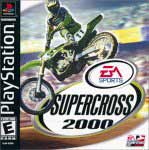 Supercross 2000
by Electronic Arts

Platform: PlayStation
ESRB Rating: Everyone
ASIN: B00002R28L

Remember the last time that you dragged a foot peg through a supertight turn, crested a steep hill at 12,000 RPMs, and then slid down the backside toward the finish line neck-and-neck with the race favorite? Can't recall? Then add that memory to your gray matter with Supercross 2000. EA Sports's exclusive license with PACE Motor Sports brings the immensely popular extreme sport of supercross racing to the Nintendo 64 with all of the muscle-jolting, dirt-flying fun of the real thing. Similar to motocross racing's cross-country, outdoor track competitions, supercross takes place inside stadiums on massive mounds of dirt. The action is exhausting, with slides, jumps, dips, and open-throttled runs to the finish.