PS Game Home - Fantasy Games:
PS Fantasy Game Index
Digimon World
by Bandai

Platform: PlayStation
ESRB Rating: Teen
ASIN: B00004S4YD

• Train monsters to "digivolve" into more powerful breeds
• Interact with hundreds of characters
• Explore numerous fantasy worlds
• 3-D character animation set in hand-drawn 2-D environments
• Limited-edition Digimon game card (while supplies last)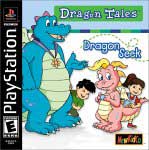 Dragon Tales: Dragonseek
by Newkidco LLC

Platform: PlayStation
ESRB Rating: Everyone
ASIN: B00004SRFI

• Play as Emmy or her brother Max in hide-and-seek game
• Seek out Cassie, Ord, Zak, Wheezie, and others
• Receive help from Quetzal
• Collect Dragon Berries to join sing-along
• Storybook feature lets players view highlights from their adventure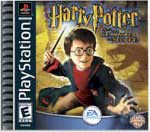 Harry Potter and the Chamber of Secrets
by Electronic Arts

Platform: PlayStation
ESRB Rating: Everyone
ASIN: B00006JBS6

Be Harry Potterª in a new adventure with more magic, friendship, and danger, designed specifically for the Game Boy¨ Advance. Learn new spells, undertake new quests, make new friends, and challenge new adversaries to confront the powers at the heart of the Chamber of Secretsª. Do you dare face You-Know-Who again?



Harry Potter and the Sorcerer's Stone
by Electronic Arts

Platform: PlayStation
ESRB Rating: Everyone
ASIN: B00005NCAY

Harry Potter and the Sorcerer's Stone uses colorful 3-D graphics to capture the daring and enchantment of Harry's world, rendering it in spirited detail. And as Harry, you'll experience the adventure and thrill of a young wizard's first year at Hogwarts, as well as the awesome responsibility of finding the Sorcerer's Stone and challenging He-Who-Cannot-Be-Named. But first you'll have to complete your courses.



Monster Rancher BattleCard: Episode 2
by Tecmo

Platform: PlayStation
ESRB Rating: Everyone
ASIN: B00004UF9G

Episode II, the sequel to Monster Rancher BattleCard, shares many of the same elements of its predecessor. The idea here is still to collect game cards and use them in "battles," where the cards represent attacks, defenses, and improvements to the player's skills. But this game has added a very interesting twist to the addictive trading-card-game genre. You can swap the Episode II disc out of your PlayStation console for virtually any other audio CD, CD-ROM, or even another PlayStation game to create new game cards that you can then save to a separately sold memory card and share with your friends.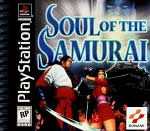 Soul of the Samurai
by Konami

Platform: PlayStation
ESRB Rating: Mature
ASIN: B00001X50J

In a land where the suffering is great-and the corruption even greater-two warriors have come to solve a mystery and seek revenge. Now, Konami brings the world of the Tenmei era to life in the rousing action epic. Soul Of The Samurai. When a shipment of gold disappears, a spy is dispatched to recover it. But when he vanishes as well, a brave ronin and the spy's headstrong sister become embroiled in a conspiracy that may cost them something far more precious than gold to survive...Players choose from two distinct characters, male and female. Both in a unique twist, each scene is viewed from each character's perspective, so that both must be played through to solve the whole. Against an array of breathtaking pre-rendered graphics, players must seek out information and use multiple techniques and weapons to Slash Through Enemies and other creatures. Heavy action combines with puzzle-solving elements for a richly satisfying experience.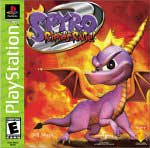 Spyro 2: Ripto's Rage
by Sony Computer Entertainment

Platform: PlayStation
ESRB Rating: Everyone
ASIN: B000034DC2

• Sequel to kid-friendly adventure game Spyro the Dragon
• Many new moves
• Jump, swim, and fly
• Several minigames
• Music by Stewart Copeland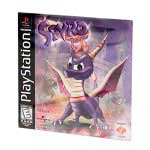 Spyro The Dragon
by Sony Computer Entertainment

Platform: PlayStation
ESRB Rating: Everyone
ASIN: B00000I1BF

Spyro is a cute purple dragon in a bit of a pickle. Each of Spyro's dragon friends has fallen victim to the nefarious Gnasty Gnorc, who has turned them into crystals. Accompanied by Sparx the dragonfly, Spyro sets out to free his buddies, while collecting gems and dragon eggs. Sparx also serves as Spyro's health-o-meter, glowing gold when Spyro is healthy and turning dusky green as he tires. To boost his energy, Spryo can blast docile creatures with fire, turning them into butterflies, which Sparx transforms into much-needed fuel.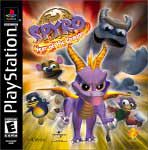 Spyro: Year of the Dragon
by Sony Computer Entertainment

Platform: PlayStation
ESRB Rating: Everyone
ASIN: B00004U4R9

• Third title to feature popular cartoon dragon
• Scavenger-hunt gameplay complemented by several minigames
• Control other characters: Sheila, the kangaroo; Sergeant Byrd, the flying penguin, Bentley, the Yeti; Agent 9, the space monkey
• Recover 150 dragon eggs from over 30 stages
• In addition to Spyro's signature and special moves, use tanks, submarines, and speedboats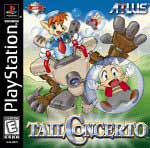 Tail Concerto
by ATLUS USA INC

Platform: PlayStation
ESRB Rating: Everyone
ASIN: B00001ZUHU

You assume the role of the heroic policeman Waffle and it's up to you to protect the floating Islands of Prairie. With the aid of your mini police blimp you'll travel through the land in search of the mischievous Black Cats Gang. In order to stop the Black Cats you'll have to jump into your trusty mech-suit to run, fly, shoot, climb or jump your way through 8 exciting lands filled with dangerous obstacles. On your way through the massive world of Prairie, experience a wild mine cart ride, rocket across floating islands, and even catch a ride on a gigantic airship! You'll also have to talk to the local townspeople and your friends in order to find clues about who's behind the treacherous plot to resurrect the Iron Giant God!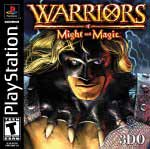 Warriors of Might & Magic
by The 3DO Company

Platform: PlayStation
ESRB Rating: Teen
ASIN: B00004Y5YD