PS Game Home - Science Fiction Games:
PS Science Fiction Game Index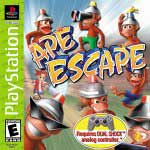 Ape Escape
by Sony Computer Entertainment

Platform: PlayStation
ESRB Rating: Everyone
ASIN: B00000JNHJ

In Ape Escape, a circus monkey named Specter stumbles upon a scientist's prototype intelligence-enhancing helmet, turning him into an evil monkey genius. As Spike, the professor's young friend, you must travel through time to clean up all of the monkeys Specter has sent back in his attempt to repopulate the world. If that's not enough to make you laugh, then chasing his goofy monkey minions as they scurry from your clutches will certainly tickle your funny bone. You'll discover a variety of gadgets to help you in your quest, including monkey radar, a slingshot, and a propeller for flying. Spanning 25 huge levels, Ape Escape is approachable for novices, and offers added challenges for veteran gamers. One such challenge is to lure a dinosaur near a rocky cliff, and then jar the monkey off his back and into your net. Note: no monkeys were harmed in the creation of this game.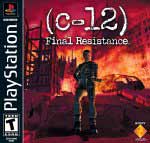 C-12 Final Resistance
by Sony

Platform: PlayStation
ESRB Rating: Teen
ASIN: B0000690YE

C-12: Final Resistance is set in the aftermath of a hostile ground invasion of Earth by ravaging alien forces. At first, the purpose of the invasion is unknown, but to the horror of all surviving humans, the objective soon becomes clear: the aliens plan to harvest all non-radioactive carbon from planet Earth (thus the title C-12). Most of the human race has been decimated, and those captured alive are used for "droning," the process by which the aliens reprogram humans into cyborg warriors.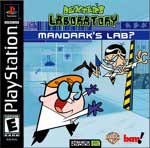 Dexter's Laboratory: Mandark's Lab
by BAM! Entertainment

Platform: PlayStation
ESRB Rating: Everyone
ASIN: B00005NUIP

Dexter's Laboratory is a light-hearted arcade puzzle game. Dexter's archrival, Mandark, has managed to infiltrate Dexter's secret lab and is intent on its destruction so he can make himself Scientist Supreme and ruler of all. Using a combination of wits, courage, and skill, Dexter embarks on a quest to regain control of his lab.



E.T. - The Extra-Terrestrial: Interplanetary Mission
by Newkidco LLC

Platform: PlayStation
ESRB Rating: Everyone
ASIN: B00005NCBD

• Nonviolent action-adventure game
• Help E.T. save the universe
• Travel to 5 planets, including earth, and collect special plant species
• Play through 15 levels and battle unknown alien enemies
• For 1 player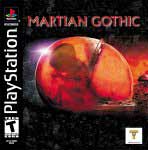 Martian Gothic
by Rockstar Games

Platform: PlayStation
ESRB Rating: Mature
ASIN: B00004T4YP

Ten months after the Vita base lost contact with Earth, a three-member investigative team has been sent to Mars to investigate the problem. The team quickly finds that a plague has stricken members of the Vita crew and turned them into zombies. And the investigators have discovered that they, too, have been infected.

In Martian Gothic, the investigation becomes a race against time and the ravaging effects of the plague. Since the three's survival rests on their ability to work separately on the problem, you'll need to act as all three members, switching between them to solve the mystery while fending off attacks from undead Vita crew members. You'll explore the derelict base and the surface of the red planet as well as go deep below its crust to find the ancient malevolence that's killing you.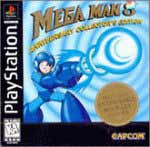 Mega Man 8
by Capcom USA

Platform: PlayStation
ESRB Rating: Everyone
ASIN: B00002STJH

Mega Man one of video gaming's most popular heroic characters launches into action when two mysterious metallic meteorites crash to Earth. When his villainous Dr. Wiley makes off with one of the orbs Mega Man must battle his way through 14 enormous stages to discover the secret. Customized upgrades let you tailor your Mega Man to the deadly mission ahead!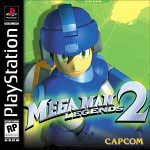 Mega Man Legends 2
by Capcom USA

Platform: PlayStation
ESRB Rating: Everyone
ASIN: B00004XONL

• New 3-D adventure features favorite characters from series
• Party includes Roll, Bonn family, Serbots, Data, and Glyde
• Adventure centers around Sealed Key that could unlock Great Legacy
• Mixes action-adventure with RPG and puzzle gameplay
• Travel to different areas via airship

Mega Man Legends 2 continues the successful 3-D spinoff of the 2-D Mega Man franchise. It features familiar characters from the series, and mixes action-adventure, RPG, and puzzle gameplay. Accompanying Mega Man are Roll, the Bonne family, the Servbots, Data, and Glyde. The story revolves around the recently discovered Sealed Key, which could unlock the Great Legacy--a mystery that could be either a boon or a curse to mankind. There are several towns in which to explore, and a giant airship called the Flutter will transport the party there.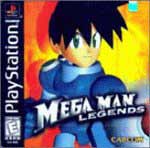 Mega Man Legends
by Capcom USA

Platform: PlayStation
ESRB Rating: Everyone
ASIN: B000006OVJ

Mega Man Capcom's favorite video game hero appears in his very first 3D action/adventure. Challenging shoot em' up action tons of secrets clever puzzles and huge bosses will keep you playing until it's time to go back to school.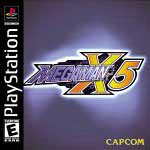 Mega Man X5
by Capcom USA

Platform: PlayStation
ESRB Rating: Everyone
ASIN: B000059S78

Mega Man's exploits have been taking place on a variety of different platforms for more than a decade, but recent attempts to bring old Mega Man into 3-D have largely been missteps. That's why we were chomping at the bit to play Mega Man X5, because it marks a long-overdue return to MM's 2-D roots.

Unfortunately, the game plays more like a rushed overcorrection than a nostalgic, side-scrolling romp. For example, you can now choose between three playable characters: Zero, X, and Fourth. It's a good idea, but the problem is that the characters are so different that this option actually destroys the fluidity of the gaming experience. In the original Mega Man X titles, you couldn't progress until you found a weapon that could be used to destroy a particular boss. In X5, bosses can be put out of their misery with the Z-Saber and the X-Buster.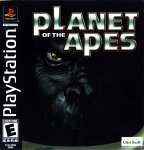 Planet of the Apes
by UBI Soft

Platform: PlayStation
ESRB Rating: Everyone
ASIN: B00005YO7E

• Play as Ulysses, the sole human survivor
• Crash-land a spaceship
• Progress through large levels
• Unravel mysteries
• Complex story line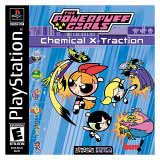 Powerpuff Girls: Chemical X-Traction

Platform: PlayStation
ESRB Rating: Everyone
ASIN: B00005NUIR

• Action-combat adventure
• Help the Powerpuff Girls save the world
• Battle evil enemies at MoJo Jojo's lair, the Townsville dump, and Fuzzy's shack
• Use cool moves such as fire laser eyes, tornado spin, and ice breath
• For 1 or 2 players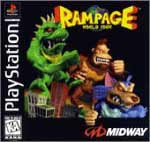 Rampage World Tour
by Midway Home Entertainment, Inc.

Platform: PlayStation
ESRB Rating: Teen
ASIN: B000021Y5R

Rampage World Tour is a fun remake of the old 1980s arcade classic. You are a mutated human who has grown to colossal size by an experiment gone wrong at the highly dubious Scumlabs International. In your newly formed mutated state, you play the part of one of three Godzilla-size monsters: Lizzy the Dinosaur, Ralph the Wolfman, or George the Gorilla. Your task is to eat as many civilians and to destroy as many cities as possible while on a rampage of revenge against Scumlabs.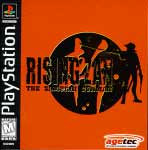 Rising Zan: The Samurai Gunman
by Agetek, Inc.

Platform: PlayStation
ESRB Rating: Mature
ASIN: B00001ZUON

Rising Zan, A Cut Above! Rising Zan: The Samurai Gunman takes gamers on a wild ride full of fast-paced action, gunplay, swordplay and blood. Set in the western United States of the late 1800's, Zan will amaze and amuse gamers with its bizarre enemies and out of this world weapons. The flamboyant hero is part Cain, from TV's "Kung Fu", part Clint Eastwood, with a dash of Duke Nuke'm. Armed with only a Katana Sword, pistol, and 6 special attacks, players must slash and shoot their way through thrill-a-minute levels to survive and save the town. This 3rd person perspective game requires strategy, fast reflexes, and quick thinking. With all this going for Zan, you'll need to stock up early to get your cut of the action. Features lots of mini-games and puzzles to solve, 3 difficulty settings, 10 levels, mature rating, hidden characters, and completely original and inventive environment.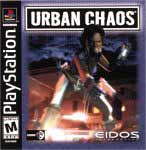 Urban Chaos
by EIDOS INTERACTIVE

Platform: PlayStation
ESRB Rating: Mature
ASIN: B00001ZUGG

In the closing days of 1999, a rampant crime wave has come to grip Union City. As either streetwise rookie cop D'arci Stern or vigilante Roper McIntyre, you must counteract the crazed millennium cult that wishes to fulfill Nostradamus's prediction for Armageddon. To defeat the cult, you'll have to complete 30 missions--but how you complete those missions is up to you. There are numerous ways to complete your goal through all of the levels. In Urban Chaos, you'll utilize a variety of gaming experiences to complete these missions. Your character can ride the subway, commandeer taxis, and even jump between rooftops. In your effort to uncover the truth, you can also use aggressive tactics to pry suspects for information. The soundtrack to this third-person crime fighter is provided, featuring electronica recording stars Photek and Asian Dub Foundation, among others. Urban Chaos supports the separately sold memory card, so you won't have to save all of Union City at one sitting.