PS Game Home - Hunting & Fishing Games:
PS Hunting & Fishing Game Index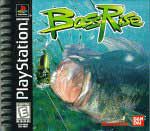 Bass Rise
by Bandai

Platform: PlayStation
ESRB Rating: Everyone
ASIN: B00001W0DB

Enjoy realistic Bass fishing without water! Outstanding features include: 12 levels and up to four players, underwater views for maximum play, 3 kind of fish to catch, adjustable reel speed and 3 line weights, Customize your fishing trip! Choose from hundreds of Megabass lures! Find the hidden lakes and lurtes! Compatible with Dual Shock analog controller!



Cabela's Big Game Hunter Ultimate Challenge
by Activision

Platform: PlayStation
ESRB Rating: Teen
ASIN: B00005R5Q3

Cabela's Big Game Hunter: Ultimate Challenge is the first hunting simulation for PlayStation, and is designed to provide a satisfying hunting simulation for beginners and experts alike. It offers a wide variety of prey and a realistic presentation of nature, weather, animal intelligence, and hunter statistics. Views include first- and third-person. Environments include ground cover, trees, shrubs, rivers, lakes, and distant views of mountains and lakes. Maps show the hunting area, as well as your vehicle, campsite, lodge, and marker locations. The two modes of play are Championship Hunt, which lets you compete in several championships for deer, elk, caribou, and more, and North American Professional Hunt, which lets you join forces with the Department of Natural Resources to take down dangerous animals such as bear, wild boar, and wolves.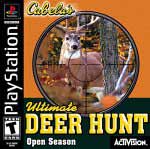 Cabela's Ultimate Deer Hunt
by Activision

Platform: PlayStation
ESRB Rating: Teen
ASIN: B00006IKCL

This big game hunting sim will let you choose from a variety of different hunters and an array of firearm, clothing, gear, and equipment options. You will explore numerous rugged, wild hunting terrains and use the detailed onscreen map to stay informed of the location of your vehicle, campsite, lodge, and prime hunting spots. An in-game guide offers tips and advice, and keeps you hot-on-the-trail of trophy game. A health meter lets you know when inclement weather, lack of food and water, or run-ins with dangerous animals are taking their toll. The Trophy Beacon and X-ray option gives novice hunters the necessary information for a quick, clean kill and aids in downed-game recovery. Varying levels of difficulty mean you can advance as your hunting experience grows. A cabin-like trophy room that keeps detailed stats of each player's kills ensures that you and your hunting partner can challenge each other's skills and experience the thrill together.