PS Game Home - Hunting & Fishing Games:
Cabela's Ultimate Deer Hunt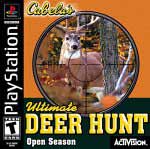 Cabela's Ultimate Deer Hunt
by Activision

Platform: PlayStation
ESRB Rating: Teen
ASIN: B00006IKCL

Check price @ amazon.com , amazon.ca , amazon.co.uk


Features:
• Big game hunting sim
• patterned directly after actual hunting experiences
• Choose your own hunter, gear, and clothing
• Explore numerous rugged, wild hunting terrains
• 1-2 players

Amazon.com Product Description: This big game hunting sim will let you choose from a variety of different hunters and an array of firearm, clothing, gear, and equipment options. You will explore numerous rugged, wild hunting terrains and use the detailed onscreen map to stay informed of the location of your vehicle, campsite, lodge, and prime hunting spots. An in-game guide offers tips and advice, and keeps you hot-on-the-trail of trophy game. A health meter lets you know when inclement weather, lack of food and water, or run-ins with dangerous animals are taking their toll. The Trophy Beacon and X-ray option gives novice hunters the necessary information for a quick, clean kill and aids in downed-game recovery. Varying levels of difficulty mean you can advance as your hunting experience grows. A cabin-like trophy room that keeps detailed stats of each player's kills ensures that you and your hunting partner can challenge each other's skills and experience the thrill together.

Manufacturer's Description: Cabela's Big Game Hunter: Ultimate Challenge brings you closer to the action with a wide variety of deer, robust hunter statistics, and a realistic representation of nature, weather, and animal intelligence. The game can be played from both first-person and third-person perspectives. The hunting areas mimic true outdoor experience, including ground cover, trees, shrubs, rivers, lakes, and distant views of mountains and forests.

Customer Reviews:
Excellent follow up to Big Game Hunter, November 6, 2002
Reviewer: A gamer from minneapolis MN
I played Cabela's Big game hunter ultimate challenge, and enjoyed it very much. I immediately bought this as soon as it came out. The graphics are even better than Big game hunter, there are tracks behind the vehicles, everything has shadows, and the hunter even leaves footprints behind. The new 'deer finder' arrow is a very cool new feature and gives the game a more arcadey feel. The mission based play of this game is very cool, and the range of levels and deer are just right. The models for the hunters are improved also. Lots of great gadgets and hunting gear are available to the player including a 'predator' style heat vision and a night vision scope ! All in all a lot of fun. A little easiser than BGH but BGH was kinda hard. You can change the difficulty to suit yourself. I am so glad that activision are supporting the genre on consoles !