PS Game Home - Fighting Games:
PS Fighting Game Index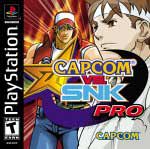 Capcom vs SNK Pro
by Capcom USA

Platform: PlayStation
ESRB Rating: Teen
ASIN: B00006DY3B

Capcom vs. SNK Pro enlists a host of characters, more than 30 in all, from Capcom's Street Fighter line and SNK's King of Fighters series. The game features two different fighting styles and various modes of play. You can set up dream matches like Ryu vs. Kyo or Zangief vs. Raiden. The two fighting styles are Capcom Groove--based on the Street Fighter Alpha series, with a Super Combo Level Gauge--and SNK Groove--based on the King of Fighters series, with a Super Special Move once the Extra Gauge has reached its limit (if a player's vitality is very low, an enhanced version of the Super Special Move is available, giving players a chance to turn the tide). The number of characters in a team varies depending on the character's strength level, which ranges from one to four. The final team will have a total level of four. Modes of play include arcade mode, versus mode, training mode, and color edit mode.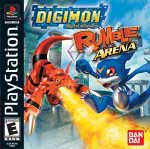 Digimon Rumble Arena
by Bandai

Platform: PlayStation
ESRB Rating: Everyone
ASIN: B00005V9NU

Digimon Rumble Arena's user-friendly controls make it easy to learn yet hard to put down. It provides classic fighting gameplay for one or two players, who will compete as one of their favorite Digimon characters in an exciting, exhilarating, and downright digivolving battle. Featuring the cast of the Digimon show from season one through season three, the game is packed with multiple levels, pitfalls, and other surprising traps and features. You can use items to empower your Digimon with special fighting techniques or powers, and battle your Digimon with falling icicles, moving conveyor belts, mechanical arms, falling platforms, and more.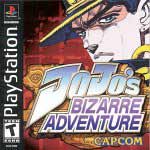 JoJo's Bizarre Adventure
by Tommo Inc.

Platform: PlayStation
ESRB Rating: Teen
ASIN: B00004SB9M

Based on a wildly popular Japanese anime series, JoJo's Bizarre Adventure is a fighting game that features 18 weird characters, most of which have a ghostlike spirit friend called a Stand that can be used to perform special moves. As in other Capcom games, the characters in JoJo's can pull off super combos that are easy to execute, devastating, and often hilarious. In one case, a belly dancer can summon a tidal wave of '57 Chevy cars to knock her foe on his back. Together with their Stands, characters can even double-team opponents, racking up lots of hits with relatively little effort.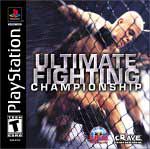 Ultimate Fighting Championship
by Crave Entertainment

Platform: PlayStation
ESRB Rating: Teen
ASIN: B00004U49Q

• Officially licensed game of the Ultimate Fighting Championship
• Over 30 fighting styles include boxing, king fu, wrestling, and tae kwon do
• Realistic matches end in tap-outs, takedowns, submissions, knockouts, ref calls, and more
• Features official UFC announcer Bruce Buffer and referee Big John McCarthy
• Several play modes: tournament, career, vs., training mode, and create-a-character