PS Game Home - Kart Racing Games:
PS Kart Racing Game Index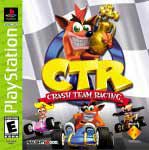 Crash Team Racing
by Sony Computer Entertainment

Platform: PlayStation
ESRB Rating: Everyone
ASIN: B000034DCF

The race to save the planet has begun! Crash Team Racing is speeding your way exclusively for the PlayStation game console. It's a multi-player character racing game featuring your favorite bandicoot, Crash and a host of his friends...and foes! There's a new mad scientist in town and his name is Nitros Oxide and he's about to wreak his own havoc on this little island paradise. He's absolutely obsessed with speed and fast just isn't fast enough for him, so he concocts a crazy idea to speed the whole world up forever! Tune your own "wheels", pick up goodies and watch out for those environmental hazards...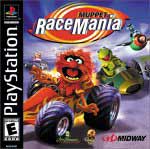 Muppet Race Mania
by Midway Home Entertainment, Inc.

Platform: PlayStation
ESRB Rating: Everyone
ASIN: B00004XOMV

Race your favorite Muppet characters in Muppet Race Mania. More than 25 racers are available, each with his or her own special move. Pick from over 25 vehicles to race on several courses, designed around the settings of the Muppets' six feature films, including The Muppet Movie and The Muppet Christmas Carol. Choose between racetracks, battle courses, adventure tracks, and special stunt courses. The game features one- and two-player modes, tiebreaker courses, adventure and battle modes, tournaments, puzzles to solve, pickups to collect, and dozens of secrets to unlock.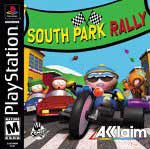 South Park: Rally
by Acclaim

Platform: PlayStation
ESRB Rating: Mature
ASIN: B00001WQIR

Take a wild tour of South Park, Colorado, in the most twisted rally racing game this side of nowhere. Cruising through South Park Forest, downtown South Park, and sites familiar from the TV show, racers forego the typical lap-to-lap racing style for a treasure hunt-style game. All of your favorite South Park characters are joining in the quest, including Cartman on his police tricycle and Chef in his station wagon. Collecting a variety of items from various locations, racers have a number of tricks up their sleeves to thwart fellow competitors. Mexican staring frogs, chocolate salty balls, and Mr. Hanky, for example, inflict damage to competitors' vehicles in ways that are better seen than explained.