PS Game Home - Racing & Flying Games:
NASCAR 2001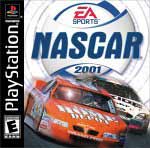 NASCAR 2001
by Electronic Arts

Platform: PlayStation
ESRB Rating: Everyone
ASIN: B00004W4QK

Check price @ amazon.com , amazon.ca , amazon.co.uk


Features:
• New game engine enhances graphics, car physics, and artificial intelligence from previous year
• Race at Daytona and 18 other tracks
• 30 top drivers include Dale Earnhardt, Jeff Gordon, Tony Stewart, and Mark Martin
• Computer drivers follow tendencies of real-world models
• Multiseason career mode

Amazon.com Product Description: NASCAR 2001 sports a new game engine that has enhanced the graphics, car physics, and artificial intelligence over previous installments in the series. There are over 18 tracks to race on, including the famous Daytona, as well as fantasy road courses. Choose to race as one of 30 top drivers, including Dale Earnhardt, Jeff Gordon, Dale Earnhardt Jr., Tony Stewart, and Mark Martin. Computer-controlled opponents follow the tendencies of their real-world driver models. Players can create their own driver, and race through full or half seasons--or even multiple seasons in the game's career mode.

Customer Reviews:
my review (please read), April 17, 2002
Reviewer: Billy from bangor pa
Well personally i am a nascar fan and have all the nascar games from 1996-2002 :). 2001 one was one of the better ones, although i think 2000 was a bit better but 2001 has better graphics and more realistic gameplay. but the best one yet is nascar2002, over all nascar 2001 is a good game and is worth its price.

The racing game for racing fans., March 14, 2002
Reviewer: A 12-year old gamer
I think this game is the best nascar game yet. It has new drivers, and new tracks like Daytona. It's the most realistic racing game ever. It has awesome wrecks because of how long they last, but they don't happen alot. The only thing I would change would be the frequency of the wrecks. This game is for the racing fans. The music is cool because it's new and it goes with the racing. The fans look real and when you wreck, your most likely to flip your car. So if your looking for a nascar game for playstation, this is one of the best.

Its Cool, February 28, 2002
Reviewer: Aaron.C Yowell from Clinton, Indiana United States
This game if the best nascar game they have had out for 01...great graphics and more of a selection of cars and tracks including daytona...

Seems very real and has loads of options, January 23, 2002
Reviewer: cartercrazy from Macon, GA United States
This game has massive capabilities. First you decide if you want to quick race, race once or start a season. On a quick race, it picks the car for you. On the other two you pick your own car which includes the ability to design your own car. There are probably about 20+ colors to pick from and then you pick the logos you want on the hood, the roof, the deck and the back. There's an ok selection of logos and you'll definitely find at least a few that appeal to you. You decide if you want your car to be a Ford, Chevrolet or Pontiac and then get to racing.

After you pick your car, you have to decide which track you want to race at. This is the fascinating part. Each track is set up like the real Nascar tracks. You can race Daytona, Talladega, Atlanta and tons of others. If you hit a wall, your car drives like it. If you wear your tires out, you have to get new ones or you won't stay off the wall. You can draft, pass, push, flip and slip. When you pit, you decide if your tires need to be changed or if any repairs are needed and you get more gas. You can have music playing and/or commentaries or just listen to the roar of the engines. This game is eerily real and loads of fun.

NASCAR 2001 Review, March 14, 2001
Reviewer: Bob Johnson from Omaha, NE United States
NASCAR 2001 is a fine game if you're not into NASCAR, but if that's the case then you should be buying Gran Turismo 2 or Ridge Racer R4. If you are into NASCAR like myself than this game is a disappointment to say the least.

If you've ever played any of the NASCAR Racing series of games from Sierra/Papyrus on your PC then stay away from NASCAR 2001 (or any of the other NASCAR games on the Playstation) as they don't even come close.

The game looks alright and does have some nice touches, but it is so unrealistic in terms of racing that you will quickly grow frustrated. Take the effect of the draft for instance. Get anywhere close to the back of the car in front of you and you will slingshot by in next to no time regardless if the track is Bristol or Talladega. Not only is this not realistic, it also takes away the ability to race side by side. Other problems include the fact that NASCAR 2001 only allows 18 cars in the race, their isn't the option for pace laps just a countdown from 3 and that the commentary is very limited and dull.

Bottom line is this: Get Gran Turismo 2 if you have a Playstation, or better yet get NASCAR Racing 4 for your PC.

Dale Earnhardt, February 24, 2001
Reviewer: jedicmdrwedge from Sears Point Raceway
I have no idea about this game, but I just wanted to say that there should be an "Earnhardt Commemorative Edition" or call it waht you like.

Edge of Your Seat Excitement!, December 18, 2000
Reviewer: Kenny Newby from Phoenix, AZ
Being of of NASCAR's biggest fans, I have to say I was impressed with the latest version of EA Sports' attempts to bring the thrill of driving the worlds fastest stock cars to your television - with you behind the wheel.

I laugh when I read all the critics badmouthing the game and want to ask them: "Could YOU have done any better?"

I have been a follower of this series since the original NASCAR Racing was introduced in 1996/97. Now THERE was a terrible game! But it was only the first attempt for ANY game manufacturer to bring professional stock car racing to the console system. Then came NASCAR 98 - a better game engine indeed, but terrible graphics. "Driving through cartoonland racing cartoon cars" is the best way to describe it. NASCAR 99 hit the shelves and was better in gameplay, but no real improvements in graphics. NASCAR 2000 seemed to be a step backwards in the gameplay area, but better graphics.

NASCAR 2001 is a SERIOUS improvement over previous version of the game. I've played em all and 2001 hooked me from the get-go. The graphics have improved dramatically, despite what all the negative critics think. Added lighting effects and smoother-flowing graphics along with ultra-realistic gameplay literally provide 'edge-of-your-seat' excitement and will keep you satisfied for hours.

If you have ever played previous versions of this game, then you will immensely enjoy (and appreciate) NASCAR 2001 - despite all the negative critics!

Truly good racing, December 15, 2000
Reviewer: A gamer from CA
Well i have played all of EA's NASCAR games, and i must say, they are truly good but they don't "Beat the Heat". If you already have played EA's NASCAR 2000-2001 you shoud try NASCAR Heat by Hasbro.

Improvements or lack of, November 17, 2000
Reviewer: Steven Halsey from Toledo, OH USA
My friend and I race every Thursday night, as we have for 6 years. Nascar 2000 was a great improvement, but I expected greater things from 2001. The racing is far superior to any other game I've played and more challenging. However, all the fancy graphics and little noticed things happening in or around the grandstand could have been left out. It does not add to the game and my biggest complaint is that it appears what the programmers wasted on the needless additions could have been better served by allowing the saving of car setups. Call them cheat codes, call them equalizers, but 2000 had a list of set ups that guaranteed a pole. It's no fun to win all the time or to always be ahead of the pack. But, we try to get in as many games in one evening as possible, and we are forced to set up our cars after each race. The programmers forgot to allow you to save your settings. Even in 2000 I found it a hassle to have to reset Player 2's car each time, but now you have to reset both cars. Also, the game has an anticlimactic ending, it was fun to see the pace setter, the move of the race, etc. (Nascar 2000). In this game, when it's over, it's over. It's a good game, but it could have been greatly improved with only minor changes. Maybe the programmers will think about this for 2002.