PS Game Home - Racing & Flying Games:
The Italian Job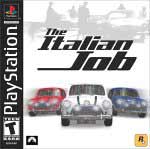 The Italian Job
by Rockstar Games

Platform: PlayStation
ESRB Rating: Teen
ASIN: B00006409W

Check price @ amazon.com , amazon.ca , amazon.co.uk


Features:
• Based on the cult film of the same name
• Drive 3 classic Austin Mini Coopers and 11 other vehicles
• Massive, free- roam areas include London, Turin, and the Alps
• Off-road and rooftop driving
• Multi-player party mode

Amazon.com Product Description: In 1969, the film The Italian Job was released in the U.K. and almost immediately achieved cult status. This game, like the film, concerns Charlie Croker, who is out of jail and on the make again. He is attempting to steal $4 million in gold in broad daylight from under the noses of the Turin polizei and the Mafia. The title features a total of six playing modes in which gamers thrash three Austin Mini Coopers and 11 other vehicles around massive, freeform areas in London, Turin, and the Alps. Road, off-road, and rooftop driving are all included in The Italian Job, which delivers the ultimate mix of high-speed pursuit and thrilling chases.

Customer Reviews:
best ps1, August 31, 2002
Reviewer: A gamer from a tomateo factory in the middle of a pumpkin.
great fun even for people who have a ps2.

The Best Bargain You Can Get, July 22, 2002
Reviewer: Jen Orr from Canyon Lake, CA USA
Now that I have finally found the time to sit down and finish the Italian Job, I feel that I can give it a fair review. I would have given it 4 1/2 stars if I could have, but because it has such a great price..., I decided to go ahead and give it five stars. This may very well be the best [$$] I have ever spent.

If you enjoyed the movie The Italian Job, then you will definitely enjoy this game. It follows the movie almost exactly. You get to play through some of the best scenes in the movie, including the crazy Mini Cooper car chase through Turin, Italy.

This is a mission-based driving game, sort of like the Driver series or Grand Theft Auto III. You begin as a guy who just got out of prison and takes a job that involves stealing gold from the mafia in Italy. There are 16 missions: 8 in London, 6 in Italy, and the 2 escape missions through the Alps. There is a good variety in the mission objectives, although it mostly boils down to driving around trying to complete your objective while avoiding the cops. If the cops see you, they take chase and you have to shake them before reaching your objective. If you destroy your vehicle, run out of time, or if the cops get close enough to get your entire license plate number, then you fail the mission. The difficulty level is just about right. There are a few missions that will cause some frustration but they are not impossible.

In addition to the story mode, there are several extra games to mess around with. You can take a ride around London or Italy to get to know the area using your choice of vehicle. Then there are several mini games, like checkpoint races and stunt tests.

The graphics are not fantastic but they are okay for a PS One game. My major complaint about the game is the difficulty of controlling the car. If you are used to the tight control of PS2 games like Gran Turismo and the aforementioned GTA III, you may have some trouble getting used to the sluggish control here.

With all the bad games for the PS One that are coming out now, seemingly rushed just to make a quick buck, this is probably the best PS One game to come out since the PS2. Rockstar did a great job of recreating the scenes from the movie, especially on the getaway mission. All of the coolest segments of the movie chase are here. You get to drive through the subway, up the big dome building, across the river, and through the sewers. Overall, you could do much, much worse for [$$].

its not better then driver2 and any of the gta games but ok, July 1, 2002
Reviewer: A 12-year old gamer
this game is cool but driver2 is a little better than this game well i guess you wont tha reasons why well heres goes

1. driver2 has more big cites such as chicago,las vagas,havana,and rio.and for tha grand theft auto games for tha playstation1 tha cites are big and there's but with three cites is problely enough.and for tha the italian jobtha cites are bigger but compared to tha others like GTAs and driver2 games i still cant why this copy cat game is working its way up to platnum.

2.graphics is ok still like driver1 and just like driver2 graphics but on that stage GRAND THEFT AUTO 2and 1

ok too. now back too the italian job between 1 and 10
i give tha graphics a bitter 7

3. THA GAMEPLAY... now TOONAMI ON CARTOONETWORK gave this game a 7 out of 10 i give it 8 out of 10 i must admit this is a must have though...

best driving game i've played on the playstation, June 26, 2002
Reviewer: red bomber from Irvine,CA USA
In my opinion TIJ( The Italian Job) is by far the best driving game on playstation 1. It sorta reminded me of rockstar's GTA series except u can't go shooting ppl. I think that the time limit on the missions helps make the game go by faster.

Some of the missions in the game althought seeming pointless r funny none the less. If i had a choice between this game and all the other ps1 driving games i'd definitely choose this. It's funny, action packed, and it's something u can play with u'r friends.

italian job, April 28, 2002
Reviewer: A gamer from usa
italian job is superb the car's old style and how u have fun and enjoy is really cool.I think everyone should play this game

Really,I'm sorry for you people :( :( :( :(, April 27, 2002
Reviewer: A gamer from Medellín,Colombia in South America
Well american it seem like you're very late on this game i got it 2 weeks ago ja,ja,ja,ja.......

Now to the point this is an amazing work you get to drive in London,turin,..... there are amazing graphics and there's a very good detail in each of the parts the lights changes and all the cars respect that,if you go too fast the police will try to catch you, and believe me its really hard to get rid of them.the city has its own rules and there's always this jerk who dont respect the way and try to make you miss your little time,because to go for example to King Cross in London (its amazingly made) you only have like 4 minutes.You can always do a little sight seeing in the free ride mode, but nevertheless you wil have those annoying cops trying to get you if you go to fast.the only little problem is saving because its very hard to find the option the first time,by the way its in the options menu,but apart from that its all righty.

The main fact,this is an amazing game its qvery well-made and you will have to be very strongh to turn of your PSX after so much fun.This game and Final Fantasy IX are the games that you must have or buy.

The Italian Job - PSone By Sanjay Schrapel, April 7, 2002
Reviewer: A 12-year old gamer
Well, I can't believe you Americans still haven't got The Italian Job yet. Here in Australia we have had it for about a year, and I have to say it is the best driving simulator out there, next to Gran Turismo 2. The game consists of 16 challenges based in Turin, the Alps and London (Why the movie was even called The ITALIAN Job I think is a mystery) where you must drive through a certain area without getting arrested, chase another car or deliver a car or other item to another place in a set period of time. However, the handling on all the cars except for the Bus is legendary, and abosultely rocks using a Thrustmaster Ferrari Challenge Racing Wheel. The multiplayer games are very cool, with the ability to play 8 player (2 multi-taps) versions of the side games, including Checkpoint (where the driver must reach certain checkpoints in a set period of time). Unfortunately, this game is nearly impossible to find on the shelves here, with the last copy I saw being in Christimas 2001. If this game is to go Platinum, we will have to rely on sales in countries other than Australia. ...

The Italian Job, March 30, 2002
Reviewer: C P Eldred from London, United Kingdom
Great adaptation to a cult movie. Although not the graphics of Driver, superb gameplay. Very addictive, with some brilliant levels. Can't beat racing through the center of Turin. Across the stadium roof.

So frustrating trying to outrun those police cars. The bonus for me was the arrow showing the direction to aim for. Was such a relief not to have to keep flicking up the map as in so many games these days.

I thought the mini handled excellent. On the whole well worth this price.

Gone Platinum Must Be Good, March 27, 2002
Reviewer: Tony Lucas from UK
'The Italian Job' is loads of fun. While Driver sets the bench-mark for this type of driving game, TIJ is not far behind.

In TIJ you can see some of the elements that made Driver so cool; the nice cut-scenes, large environments, smooth scenery and the fact that you can bomb around towns in cool cars.The voices are hilarious and add to a colourful, humourous tone of the game.

The graphics are colourful and great to look at. Gameplay is smooth; cars drive nicely. The sound is good.

With persistence you can get it completed in one go, and it doesn't take too long. The Getaway level is surely one of the most fun, most exhiliarating, and at the same time, most fustrating levels in any PS game - excellent fun. And there's plenty more to do, with extra challenges and cars to use to race around London and Turin like a maniac.

All round a superb game,no wounder it has sold over 200,000 copiies since its launch in Sept 2001 and was No 1 in the charts for 4 weeks.It deserves to go Platinum.

The Italian Job, March 27, 2002
Reviewer: S A Reynolds from Croydon, Surrey United Kingdom
I have to disagree with the last review.
I think this game is highly entertaining & good fun to play.
While I do agree with the graphics looking a little shoddy on the ps1 & yes, there isn't a rear view angle - This somewhat adds to the excitement of the chase with the law & doesn't spoil the game at all.
The Italian Job plays just like the cult film -Yeah we all know the ending -but getting there is enjoyable & does want you to go back for more.
If you are somewhat put off by graphics of the ps1 version I have personally seen a PC version of The Italian Job which is coming out very soon & I can tell you that it looks as sharp as a sharp thing in a very sharp shop!!
Driving several different cars that handle well is a challenge & getting in your Mini Cooper & having to handbrake around the various levels to the excellent soundtrack of the film has you coming back for more.
The Italian Job game isn't as classic as the film is,how could it be!But it sticks to the storyline very well.
The several different modes are great fun & a game that isn't quite as demanding as the Driver series makes a nice change & is overall a game that is as enjoyable as picking up a good book or watching a favorite film again.
Also it has a party mode that when you come back in from the pub with your mates is a laugh in itself.
It's a shame that the last review didn't give this game the justice it deserved - After all is was number 1 in the Playstation charts in the UK for 5 weeks & how many games can claim that?
I would recommend this game not as an essential for the collection -But at the budget price is a MUST!
I can assure you - You'll have fun playing it & it'll make you want to watch the film again soon after!