PS Game Home - Shooters Games:
The World is Not Enough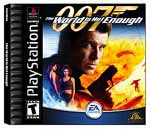 The World is Not Enough
by Electronic Arts

Platform: PlayStation
ESRB Rating: Teen
ASIN: B00004UG9A

Check price @ amazon.com , amazon.ca , amazon.co.uk


Features:
• 1st-person action-adventure game
• Based on the MGM film of the same name
• 10 different levels
• 2 difficulty settings
• A variety of Q-designed weapons and gadgets

Amazon.com: This James Bond adventure needs a bit more shaking and stirring before it can be a standout among the current breed of console shooters. It's not that The World Is Not Enough is an awful game--it just seems that the world's favorite superspy, despite his many gadgets and guns, just doesn't compete with recent offerings like Medal of Honor Underground.

007 isn't known largely for bursting into rooms with guns blazing, mowing down millions of baddies; so, many parts of TWINE require stealth and cunning, instead of an itchy trigger finger. Sadly, most enemies can't shoot straight, and, if you move quickly enough, they'll forget that they ever saw you trying to break into that high-security area.

TWINE features quite a few clips from the movie that keep the story moving along. However, the music features a repetitive, awful remix of the James Bond theme that quickly becomes grating. Fortunately, the highly detailed scenery breathes life into the locales that are featured in the 11 alarmingly short levels of the game.

However, what hurts this game most is its persistently generic gameplay. While the gadgets are cool, the level design is somewhat plain. Also, the enemies and other characters all display a rather bland, uninterested look. The multiplayer element that sold many a copy of Goldeneye 007 and The World Is Not Enough for the Nintendo 64 also is completely absent--a shame.

All in all, you could do a lot worse than help 007 save the world again; but, once you get past the name, music, good looks, and merely decent gameplay, you'll find that TWINE still doesn't offer enough to make it a standout in a crowded genre. --Mark Brooks

Pros:
Lots of cool superspy gadgetry
Nicely detailed scenery
More stealth than gunplay

Cons:
Bland level design
Poorly rendered character graphics
Repetitive music

Amazon.com Product Description: Playing as James Bond, you'll accomplish mission objectives, based on the settings and plot of the MGM feature film. Use your license to kill--and an assortment of Q-created weapons (cufflink lasers!)--to put down any bad guy in your sights. Ski, drive, and run through 10 different single-player missions. The game features two-levels of difficulty, which surely will present a challenge, even to double agents.

Customer Reviews:
Movie comes to life...on video game., November 16, 2002
Reviewer: Chiedu Ufoegbune from Oakland, CA USA
This video game is good, I played it at my cousin's house, and he won 2 levels, but I just get killed. I give this a **** (4 out of 5).

I love 007, June 6, 2002
Reviewer: A 9-year old gamer
I love this game because it has action and also realy great levels and interesting Q-gagets,good scenario and is like real live.

the coolest bond game, April 21, 2002
Reviewer: chris from norridge, illinois
i think this is the coolest bond game because you get to ski, drive, and gamble. the other cool thing about it has clips from the movie that ties all the levels together. although i wish it was at least two players, i still gave it 5 stars not only because it is fun, but because i like bond games.

The worst game I ever played!!!, February 9, 2002
Reviewer: Linda Merchant Tate from Gaffney, SC United States
I have played several 007 games and this one is the worst.Tomorrow Never Dies is alot more fun.There are several things you can not do in The World Is Not Enough that you can do in Tomorrow Never Dies. You can not do stunts and stealth attacks you can not shoot out windows and blow up things,the enemies do the same thing every time you kill them,the levels are not very detailed and they are very hard and worst of all,there are no good cheat codes for this game.I do not reccomend this game to anyone!

Not up to the usual standards for Commander Bond, October 13, 2001
Reviewer: gobirds2 from New England
It's fun but that begins to wear thin after a while. It lacks real depth and imagination. It obviously was packaged and marketed to coincide with the film. Unfortunately the product should have been properly developed to meet the needs and expectations of 007 fans. This is quite a letdown for Commander Bond.

Hey, it's Bond.........James Bond, August 27, 2001
Reviewer: An 11-year old gamer from USA
I have played every Bond game except Goldeneye, and I have to say that The World Is Not Enough is the best one. Tomorrow Never Dies was okay, but I thought it was too easy. This game is still short, but it's better because it has better missions, over 20 gadgets, improved AI, and better sound and graphics. Better yet, you can play Bond in first-person perspective. I recommend this to all PSX owners, even a 3-year old!

BOOO, June 14, 2001
Reviewer: A gamer from Vineul Saint Firmin, France
At first I found it was quite a cool game, but then after I realised that there was not much to it and less fun than 'Tomorrow Never Dies.' In that one there is a car and skiing but in this game the only skiing you are doing is in one level and it is not proper skiing. Perhaps the weapons and the picture were better but 'Tomorrow Never Dies' is more fun.

THE WORLD IS NOT ENOUGH, April 26, 2001
Reviewer: fishesalot14 from or_not, SHADDUP
this game was definately fun but extremely short levels, and can be very choppy. The characters that you interact with or shoot and very square and extremely stupid. The game is awfully easy to beat, a little harder on 007 but still easy. it was overall a good game i guess.

Good game but easy!, April 13, 2001
Reviewer: Joseph Miller from South Setauket, New York United States
This game was the best shooter game I played in years and the graphics were super. Although I thought it was extremely easy. I mean I beat the game in 1 week. I was extremely disappointed when my mom bought the game and returned it in a week. Although their was many weapons to choose from and challenging objectives. I would buy this game after you rent it.