PS Game Home - Role Playing Games:
Yu-Gi-Oh! Forbidden Memories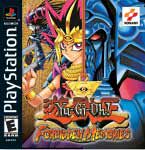 Yu-Gi-Oh! Forbidden Memories
by Konami

Platform: PlayStation
ESRB Rating: Everyone
ASIN: B00005Y402

Check price @ amazon.com , amazon.ca , amazon.co.uk


Features:
• Role-playing adventure
• Based on the animated series
• Control a young pharaoh
• Talk to townspeople and solve clues
• Gather information about the threat to the kingdom

Amazon.com Product Description: In Yu-Gi-Oh! Forbidden Memories, you must travel to ancient Egypt and solve the mysteries of the Shadow Game and the seven magical totems. A role-playing adventure based on the animated series, Forbidden Memories invites you to control a young pharaoh who is Yugi's ancestor. You'll talk to townspeople, solve clues, and challenge players to duels to gather information about the impending doom about to reach the kingdom.

From the Manufacturer: Based on the hit animated television series, Yu-Gi-Oh! Forbidden Memories takes players on a voyage into the past to embark on an adventure to save the world from total destruction! The story unfolds in ancient Egypt; where mystery and magic abound. As an evil High-Priest sets his sights on destroying the kingdom, it is only the young pharaoh, an ancestor of Yugi, who can unlock the mysteries of the Seven Magical Totems and save his land. Players must duel with the townspeople to collect cards, decipher clues and solve puzzles in an effort to become the greatest Duel Master of them all!

Customer Reviews:
This Game Is Off The Chizainz, December 13, 2002
Reviewer: ez2snowboard from Bristol,CT
WELL I DON'T REALLY KNOW HOW THIS GAME REALLY IS BUT HEARING HOW THEY EXPLAIN IT SEAMS REALLY PHAT I'M GONNA GET THIS GAME FOR CHRISTMAS AND I'M GONNA LOVE THIS GAME I ALREADY HAVE SOME CHEATS FOR IT BUT I'LL WAIT UNTILL I ALREADY BEAT THE GAME OR HAVING A HARD TIME AND CANT GET BY SO I'LL USE THE CODES. WELL HERES 2 OF THE BEST CODES YOU COULD GET FOR THIS GAME FIRST YOU HAVE TO GO TO THE OPTION "LOAD GAME" THEN CHOOSE "PASSWORD" AND PUT IN FOR
BEWD=89631139
AND FOR THE FIVE PARTS OF EXODIA
HEAD=3396948
RIGHT LEG=08124921
RIGHT ARM=70902348
LEFT LEG=44519536
LEFT ARM=07902349 AND THERE YOU HAVE IT OR YOU COULD FIND THESE CHEAT CODES AND MORE AT CHEATCC.COM OK BYE HAVE FUN WITH THE CODES

Why? Why do I have to give it stars? Why not star chips?, December 8, 2002
Reviewer: warriorgrl42 from Somewhere between London and New York, I think it's Atlantis...?
Overall, this is a pretty good game. If I could have given it a 4.5 or somewhere around there, I would. The only thing wrong with this game(and maybe I just have Attention Deficet Disorder...)is that it gets so tedious dueling people over and over and over and...sorry. I can't say I love the storyline, that would just be sick (however, I do love Yugi), but I do LIKE it alot. This is a good game if you don't mind kind of lame jokes and a few boring characters here and there. And I can tell you not to depend on card codes from Gamefacts.com-- some don't work. Just stop listening to me rambling on and on and on and...sorry.
Hope you don't hunt me down for this.

Yu-Gi-Oh Forbidden Memories, December 7, 2002
Reviewer: A gamer from Perth Amboy, NJ USA
I think that this is an excellent game. Though the starchip part is very inconvenient. When you try to enter a card number it won't work unless you have a lot of starships, and the most you can win in a battle is five. Overall, I think it is a very good game

Good game, but it is hard to find cheats!, December 3, 2002
Reviewer: A gamer
I bought this game last week, its pretty difficult because you start off with a strange deck and you do not know what fuses,i donot think you will find any cheats.

yu gi oh is sweet., December 1, 2002
Reviewer: An 8-year old gamer
I am 8 years old and I love yu gi oh it is my favorite show and then a yu gi oh game.duel monsters is a very cool game and now itis for the ps i cant wait intill forbidden memories2 comes out.

Yugi revealed!, November 27, 2002
Reviewer: the_twins80 from Bellevue, WA United States
Finally, I could play this game on my PS2 instead of watching it on WB. This game was awesome. I had almost all the cards, but it took a long time to have it on my deck. I needed to play for hours to have powerful cards.

Heishin was the strongest opponents than other players. The lowest card that he had was around 3000, not less than that!!
Phew, I hoped Raigeki will show up to destroy all of his strongest cards on field.

I wish the Yugioh for PS2 next Feb will be much better than this one.

ok, November 27, 2002
Reviewer: A gamer from winston-salem, nc United States
this gome is OK. You can either duel back before you were in the millenium item or at the begining you can keep listening to this guy and eventually be in modern time. you have know way of knowing which monsters you are allowed to fuse. This game isn't as fun as real dueeling though :(

Dueling Advice, November 25, 2002
Reviewer: A 9-year old gamer
I love this game[its hot]. The ultamite monster I have unleashed is the Ultamite Beast of Magic[attack 9950 defense 9650]. Here is how to make it.
1] stone soldier + stone ogre + dragon capture jar = stone dragon
2] exodia + dark magician + magician of faith + lady of faith + terra the terrible = mystic boxing exodia
3] chaos mage + lady of faith = dark female mage
4] stone dragon+mystic boxing exodia+dark female mage=Ultamite Beast of Magic

''you know you can feel it'', November 24, 2002
Reviewer: alex from HALLANDALE,FL,USA
Ok,you guys know the feeling you get when yugi is in deep trouble in the t.v shows,this is the exact same thing.this game you have to fuse monsters to make them stronger,yuo will have to travel to the future and then come back.you will find people like joey in their ancient times.you will have to duel with other familliar dulers and the more you win the stronger and more cards you will get.(here is a review from the game)IN ANCIENT EGIPT THERE EXISTED A FORCE SO POWERFUL...IT HAD TO BE LOCKED AWAY FOR A MILLENIA......you will have to unravel the secrets of the ultimate power and the seven millenium items in your own risk.BE WARNED OF THE SECRTS OF A MISTERY PERSON YOU WILL MEET WITH SOMTHING UP HIS SLEAVE.....HA!HA!HA!HA!HA!HA!HA!.....