PS Game Home - Mechanized Action Games:
Iron Soldier 3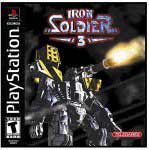 Iron Soldier 3
by Telegames, Inc.

Platform: PlayStation
ESRB Rating: Teen
ASIN: B0000696DF

Check price @ amazon.com , amazon.ca , amazon.co.uk


Customer Reviews:
this game is dam wako stupid game, July 5, 2002
Reviewer: A gamer from Nashville Tnn
i bought this game and ill tell you this game [disappoints] man

1.GRAPHICS... not bad 1 out of 10 i give it a bitter 4

2. DIFFICULTY settings.... hard like i dont know what hit me...i give this A BITTER 1 it is so hard it takes so much practice it pityfull.....

3.GAMEPLAY... well pretty ok but hard as hek i wont lie you can destroy anything you whant but be carefull though destroy anything that tell you to protect GAME OVER that i gave this a a bitter 1

ok know i tould you what you need to know now i bet youre woundering should i get this game well if you like doing realy hard games be my guest but be were youre in for a long struggle ok back to should i get the game or not dont waste youre GOOD EARNED MONEY but like i said if you do like hard games be my guest and i got tha game thinking it was problely was gonna be good but it isnt like my father and parents told me dont judge a book buy its cover.. take my edvice you wont be disapointed...

if youre looking for a game like this that is better get EPIDEMIC ive getting ready too right my review on it to but it might be kinda short though...

im through

DO NOT BUY DONT BUY this over rated petyfull game

Really outstanding, June 19, 2002
Reviewer: A gamer from Florida
I have played both Iron Soldier and Iron Soldier 2, but neither can be compared to the feature-rich and visually impressive Iron Soldier 3. This version carries this exciting franchise to new levels. There is not any element of the game that I don't find superior. If you have never experienced the thrills of destroying whatever you want with an Iron Soldier mech, then climb aboard! The head-to-head gameplay options are an added bonus.

A very good mech game, June 18, 2002
Reviewer: Jim Dobbs from California
It's easy to see why the Official U.S. PlayStation Magazine rated this product 4 out of 5. Great graphics, great music & sfx, great FMV, and great gameplay. YOU CAN DESTROY ANYTHING THAT'S ON-SCREEN - COOOOL!! The multi-player modes are some of the best I've ever played on PlayStation. Visually, it's not far from PS2 games. I can't wait for Iron Soldier 4!