PS Game Home - Boarding & Blading Games:
Tony Hawk Pro Skater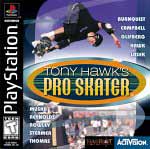 Tony Hawk Pro Skater
by Activision

Platform: PlayStation
ESRB Rating: Teen
ASIN: B00001QED2

Check price @ amazon.com , amazon.ca , amazon.co.uk


Features:
• Skateboarding simulation
• Play as Hawk or any of 8 other pro skaters
• More than 100 moves available
• Compete head-to-head via split screen
• 10 interactive courses

Editorial Review: Tony Hawk, famous for his 720 move (a mid-air 360-degree somersault done twice), is widely credited as being one of the best skateboarders in the world. Hawk lends his technical advice and character likeness to this nine-level title, which is among the better skating titles on the PlayStation. While it is cool to play as Hawk, would-be skate pros can also choose to play as one of eight other skaters. Each character has a different riding style and at least three unique tricks to master.

Solo players will skate to win the world championship, with over 100 moves available to score points, including slides, grinds, and landing tricks. A split screen allows players to compete against each other. During this head-to-head mode, you can score style points, race between obstacles, or play tag. If you opt for graffiti mode, both players compete against each other by "tagging" objects while performing their tricks. A replay mode is available for players to view highlights at the end of a game.

The level design is enormous, with 10 interactive courses, including skate and pool parks, half pipes, and a downtown area. Each skating environment is filled with secret places, shortcuts, and obstacles. Once you get the moves down, you can perform a trick off of just about any object that you see. Tony Hawk is not the only star in this game--the music stands strong on its own. Cool cuts come from Primus and the Dead Kennedys--which can be inspiring during the frantic onscreen action. While game control is relatively solid, there are some minor problems in tight areas.

This title is so large it is overwhelming, given the enormity of levels and available moves. However, persistent skate pros will master this game with a little practice. (Fortunately, there is a practice mode to scrape your knees on.) --Kasty Thomas

Pros:
Variety of moves and tricks
Excellent course design and graphics
Solid controls

Cons:
Control problems in tight areas

GameSpot Review: The concept of a skateboarding game isn't exactly new. Atari kicked off the genre with the still-classic 720 Degrees. Electronic Arts followed up with its event-based home game, Skate or Die. As skateboarding faded from the mainstream's view, the games stopped coming. Fast-forward to a decade or so later. Snowboarding games are all the rage. Sega's got Top Skater out in arcades, and EA returns with Street Sk8er, an abysmal PlayStation skating game. Now, between Tony Hawk and Rockstar's upcoming PlayStation skate sim, Thrasher: Skate and Destroy, we're in the middle of a skateboarding renaissance.

Tony Hawk's Pro Skater takes a more arcade-like approach to the world of skating. The object of the game's career mode is to collect videotapes, much like Mario collects stars. With the exception of the three competition stages, the point of each level is to collect five videotapes. You can enter each stage as often as you want, but you can only skate around the stage for two minutes before having to start the stage over. Two of these tapes are received when you achieve certain scores within your two-minute limit. A third tape is picked up by collecting letters scattered around the level, eventually spelling the word skate. Another tape is scored by breaking five things in a level. The object you must destroy changes on each level and ranges from anti-skateboarding signs to police cars. The fifth tape is hidden somewhere on the level, and you must figure out how to get to it. You start career mode with only one level unlocked. As you pick up tapes, you'll unlock new levels and new skateboards, which raise your skater's stats.

The game features ten real-life pro skaters, which have been broken up into two styles: vert skaters and street skaters, who have slightly different tricks. Beyond that, there are a few subtle timing differences between the skaters, and each skater has three special tricks that can only be performed while your special meter is full. The special tricks include the 540 Board Varial, back flips, front flips, the 360 Shove It Rewind, Christ Air, and the Judo Madonna. Each of these tricks will bring in a higher score than most normal moves, if done correctly. Some of them can even be included in combos.

Aside from the career mode, there's also free skating, which lets you take a little more time examining a level and mastering your tricks. Single-session mode is a pure score competition, where you pick a level and try to get as many points as possible in two minutes. The two-player mode works on a vertical split-screen and has three different modes. Graffiti mode causes certain parts of the level to change to your color when you do tricks on them. Your opponent then must do a better trick on that part of the level to change it to his color. The person with the most colored pieces at the end of two minutes wins. Trick attack is a simple score battle. Horse is similar to the basketball game upon which it was based. Player one has ten seconds to do the best trick he can do. Player two must match or beat that trick to avoid getting a letter. The first person to get all five letters (spelling horse) loses. This is the slowest of the three modes, since the game goes through a short load while it switches skaters. The ability to choose the same skater here to reduce load times would have been nice.

Career mode doesn't take a whole lot of time to complete once you've gotten familiar with all the levels, but even after completing the game with all the skaters, you'll still want to go back and do some free skating. It's one of those games that will keep you coming back long after you've mastered it. The level design is part of what gives the game such longevity. The large levels have lots of extravagant areas, all ready for tons of combos, while the smaller levels are tightly packed with rails, ramps, and bowls.

The soundtrack is filled with songs by bands like the Dead Kennedys, Goldfinger, and Primus. I wasn't a huge fan of the soundtrack, but that's something better left to your personal taste in music. The sound effects are really outstanding. Rails clink when you jump off them, sidewalks have different textures than the street, and different ramp materials make different noises. My favorite sound in the game is probably the noise generated by skating on the metal half-pipes in the game's final level. The game's graphics are really good. The game runs at an excellent pace, and the camera rarely gets in your way. The bit of blood that shoots out of your head on the harsher wrecks is a very nice touch.

Tony Hawk's Pro Skater is a game for skaters and nonskaters alike. Some may be initially turned off by the occasionally questionable physics, but this little slice of unreality brings a lot of gameplay fun along with it. It would have been nice to see some more variety in the game's tricks, but as it stands, THPS is an outstanding game and is a worthy addition to anyone's PlayStation collection. --Jeff Gerstmann

From the Manufacturer: Tear up the asphalt with the speed and agility of a seasoned pro in the ultimate skateboarding experience. Skate as champion Tony Hawk, with all the insane and technical moves that mark his signature style--or as one of eight other big-name skateboarders. Work your way up the ranks, performing suicidal stunts and entering brutal competitions in an effort to become the highest-rated skate champ. Tony Hawk's Pro Skater. It's time to go pro. Skate as Hawk: Perform the radical moves of the most famous skateboarder in the world--Tony Hawk. He not only "stars" in the game, his design contributions lends authenticity to Pro Skater's gameplay style. Plus, try out the signature tricks of eight other recognized pros, including Bob Burnquist, Kareem Campbell, Rune Glifberg, Bucky Lasek, Chad Muska, Andrew Reynolds, Geoff Rowley, and Jamie Thomas. Fully Skateable, Interactive World: Ride multiple, realistic vert courses, including skate parks, pool parks, downhill courses and half-pipes, plus street courses, such as a school, a downtown area and a shopping mall. Each non-linear path is littered with secret areas, shortcuts, ramps, and interative objects--allowing you to ride off of just about everything. Shophisticated Trick/Combo System: Pull off hundreds of motion-captured move combinations and stunts. Skate forwards, backwards and perform combos on-the-fly, including airs, grabs, slides, grinds, kick-flips, and landing tricks. An intuitive interface and easy learning curve allow you to gradually progress to more difficult moves. Intense Head-to-Head Competition: Take on two-player, split screen Point, Battle and Time Attack modes, the Half-Pipe Challenge, and a single-player career mode in which you perform stunts and enter competitions to become the top-ranked pro. For added realism, falls and accidents result in "face plants," scrapes and broken bones.

Customer Reviews:
One of the best sports games ever!, August 22, 2002
Reviewer: musiqstar87 from Huntington WV
From warehouses, schools, and malls to big citys and a ship, Tony Hawk's Pro Skater is an awesome sports game! So many moves available, it has to be one of the best games i own. It has awesome features like options to save and replay your runs in any level any time you want, you can do a two minute run in any level with Single Session, and you can play in any level as long as you want in Free Skate.

Although, this game does suffer a little bit of damage. The first mistake is the lack of challange up to the sixth level:
1st Level: Warehouse - Way too easy, i got all five tapes in one turn.

2nd Level: School - SIMPLE, if you can't get all five tapes then there's something wrong with you.

3rd Level: Mall - Easy as well, took a few trys to get the secret tape, but, now that i know where it's at this level is easy as ...

4th Level, 1st Competition: Skate Park - Come on! These judges are way too easy to impress, you don't even have to get 10,000 to win the gold!

5th Level: Downtown - Bit more challenging, but most of its easy.

6th Level: Downhill Jam - The hardest level in the game, there are several things wrong here. First, S-K-A-T-E, how in the ... are you supposed to get SKATE when the E is at an almost impossible position? I've seen it done but it's hard as ... to get. Second, the secret tape is way to hard to get, i mean, come on, you have to have slow mode on to get it, otherwise, it's very very hard to reach. Why didn't they put this as the last level instead of Streets? It's way harder than that level.

7th Level, 2nd Competion: Burnside - Great challenge, awesome layout.

8th Level: Streets - The best level for the fact that every challenge is as easy as it is hard.

9th Level, 3rd Competition: Roswell - Very hard to impress judges, but great layout. (Remember, you have to get all gold in all three competitions to get your video)

Hope you enjoyed my review.
Now Get Your ... Out Of The House And Go Skate!

awesome, June 11, 2002
Reviewer: mstrcrowley666 from IL
this one started it all. there's no "create skaters" or anything and that's okay. it's still fun. people probably don't play this anymore, but it's just as good as pro-skater 2 and 3. plus, 2 and 3's music wasn't bad, but most of the songs were rap. the thing is "PUNKS like to SKATEBOARD and SKATERS listen to PUNK". All the songs on here are punk, no rap. It features Dead Kennedy's, Primus, Goldfinger, Vandals, Suicidal Tendencies, etc. It's a game that you can't stop playing. It's not too complicated. and if you don't have any punk cd's but you wanna throw a punk party, just put this game on turn the volume up!

Groundbreaking skateboarding game, June 4, 2002
Reviewer: John from Texas, USA
Activision pioneered the new genre of sports games with Tony Hawk Pro Skater. This game became an instant classic and has gone on to spawn two sequels and a multitude of game clones. This game isn't as good as Tony Hawk 2, but I have to give it kudos for being the original. This game is very fun and very easy to beat if you play long enough. :) The selection of skaters isn't very good, the graphics are so-so, etc... But the gameplay is what makes this game. The gameplay is unequalled by any other skating/sports game, period. This game is great for kids to adults, everyone will enjoy it.

The original unexpected classic, May 4, 2002
Reviewer: Nick from Reading, PA
The original Tony Hawk Pro Skater was a surprise hit for Activision when it was originally released for the Playstation because it was unlike any other skating game before it. Other games with skateboarding like Sony's Xtreme series (2Xtreme, 3Xtreme, etc...) incorporated skateboarding, but the results were lackluster at best. What made Tony Hawk go above and beyond your average extreme sports games was that there was an added realism incorporated with easy to pull moves and tricks that rounded out a real fun package. This game was revolutionary at its time, and it spawned two sequels that topped the original, and a host of imitators that still can't match the original Tony Hawk. The soundtrack is worth noting as well; Primus, Dead Kennedys, Suicidal Tendencies, and the Suicide Machines lend some tracks making the game even more enjoyable. If you have never played the original Tony Hawk, but have played the sequels, chances are you won't like this, but no matter how you look at it, the original Tony Hawk Pro Skater is a piece of modern video game history.

Skating Fun, January 26, 2002
Reviewer: A gamer from Gulf Breeze, FL United States
I've never even set foot on a skateboard before and I think this game is awesome! This is the first playstaion game I bought, and It's still my favorite! This game may be a little tricky at first, but you'll get use to it. I would recomend getting the cheats for this game, b/c you can make the special light up and the players can earn massive points this way. Also, unlock Officer Dick and then Private Carerra-she's the best (mad speed).
This game is so much fun, any game player should definately invest the cash to add this to their collection!

The best breakthrough game ever!, October 1, 2001
Reviewer: Matt from CT USA
This is the first instalment of the tony hawk series. This is the start of greatness because it allows you for the first time to become one of your favorite skateboarders. You board through great levals completing objectives and winning compatitions. This is also an awsome multiplayer game. You get to skate against your friends to get the most points or in the grafiti mode. In grafiti you see who can do the most tricks on different areas of the leval whoever claims the most territory wins. This is an all aroung great game and a must buy but the graphics could use some work.

sam the boardsman, September 22, 2001
Reviewer: sam cavener from waukegan illinois
its a cool game. i have played it for a year and its awesome the ramps are sick. my favorite level is the unknown level its rad. the best skater is officer dick with the big head.i cant wait to buy t hawk 3.

Solid game, August 30, 2001
Reviewer: Mark Lukens from Pennsylvania
Tony Hawk pro skater is a fabulous game. I was hooked on this game for months trying to break all of my own point records. The courses are great with many tricks to pull and a good amount of riders to keep me satisfied. The only thing that Tony Hawk 2 has over this one is the map editor everything else in my opinion is better in the first.

Awesome Start, July 13, 2001
Reviewer: Kyle Walton from Belfast, ME United States
Great Graphics and Gives a challenge to the Game. nstead of THPS2 which is very easy. Awesome skaters and good levels.

Purchase this game, NOW!, April 15, 2001
Reviewer: clayford from Mt. Juliet, TN
Honostly people, this is the best game on Playstation today, and will most likely take ages to outclass. I first learned of this game from a review in a magazine, but I wasn't really into skateboarding, so I decided to let this one slide. Coincidentally, my cousin brought over his Dreamcast version, and one night later, I was off to buy this game at the nearest location possible. In this game, you play as one of 8 of the world's greatest pro skaters, as you compete in different levels and competitions. By doing different moves on your board (this is done by moving the left joystick in any direction, and pressing either square or circle or triangle - square does flips, circle does holds, and triangle does different grinds).In your skating adventures, you compete to win "tapes" which are used to unlock new boards, new levels, new characters, and competitions. To win the tapes, you've got to board your way like a pro through different levels, trying to destroy certain objects, beat high scores, spell the word SKATE, and by finding a hiddin tape (obviously hiddin in the level). It may sound kinda simple, it may sound complicated....but trust me, it's ALL GOOD! And even if you do manage to find someone who hates this game, who could hate the great tracks of music it features, from REAL bands? Okay, but here's where I'm gonna get picky. Sometimes while pulling off moves that you need to get you that top score, you'll fall over on some un-foreseen object, or you'll be goin for a quarter pipe, and a car will hit you (yes, there are cars!). But that's really gettin picky! The only other real draw back I can find is that it's too addictive! Trust me and buy this game!