PS Game Home - Bike Games:
Ducati World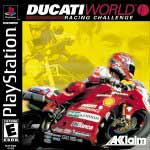 Ducati World
by Acclaim

Platform: PlayStation
ESRB Rating: Everyone
ASIN: B000053UW8

Check price @ amazon.com , amazon.ca , amazon.co.uk


Amazon.com: If you're a fan of motorcycle racing games, then you might want to book some private time with your trusty game console. Acclaim's motorcycle racer has plenty of good ideas going for it, but substandard follow-through and too-easy races keep it trapped in the middle of the pack.

In addition to the standard Gran Turismo-esque races, licensing tests, and upgrades, Ducati World offers a number of innovative gameplay options. For example, the game's challenge mode allows players to choose their bikes and put money on the line in a head-to-head race. It might be gambling, but at least it's cheaper than racing for real pink slips.

While the game has plenty of bikes to choose from, including several from years gone by, the racing is at times so easy that most seasoned gamers will soon start looking around the room for other discs to spin. A collection of gameplay modes will keep the attention of hard-core bike enthusiasts, but this game will seem to others as rushed as an impromptu game of chicken. Ducati World's graphics are dated, and its music is simply terrible.

Pros:
Wide selection of bikes

Cons:
Choppy and sometimes distorted animation
Substandard graphics and sound effects

Customer Reviews:
Desmo fans repent!!!, March 3, 2001
Reviewer: Robert Gonzalez from Downey, CA United States
Ducati World Racing Challenge is the best motorcycle game for PSX!! It plays just like GT and GT2 in that you must earn your licenses, compete in different leagues with different requirements, buy different bikes and upgrade them as you earn cash. theres even a 2 player split screen mode. Sound is great, as is the detail to the bikes, which there are over 40 models to choose from such the 900SS, 750 Monster, 748, and the Desmodromic god of all sportbikes, the 996. There are a few drawbacks however. All the bikes are Ducatis (which isnt really a drawback considering it is their game after all), the graphics could be smoother, and although the techno-beat soundtrack is kinda cool, it would have been better to have a more diverse collection of soundtrack tunes ala GT2, Tony Hawk 1&2 etc, etc.

All in all, a very nice game, way better than that steaming pile "Superbike 2000" by Electronic Arts. If your into bikes, racing, or are just a die-hard gamer, "Ducati" will not leave you disappointed!!

Ducati World is the best racing game out there!, January 9, 2001
Reviewer: auxc from New York, NY USA
Ducati World Racing Challenge is the best racing game available today! There are a ton of awesome, super-realistic bikes to race, and the Ducati Life Mode plays just like Gran Turismo. The graphics are awesome, and the gameplay is so realisitc that you actually feel like you are riding on a real Ducati! I used to love having my friends over to play video games, but now I hate it because all they do is fight over who gets to play Ducati next. This game is a must buy for any racing fan!