PS Game Home - Bike Games:
Dave Mirra Freestyle BMX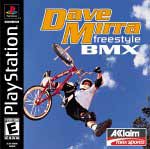 Dave Mirra Freestyle BMX
by Acclaim Entertainment, Inc.

Platform: PlayStation
ESRB Rating: Everyone
ASIN: B00004TJDL

Check price @ amazon.com , amazon.ca , amazon.co.uk


Features:
• Motion-captured BMX moves by Dave Mirra and Ryan Nyquist
• 12 interactive environments focused on vert, dirt, and street riding
• Use modifier button to expand your repertoire to more than 1,300 moves
• Skeletal Dynamics System generates real-time crashes, different every time
• 10 different multiplayer games

Amazon.com: Tony Hawk's Pro Skater from Activision became a megahit last fall. Since then, dozens of companies have tried to bring fringe sports like surfing, sky diving, and other "me, too" extreme sports titles to market, and all of them looking to cash in on the craze. Up until now, none have matched the quality or replayability of Tony Hawk, and only a small few have come close, including this month's challenger, Dave Mirra Freestyle BMX from Acclaim.

Instead of using a skateboard to race against the clock and perform dangerous midair stunts for points and prestige, this game is all about daredevil BMX bike riding, so that players can aim to pull off a "Superman," "Icepick," "Tailwhip," or "Toothpick." In total, there are over a dozen unique environments, such as Camp Woodward's backbreaking "Lot 8" or the San Jose Ramp Club, to name two.

First, players must select their rider of choice, be it repeated World Champion biker Dave Mirra, 1999 Dirt Circuit Champion Ryan Nyquist, or eight other stars of the sport. Each of the riders enjoys his own signature moves, plus even more riders can be unlocked over time. However, there is no create-a-player feature, as there is with a few other games of this kind.

Fortunately, controlling the rider is a cinch to learn for younger or novice gamers, and there's enough substance here to keep players pedaling long after the goals are met. In fact, along with the "Free Ride" mode, the timed "Session" mode, and the challenging, career-based "Proquest" mode, there are 10 different two-player games, including our favorite, dubbed "B-M-X", in which the second player has to mimic the first rider's moves (remember basketball's H-O-R-S-E variant?).

Dave Mirra Freestyle BMX's visuals are only satisfactory, with nothing really to kick heels about. The 3-D engine brings a few annoying screen "pop-ups" (objects and backgrounds awkwardly disappear on occasion, as riders move in relation to the "camera") and "clipping" problems (in which the rider gets stuck mysteriously) that probably could've been ironed out with a few more weeks in development. And, while the midair stunts and crashes look painfully real, the game also seems to lack a convincing sensation of speed.

But, even with its shortcomings, Dave Mirra Freestyle BMX is a rad BMX arcade sim that proves that the Tony Hawk's Pro Skater series, while still the king, is not the only game in town. --Todd Mowatt

Pros:
Controls are easy to learn
Great two-player games

Cons:
Annoying "pop-up" and "clipping" problems
No create-a-player feature

Amazon.com Product Description: Ride as Dave Mirra, 10-time World BMX Champion and Gold Medal Winner, in the 2000 X Games Street Competition; Ryan Nyquist, Gold Medal Winner in the 2000 X Games Bike Stunt Dirt Jump; or any of a group of other pros in this BMX game for your PlayStation. The open trick system lets you start with basic tricks and modify them to create new moves. More than 1,300 different tricks are available, resulting in infinite combinations. Make your way through Vert, dirt, and street-riding levels, each of which has multiple objectives and hidden areas. Master levels to earn support from such sponsors as Slim Jim, Adidas, Haro, and Specialized. Ten different multiplayer games are available, including B-M-X (a variation of HORSE), Longest Grind, Sickest Trick, and Gnarliest Crash. The soundtrack includes selections from Sublime, Cypress Hill, Rancid, Social Distortion, Deftones, Pennywise, and Dropkick Murphys.

Customer Reviews:
The best!, February 18, 2002
Reviewer: Molly from OH United States
This game is the best ever made. I've played all the games it is just better that any of them. The only thing i would change is that i would give it more game modes. It is still the best. The graphics are awesome as well as the tricks. You never run out of tricks because there are so many combos. The tricks are simple to do to. This game is a must have for any one who likes bmx or if your just looking for a good game!

Dave Mirra's is the Best Game in the biking world!!!!!!!!!!!, December 8, 2001
Reviewer: An 11-year old gamer from United States of America
I am an 11 year old kid. One day I went to Wal-Mart with my brother. He got Dave Mirra. I can't belive the graphics. 10 times better than Mat Hoffman in all catgiores. For one there are many more conptions and graphics are 200 times better. The only thing is too easy to beat. But you get great pros.

The Best PSX Game Out There!, October 30, 2001
Reviewer: A gamer from Somewhere
This game is the best! You can chose between 10 different riders and if you beat the game with one, you can unlock the bonus player, The Slim Jim Guy (the guy in the commercials)!! There are 4 bikes for each rider and a secret bike.Thereare @ (like the smiley?) 5 styles for each rider. The places you ride in are the bomb!The music is great with tracks from many bands. There are so many tricks like backflips, superman, no footer, and much, much more! The graphics are awesome. This is a must buy for BMX fans!

Mirra Rocks!, September 23, 2001
Reviewer: A gamer from Urbana,IL,USA
This game rules!... Enough said.

so good i bought two, August 22, 2001
Reviewer: shelbycoug from kansas mo usa
this game was so [good] and fun i boght 2 i give it 5sars

I do not like this game...PERIOD!, July 17, 2001
Reviewer: bryan from pooville , poo , pooS.A
The games choppy graphics are just the begining, i hate the game play, and it is not fun at all. Its hard to control,and the specials are hard to learn.

just bought dave mirra fs bmx, June 17, 2001
Reviewer: A gamer
This game is really good except it is too easy... You can pull a backflip off a 1 foot rail... Also it is too short...I beat it with Ryan Nyquist within 3 or 4 days, not even playing it a lot...get Matt Hoffman if you had to choose between the two.

Now only ...!!, April 26, 2001
Reviewer: A gamer from USA
This game is fast becoming one of the must-haves on PS1, and they just dropped the price to ... - if you don't have this game, buy it NOW!!