PS Game Home - Bike Games:
Supercross 2000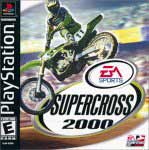 Supercross 2000
by Electronic Arts

Platform: PlayStation
ESRB Rating: Everyone
ASIN: B00002R28L

Check price @ amazon.com , amazon.ca , amazon.co.uk


Product Description: Remember the last time that you dragged a foot peg through a supertight turn, crested a steep hill at 12,000 RPMs, and then slid down the backside toward the finish line neck-and-neck with the race favorite? Can't recall? Then add that memory to your gray matter with Supercross 2000.

EA Sports's exclusive license with PACE Motor Sports brings the immensely popular extreme sport of supercross racing to the Nintendo 64 with all of the muscle-jolting, dirt-flying fun of the real thing. Similar to motocross racing's cross-country, outdoor track competitions, supercross takes place inside stadiums on massive mounds of dirt. The action is exhausting, with slides, jumps, dips, and open-throttled runs to the finish.

In Supercross 2000, riders can progress through an entire season of racing, nail stunt after stunt in the freestyle jump-off mode, or challenge a friend in split-screen, head-to-head racing. More than 25 authentic supercross and freestyle riders--including Mike LaRocco and Jeff Emig--are available, as well as factory bikes such as the Honda CR, Suzuki RM, and Kawasaki KX.

The game pays careful attention to realistic physics, so players will virtually feel every dip, skid, and big-air jump. And as the dirt track shifts and moves into ruts and grooves beneath the riders' wheels, players must constantly make subtle adjustments to keep control. It's loud, fast--and memorable--stomach-churning fun.

GameSpot Review: Supercross 2000 is Electronic Arts' entry into the world of dirt bike racing, and it definitely feels like a first-year effort. Control issues and dodgy graphics plant Supercross 2000 firmly behind 989 Sports' recent addition to the genre, Supercross Circuit. Supercross 2000 is broken up into two styles. The racing mode puts you on lots of different tracks, while the freestyle mode puts you in a large area populated with jumps, bowls, and other air-enablers. On paper, both modes look really cool, but the game's control really isn't up to snuff, and this takes a lot away from what otherwise would have been a pretty good game. The problems surface when you make turns. The game tries to make turning realistic, in that your rider will put his foot down if you jam the stick all the way to one side, but you never seem to turn with a tight enough radius to feel fully in control of your bike. Turning problems aside, the game features a pretty nice physics model, and the bikes buckle and bounce in a realistic fashion after big jumps. Graphically, the game looks a little boxy, especially the racers' legs and torsos, but everything runs at a tolerable frame rate in both one- and two-player mode. The game's sound is every bit as annoying as real supercross races, complete with grinding, buzzing motors. The play-by-play is low on the personality meter, sticking strictly to calling out passes, tricks, and other semi-important events. If you're a fan of supercross, 989's Supercross Circuit is the game to get. EA's Supercross series may eventually become a contender, but this first effort is lacking. Hopefully we'll see some control tweaks and some improved performance in the sound and graphics departments in the unannounced-but-you-know-EA-will-eventually-do-it sequel. --Jeff Gerstmann

From the Manufacturer: EA Sports introduces the first full AMA Supercross racing simulation for the Playstation. Real riders, teams, tracks, and bikes bring the premier Supercross 2000 to your system. Launch your bike in the air to conquer the triple-or eat dirt in a bruising crash. Above all, go for broke in motorcycle racing's most exciting sport-race for the checkers or don't race at all.

Customer Reviews:
Supercross 2000 Review, May 26, 2000
Reviewer: A gamer from Houston, Texas
Supercross 2000 is an excellent game for anyone that likes car/motorcycle type auto racing for playstation. It combines real-world physics and real tuning ability with the cartooniness you get from the tricks, the air, and the craziness. I give this five stars because you can race any of the 1999 Supercross Tracks from the racing series(even the same track setup as the real race in 1999! ), or you can do a freestyle supercross round at three different stadiums from across the country. This game is a very fun game at a very affordable price. It is appropriate for ANY age group.

Awesome dirt track fun!, May 10, 2000
Reviewer: A gamer from Cornish Flat, NH
I have played this game a lot and definitely agree that it takes some time to master. It is not the typical hammer the throttle bike game. It blew MotoRacer right out of the water! If you are a serious rider in real life this is the game for you! The bikes definitly handle better than any other bike game I have played, arcade included. There is a definite difference in the handling between the agile 250cc and the heavier 400cc bikes which makes the game all that much more challenging to play.

Cool, March 7, 2000
Reviewer: A gamer from Highland, Illinois
I have played other supercross type games, but Supercross 2000 seems to beat them all! I have played Jeremy McGrath's Supercross 2000, but I would have to give it the same rating as I gave this......COOL GAME! 1

cool yo, January 31, 2000
Reviewer: A gamer from Pittsfield,Massachusetts
This game is good. It has awesome jumps. It is cool yo! I got over 4000 points on the freestyle! You have to get this game OR ELSE YOU WILL NEVER SEE LIVING DAYLIGHT AGAIN! Hope you buy this game.

Terrific Game - Very realistic and challenging, December 23, 1999
Reviewer: A gamer from Naperville, Illinois
I have played this game for at least 100 hours. I read some of the poor reviews here and couldn't believe it! The neat thing about this game is you don't just put the throttle down and skate around the track - you have to adjust your speed to keep from overshooting turns, lean back at takeoff to make the triple, and work the bike through the ruts in the corners. I am an experienced gamer and it took a long time to to get to the point where i could consistently make the top three. The really cool thing is that the bike acts like it does in the real world - you can adjust in mid-air to land in a fashion which snaps your rear end through the corner, you can skate over the whoops by pulling back on the handle bars, etc. The announcers also add to the effect and have a lot of unique commentary. I've played Supercross Circuit and won the first race I tried on pro- so much for that $$. I found it way too easy and a bore in short order. Definitely buy this game. It will take a little longer to master, but I'm still playing it and enjoying the challenge (meanwhile Supercross Circuit gathers dust).

this game was fun, November 28, 1999
Reviewer: A gamer from St. Louis, Missouri
i think this game was fun. the freestyle was fun when you can do heel clickers and that. the graphics could be better and the turning in the corners stopped you but when you let off the gas it let you go. this is a good game for ages 8-16

Waste of Money buy SUPERCROSS CIRCUIT, November 28, 1999
Reviewer: A gamer from Buddscreek, Maryland(Site of AMA pro Motocross Track)
This game is one of the worst games out there. Jeremy McGrath 98 was more fun than this game. The corning is too slow. also, when you go to turn in any of the games the bike stops and won't turn. I suggest buying Jeremy Mcgrath 2000 as third best, Championship Motocross featuring Ricky Carmichael, and the Best EVER Motocross and Supercross game SUPERCROSS CIRCUIT. I race dirtbikes and I know how they work and this game goes against all laws of physics of how the bike is supposed to act. I give this game a fourth of a star. Buy Supercross Circuit!

Wish I Would Have Rented it First!, November 25, 1999
Reviewer: A gamer from California
I'm an amateur motocross racer, and a big fan of the sport, and I was terribly disappointed with this game. The only thing that I did like was the play-by-play announcing by Art Eckman and David Bailey, that was pretty cool. However, the graphics are poor, the game runs incredibly slow, and there are serious problems with corners. I have never seen any pro (or amateur) rider take corners that slowly. There's also a glitch that if you lean over too far in turns, your bike will not move! I'm not sure if the graphics people have seen a race since 1980, because all the bikes have huge 80's style handlebars, and you would never see a pro rider racing with his elbows at his sides! Shame on EA Sports!

The first real Supercross game..., November 22, 1999
Reviewer: A gamer from Boston, Massachusetts
Supercross 2000 is the first game to capture the true feel of riding a bike on a Supercross track - the track detail is amazing. I found this game extremely fun once I learned how to drive the bike well.