PS Game Home - Bike Games:
Jeremy McGrath Supercross 2000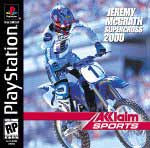 Jeremy McGrath Supercross 2000
by Acclaim

Platform: PlayStation
ESRB Rating: Everyone
ASIN: B00001ZWMK

Check price @ amazon.com , amazon.ca , amazon.co.uk


Product Description: Jeremy McGrath Supercross 2000 utilizes an all-new racing engine that features state-of-the-art graphics, physics, and motion. Players can race as or against Jeremy and other superstar riders: Kevin Windham, Sebastian Tortelli, Jimmy Button, John Dowd, Nathan Ramsey, Greg Albertyn, and Larry Ward. Supercross 2000 also features eight supercross stadium courses, eight licensed motocross tracks, a custom 3-D track editor, motion-captured riders, and authentic rider uniform and bike designs. In addition, there is an exclusive, over-the-top stunt competition featuring rookie Travis Pastrana, the winner of a recent X-Games freestyle competition.

Amazon.co.uk
Jeremy McGrath Supercross 2000 is another in the long line of extreme-sport action games. With the likes of Dave Mirra's and Tony Hawk's games already well established, is there room for one more in this ever-expanding market?

The game has all the right elements: Jeremy is the 11-time world Supercross champion, and the soundtrack is from the punk band the Offspring, but somehow the game just fails in the execution. The game lacks that certain style, that excitement, and instead flounders somewhere between a racing and freestyle-stunt simulator.

The stunt part of the game seems like an add-on, with no real formula. The racing is fun, but it lacks a real direction. The game's control seems like an afterthought; maneuvering is far too severe. Although winning a race can earn you points to unlock new sections of the game, winning those points is unfortunately a different matter.

The game's track editor can drag the fun out a little longer, but it's really more fun to cause havoc and pileups on the first corner than trying to win the championship laid out before you. If Acclaim wants the McGrath brand to continue, they had better pull something out of the hat for the next installment. --Robert Holliday

From the Manufacturer: Jeremy McGrath Supercross 2000 features a brand-new engine, all-new game play, jaw-dropping graphics, and the most insame racing action ever seen in a video game. All the extreme moves and jumps of supercross are here with the sport's all-time winningest racer, Jeremy "Showtime" McGrath!

Customer Reviews:
Pass, December 31, 2000
Reviewer: A gamer from greenlawn, ny United States
I actually got a copy of this game while doing some game-testing at Acclaim. (The game was another horrible supercross game, by the way.) Both my and my 2 friends who went with me sold the game after a matter of days. It's absolutely horrible! There's no redeeming qualities whatsoever. Now, I'm not a supercross enthusiast, but I do appreciate good games. This is not a good game. If you must try it, rent it, don't waste your money.

Far off the mark, August 15, 2000
Reviewer: silkik from California, usa
This game is really bad. The tracks look nothing like the real life tracks, if it didn't tell you what track you choose you would never know. All the jumps are either to far or to short making the timing difficult. The graphics are terrible even for the playstation and the rider physics are the worst I've ever seen in any motocross game, then you have to turn the bike without crashing which is a big problem. Hey when was the last time you wen't 80mph on your 125 on a supercross track, that's right, you havn't, but in this unrealistic game you can. this is the worst motocross game on the market, and I've played them all, the only half way good think is the track editor which is still weak. Take my advise and buy Supercross Circut instead. You won't be let down.

It's better than the 98 version., August 4, 2000
Reviewer: A gamer from Goshen, Ohio USA
It's ok...I like games that allow users to create their own tracks. The graphics could be a little better. I still like Ricky Carmichael Championship Motocross better.