PS Game Home - Basketball Games:
NBA Live 2001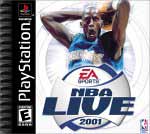 NBA Live 2001
by Electronic Arts

Platform: PlayStation
ESRB Rating: Everyone
ASIN: B00004W4QV

Check price @ amazon.com , amazon.ca , amazon.co.uk


Features:
• NBA basketball game for up to 8 players
• New animated bench sequences, reactions, interactions, and celebrations
• Rewards system provides new hairstyles, shoes, player features, and more
• In-depth play analysis by Bob Elliott
• Play many of the game's greatest legends in 1-on-1 or 5-on-5 game

Amazon.com Product Description: Going back even to when Michael was still in Chicago and Magic had returned to the boards, EA Sports' NBA Live series regularly has been getting the fast break and refining the game of basketball for the PlayStation (and other platforms). NBA Live 2001 starts this season with an enhanced atmosphere--new animated bench sequences, reactions, interactions, and celebrations--with all of the pro teams and arenas, including a new outdoor court. For your listening pleasure, this year's model features improved sound effects and commentary by the likes of Bob Elliott. NBA Live 2001's rewards system will unlock bonuses like new hairstyles, shoes, and player features to reward outstanding play. And, if you're missing the styles of retired stars, you still can play many of the game's greatest legends in one-on-one or five-on-five games.

Customer Reviews:
Nba live rocks, July 1, 2002
Reviewer: Jelani Whitehorne from Chicago, IL United States
this game is soooooo good. buy it, buy it now!!!!!!!!!!!! the only thing that is missing is franchise mode but it still rocks the world in all it does! the challenge mode is a bit boring but it is truly rewarding once you you unlock a code. nice graphics too. it is worth the money!!!!!!!!

Great Action-Packed Game, But Needs Changes., April 10, 2002
Reviewer: Adrian D. Perkins from Houston, TX
When I purchased NBA Live 2001, I was very satisfied. The game is very simple to play and is full of intense action. The graphics are good and the overall gameplay is magnificent. However, the game does has it's fair share of glitches. First off, it's too easy to win a game. I literally had to create a custom team to play against because the regular teams were too easy to beat. Currently, the custom team that I created is my only real competition 2. The game could have included a referee or two, because then, the game would have looked more stuctured and organized. 3. The game pauses when a player attempts to argue a disputed foul charged agaist him. This is really irritating, and sometimes, the game totally freezes up as a result of this! 4. The game still has the same boring look as it's predecessor. I personally think that the game needs a major face lift, i.e., a different arena, more camera agles, player introductions at the beginning of a game, and a combination of game play and announcing at the same time. These features would have made the game more interesting, but overall, the game is a great buy. It is very fast-paced, the crowd effects are extremely realistic, it has a nice variety of gaming options, includes a dynamic soundtrack, and if you use a vibrating controller with it, you will difiniately be able to feel all of the slam dunking and body banging action! I highly recommend this game to any basketball fanatic!

nbalive2001, June 20, 2001
Reviewer: An 11-year old gamer from miami,fla USA)
I've played nbalive2001 a whole bunch of times and i think its better than 2000 because of all the cool things that were added to 2001.I think you people should buy this game and enjoy the fun! I like the game because of the all new features and the chance to go 1 on 1 and 5 on 5

STILL FUN!!!!!!!, June 7, 2001
Reviewer: A gamer from somewhere in NY
If you enjoyed NBA Live 2000 you will be happy with this one. But if your expecting a whole lot of changes just keep played 2000, because it basically the same thing. I've organized some the highs and lows:

Highs: 1. One of the most entertaining sports games. 2. Great gameplay 3. you got a lot of options to choose from. Like practice mode, three-point contest, etc.

Lows: 1. Same EXACT gameplay as the one in 2000 2. Same graphics ( the crowd looks better, though) 3. Same lame old boring commentary like its older brother 4. the faces look really messed up ( some players have teeth sticking out of their faces on close- ups)

Final verdict: If you don't mind the almost same game as last years then buy it. If you want changes, please don't buy it!!!!!!

WARNING!!, April 18, 2001
Reviewer: Will W Kim from Mount Prospect, Illinois United States
If you already spoiled yourself by playing the computer version(optimum speed), PS2 version, Dreamcast NBA 2K1--THEN DONT BUY THIS GAME--YOU'LL BE DISSAPOINTED LIKE ME. I've barely played it once after I paid 40 bucks for it. The options are all there, but the graphics and gameplay will haunt you.

The BEST NBA Live so far!!!, March 26, 2001
Reviewer: A gamer from Utah
You have to get NBA Live 2001. You can play 1-on-1 with Michael Jordan, Wilt Chamberlain, "Pistol" Pete Maravich, Bill Russel, and all the other greats along with the stars of today. There's also a new practice feature where you can take a player to the floor and practice your moves. You can even put the 50's, 60's, 70's, 80's and 90's All-Stars up against your favorite team. You got to it. It's the best!

Tooooooooo easy, February 23, 2001
Reviewer: mrliquid from Boston
WAY to easy to win........looks, sounds, all a 3 nothing better out there sadly, so this is the game to get.....but only if ya don't have time to play a real game a B-ball.

Great Game for the Great Fan, January 25, 2001
Reviewer: An 11-year old gamer from Metro Manila, Philippines
NBA Live 2001 for Playstation is very similar to the last version, NBA Live 2000. The graphics are detailed but not detailed enough. The players' body, arms and legs seem "boxy" and square-like just like NBA Live 2000. This game is cool. I recommend this game for NBA fans(like me) who would like to try playing with the pros, creating custom players and earning rewards(which is a new feature in this series). This also features the 50's, 60's, 70's, 80's and 90's All-Star players which was also featured in NBA Live 2000. There are more comments said by the commentator. I myself is in the Superstar level because I've had lot's of pratice with the older versions. It seems like in this version, it gets harder to shoot. You must have a good stroke to get it in. I hope many people buy this because it's a great game for the great fan. I can't wait till the next one comes out.

Wait for the PS2 version, January 7, 2001
Reviewer: david5345 from MA
NBA live has always been the best PSX hoops game and it still is, but only because of the lack of talent. This version is almost exactly like last years version something that is not common among the NBA live series. I'll rent this one, and if you have a PS2 you should too because if the PS2 version lives up too it's excpectations it will be twice as good as this. If you only have PSX, make this your hoops game (or NBA Live 2000 if you do not mind old rosters.).

Worth Buying - Or Not? You Decide, January 1, 2001
Reviewer: mulebennett3 from Charlottesville, VA USA
I've always been a fan of the NBA Live series, whether it be for Nintendo 64, Playstation, or Super NES. I've played every season that they've come out, and I've always thought that it was a fun game. Personally, I think this game has some weak points and some strong points.

The Weak Points:
1) Same gameplay as NBA Live 2000 2) Season play gets boring after about 10 games 3) No free agents 4) No salary caps 5) You can hit some shots all day 6) Too easy, like when you play Superstar with the Clippers against the Lakers and win by 15

The Strong Points:
1) Same strong gameplay as previous seasons 2) Momentum meter 3) Always going to be better than NBA Shootout 4) Addictive gameplay in the first week that you own the game 5) NBA Live Challenge

So basically this is a good buy, but you might want to wait until you can get it for less than 40 dollars, or if you can get it for a present. It's a good game, but if you have NBA Live 2000 it's basically the same game with a few new features and the always updated rosters.