PS Game Home - Basketball Games:
NBA In the Zone 2000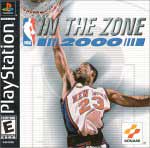 NBA In the Zone 2000
by Konami

Platform: PlayStation
ESRB Rating: Everyone
ASIN: B00001X50T

Check price @ amazon.com


From the Manufacturer: Get set for some serious net time with KONAMI and the NBA! We're back In The Zone for PlayStation, Nintendo 64 and GameBoy Color with our best season yet! Lead the break from the tip-off with features like three-point contest, pinpoint passing and the slam-dunk contest. All 29 NBA teams are here, with 300 actual players suiting up. So are you ready to try to sink the 3 with 2 seconds left? Work on your "D"? Venture into the paint? Or are you just gonna sit there with that goofy look on your face? Ultra-realistic motion-capture animations and real areana ambient sounds put you right in the game! Advanced play-calling techniques, and play-by-play from NBA announcer Ray Clay! Pinpoint passing lets you play like a pro! Your favorite contests are back: slam-dunk and three-point shootout! Choose from over 300 players from all 29 NBA teams!

Customer Reviews:
Great game, April 1, 2001
Reviewer: --------- from Seattle, WA United States
I have a ps2 and play this game ALL the time. It has all of the all-star weekend events (all-star game, three point shootout, and the slam dunk contest) i personally like the slam dunk contest, but can get boring if you play by yourself. The season mode is Awesome, but the trading is TOTALLY unrealistic, and pretty much everyone can dunk in this game.

This game is awesome if you need something to do, this would be the game to buy, whether you are a basketball fan or not, it is great from beginning to end. It is also great for parties, whith up to eight players competing at once. Great game, rent it or go out there and but this fun, fun game.

Awesome!, August 21, 2000
Reviewer: Gamer from from Massachusetts
This game is awesome,the Slam Dunk contest gives u a good score if u use the dunk once,but if u use the dunk more than once it keeps decreasing your score.The 3-Point Contest is just overall GREAT and it's very simple and straight forward plus in the All-Star Game u can choose your own team!In other words,this game has the WHOLE All-Star weekend! The Season mode is very realalistic,u can't predict what is going to happen just by the team.The only reason y i gave this a 4 of this game is specifically the graphics i would rate 4 plus there is no commentaterand the fouls r well called EXCEPT when u try to make a block too close to a player.Otherwise it is a GREAT game!

Does it compete with the rest?, February 17, 2000
Reviewer: A gamer from Seattle,Washington (SONICS RULE)
Lots of action and fun! Deffinately the best out of all the in the zones! Although it is the same as NBA live 2000, NBA Showtime, NBA Shootout 2000, and NBA Basketball it comes very close to the best! If you want action with all of the NBA TEAMS IN 2000 then this is the game for you!