PS Game Home - Basketball Games:
NBA Showtime: NBA on NBC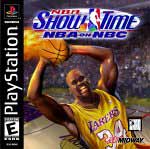 NBA Showtime: NBA on NBC
by Midway Home Entertainment, Inc.

Platform: PlayStation
ESRB Rating: Everyone
ASIN: B00000K1VI

Check price @ amazon.com , amazon.ca , amazon.co.uk


GameSpot Review: Midway is one of those third-party publishers that will put every game on every platform possible. As such, NBA Showtime, the company's latest arcade basketball game, is coming to the Dreamcast, the Nintendo 64, the PlayStation, and, yes, the Game Boy. The PlayStation version manages to feature most of the options and gameplay of the arcade version, but the sound and graphics have taken a rather large hit. NBA Showtime is essentially the latest iteration of the arcade basketball classic, NBA Jam. The most obvious upgrade from Jam to Showtime is graphical. The game is now in full 3D, as opposed to NBA Jam's 2D looks. The arcade version of Showtime featured extremely nice player models. The player heads looked outstanding. While the arcade version had players that looked real (to the point of being downright frightening at times), the PlayStation just can't push the required number of polygons to deliver that arcade look. As such, the characters look blocky, the crowd doesn't move, the ball leaves an ugly motion trail. But graphical tweaks have been made so that the game runs at a playable speed. Unlike Jam, Showtime actually calls fouls. After one human player (computer players are allowed to be as nasty as they want to be) commits five fouls in one quarter, a player from the opposing team is sent to the line for a free throw, worth three points. Now, at first, the concept of fouls in a no-rules arcade basketball game may seem like a horrible idea, but it actually balances the game out fairly well and keeps it from degenerating into huge shove fests. The game features a lot of speech, including the calling out of every player name. The gameplay is vintage NBA Jam. It's two-on-two basketball at its finest, complete with huge dunks, alley-oops, shoves, swats, and lots and lots of goaltending. The ball never goes out of bounds, and aside from goaltending and the occasional foul call, the only other rule is the shot clock. You've got a turbo button, a pass/steal button, and a shoot/jump button at your disposal. You'll control the same player throughout the game, so if you don't have a human teammate, you'll have to issue commands to your teammate when he's carrying the ball. You can call for a pass or command the computer player to shoot the ball. Double tapping turbo executes a quick evasive spin or dodge move that you can use to get past pesky defenders. The game features a create-a-player mode, which lets you pick a head for your player, as well as customize several stats, such as height, weight, dunking ability, and power. You can pick a jersey number and what name the announcer will call you by. As you win games with a created player, you'll earn new points to distribute in the various stat categories. Aside from the aforementioned gameplay bugs, the game controls reasonably well. You use the analog controller to simulate the arcade game's 49-way joysticks. Because the player models look a little funky, it's occasionally hard to tell which way you're pointed when all four players crowd together. This makes accurate shoves and steals tough. It's not perfect, but NBA Showtime is still a fun four-player game, and it's worlds better than any other arcade basketball game on the PlayStation. Give it a three-day rental and see if you're left hungry for more.--Jeff Gerstmann

From the Manufacturer: Customize your team with 145 different players including current NBA players, 1999 rookies, hidden characters, and mascots. Over 30 different courts including all NBA home courts plus fantasy court settings. All viewed from the actual camera angles used by NBC.

Customer Reviews:
It is Showtime!, March 16, 2002
Reviewer: Pierre J. Kelly from Memphis, Tennessee United States
NBA Showtime is a better arcade version of NBA Jam and its sister game, College Slam. It's the same as NBA Jam, but it's in 3-D. One of the things i like is the horn you hear when you are goaltending or a free throw. It is indeed Showtime!

Best Game on the Play Station System, August 3, 2001
Reviewer: A gamer from North Vernon, IN USA
Ok this game is very exciting. The graphics are good and it doesn't cheat you very often. I have played this game probably over 200 times. Whenever I have friends over they always start playing that game. If i have a different game in they always take it out and put in NBA Showtime. It is very fun playing with 2 or more people. Even playing by yourself is fun. The 2-on-2 play spreads out the court well and it keeps track of stats pretty well too i think. Creating players and trying to get them to the top being a grand champion and all star champion makes you want to keep playing the game. I got a lot out of the game i think everyone should. In my opinion it's the best sports game on the Play Station system. I give it 5 stars. Thank You.

an acheivement for midway, June 11, 2001
Reviewer: stroupematthew from monroe,NC USA
this game really was a surprise for me and and buds. really it is fun to play with 2 or more players. it gets boring playing it by yourself. the computer drone on your team doesn't do jack. if you can play with two or more people then buy this midway classic

This Is An Okay Game., August 13, 2000
Reviewer: A gamer from St. Louis, Missouri USA
On this game the graphics are great! The problem is that when I first bought this game I thought that there was going to be a whole team playing, but it's two vs. two. you pick out what two players you want two play with. The only good thing about it is that it's easier to play the game. I was hoping that a whole team would be playing each other. If you buy this game it's worth trying it.

a real disappointment, July 6, 2000
Reviewer: A gamer from jackyred@aol.com
Granted, the Playstation doesn't have quite the graphics of N-64 and certainly not the realism of Sega Dreamcast, however, I thought with this relatively simple and fun game they could really do a great job. Unfortunately, the graphics are no better than any other game. It is simple and fast paced (normally my kind of game) but it is a real design flaw that when you pass the ball to your teammate, you don't control the teammate (other than to shoot or pass). A more complicated game like NBA Live can even manage that simple feat. The dunks are great fun and I would imagine the game play with four people would be loads of fun (if I had friends I would be able to say so but, alas, such is not the case). My favorite game in the world is NFL Blitz and since Blitz and Showtime are both made by Midway, I expected more. So it goes.

Best game i ever played!, July 6, 2000
Reviewer: A gamer from Seattle, WA USA
the graphics are sweeeeeeeet and the player faces are like real and i like to do freaky dunks. Like, one time.... i like played the game.... and i like..... lost. But it was still like, totally radical dude.

My !st b-ball game- Cool!, June 19, 2000
Reviewer: A gamer from Bay Area, CA
My wife and son bought the game for me as a Father's day present. I think its great! First off, the 2 on 2 action is a whole lot easier to manage versus other b-ball games where you have 5 on 5 and you're constantly switching players. This game gives you control of one player's movements and the other player's pass and shoot & block and steal. It is so playable, my wife could even join in on the fun! This game has got depth too. You can customize your player as you win games and win "priveliges". I love that. Also the game is pretty accurate with team players and their stats and it works well with your game plan. The dunks are crazy and I've yet to learn to fully dominate. Graphics are alright, but the playability is tops!

Showtime, January 8, 2000
Reviewer: A gamer from Boston, Massachusetts
It's a good game because in other basketball games three-pointers are almost impossible to make. The graphics are great.

It's in the middle!, January 1, 2000
Reviewer: A gamer from St. Louis, Missouri
It's in the middle because the computer makes the 3 pointers easy and sometimes you can't make them. The computer also steals the ball away from you.The good thing is the graphics and slam dunks!