PS Game Home - Role Playing Games:
Parasite Eve II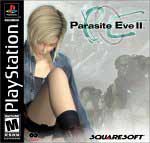 Parasite Eve II
by SquareSoft

Platform: PlayStation
ESRB Rating: Mature
ASIN: B00004W4QJ

Check price @ amazon.com , amazon.ca , amazon.co.uk


Features:
• Sequel to role-playing game Parasite Eve
• Hunt mutant dogs and unravel the disease-spreading conspiracy
• Parasite Energy allows players to use elemental magic on foes
• Story advanced by beautiful, computer-rendered cutscenes
• Real-time battle system with customizable weapons and armor

Amazon.com: Three years ago, gamers were introduced to Aya as she resigned from the New York Police Department and enlisted as a NMC (neo-mitochondrion creature) hunter for the shadowy government organization M.I.S.T., a secret agency of monster slayers somewhere between Ghostbusters and Men in Black. Wherever there was a neo-mitochondrion outbreak, Aya and her team were on the scene to put the boots to the mutants. From the outset, it's evident that SquareSoft revamped the entire game to give gamers a better looking, sounding, and (most importantly) playing experience.

The game starts with Aya training in the agency's shooting gallery in Los Angeles. Just as she begins to get in a groove, she is asked to look into some strange happenings at the Akropolis Tower. When she arrives on the scene, an explosive, full-motion video flashes across the screen and showcases the death and carnage as Aya surveys the scene. Her entry into the Tower is where this RPG begins.

SquareSoft has kept some of the excellent elements of the weapons systems from the first Parasite Eve title, but went for an entirely new battle system. Combat is delivered in real time and allows players to run, hide, and open fire. Aya can tap into her parasitic powers and can unleash elemental, magic-based attacks on the many foes she encounters. Ammunition is plentiful in the game and there are plenty of entertaining weapons to choose from. Auto targeting and involving puzzles are back, though the arrow-pointing interface for solving these puzzles is really hard to operate.

The cinematic mix of story and action is very well done, and the numerous cutscenes do an excellent job of moving the pace along in a believable way.

Even though the original Parasite Eve had its problems, SquareSoft has pieced together an excellent sequel that will satisfy fans of the first game and help create many new ones. --Todd Mowatt

Pros:
New, real-time battle system is an improvement over first Parasite Eve
Great weapons and plentiful ammunition
Great mix of story and action

Cons:
Clunky interface for solving puzzles

Product Description: Aya Brea is back to defend the world from the mitochondrial menace in Parasite Eve II. This story takes place three years after the New York incident of the first game, when the horrible mutations are supposedly a thing of the past. Now working for the FBI in Los Angeles, Aya is called on to join the Mitochondrian Investigation and Suppression Team (MIST) to hunt down dangerous monsters and keep the disease from spreading. To do that, she must unravel the conspiracy that seeks the destruction of all mankind.

Parasite Eve II features an enhanced, real-time battle system that will allow players to use a large array of modern weaponry. These guns, built into the game with realistic fire rates, can even be upgraded with parts that you buy or find. Also on your side is Aya's Parasite Energy, which enables her to harness elemental power, such as a searing column of fire, to fight the monsters.

Customer Reviews:
Why did they mess up a good thing?, October 21, 2002
Reviewer: Bramwolf from CA United States
In the first Parasite Eve the fighting system was wonderful and easy to get the hang of, though still challenging. While this second edition to the series had an equally superb plot, cut scenes, and game play, the fights in this game ruin just about every moment. Instead of enjoying the game for the beauty of what it was, most of my time was yelling strings of bad language at the television screen as I died for the fifth time because of the bad controls and hard to handle fighting. Sometimes there is such a thing as leaving well enough alone, and that's what they should have done with their first fighting system and controls.

Parasite Eve II is way cool...., October 15, 2002
Reviewer: blackaciddevil01 from USA
Although this time around, PE plays more like Resident Evil than Parasite Eve. That a bad thing you ask? Nope. PEII is stilll as engaging and fun to play than the last.
Do yourself a favor, and get this game.

simplemente genial, August 25, 2002
Reviewer: A gamer
despues de jugar la primera entrega , square quedo a deber con el juego y con este, lo paso con creces.

Not anywhere near as good as the first...., July 21, 2002
Reviewer: asheron46 from New York, United States
I played the original Parasite Eve non-stop when I purchased it, with the first day of owning it proudly conquering it. Immediately I started a second game and to this day have played through the game at least 20 times.

So when the sequel was announced, I gladly paid [$$] for the purchase. I went home and started playing, similarly to the excessive level of the original. However, Parasite Eve had taken a new "spin" and it was now basically "Parasite Evil."

Parasite Eve 2 abandons the RPG elements of the first game, and replaces that of Survival Horror (possibly to compete with Capcom or Konami whom had made loads of money with Resident Evil and Silent Hill respectively). The core fan base of the original game were RPG gamers whom purchased the game based on the Sqauresoft logo and spread the word that the game was actually good. With the drastic changes to the gameplay, Square those fans and the game was a critical flop.

Parastie Eve 2 is not really a "bad" game, there are easily a large amount of worse games, however as you play through it you can't really tell what kind of game you are playing and that gets a bit irritating/confusing.

Overall the game fails to fix some of the blatant flaws of the first game, and some new additions add new flaws (control) to the gameplay that can not be overlooked this time around.

A must have for any Squaresoft fan!, May 9, 2002
Reviewer: A gamer from Tulsa, Oklahoma United States
A terrific sequal to the first Parasite Eve. This game has a lot more to discover, and has a lot of plot twists. It's a great buy for anyone who has played the previous game, if not, I'd play te original, then consider this one.

How Fun?, March 27, 2002
Reviewer: Reuben from California
This Game Is Action Packed And Has A Lot Of Puzzles!

THE SECOND PICK WAS EVEN BETTER THAN THE FIRST, December 22, 2001
Reviewer: RoseMarie Kamerling from Pittsburgh, Pennsylvania USA
When I completed the first game I ever played on my Play Station, I found myself at a loss. Something was missing in my life. Another game to play. I was in a children's store and found myself looking at the games up on the wall that were available. I don't know why but I picked PARASITE EVE 11. I had never heard of it or knew what it was about.

What a wonderful surprise to find that I had chosen a gem (In my oppinion). So far, I'd have to say that PARASITE EVE 11 is by far my favorite of what I have played so far.

I found it to be challenging and exciting to play. This game will remain in my archives for future playing. I really enjoyed it and will not give it up.

As always, when a good game comes to an end there is the need to seek out another. I rented PARASITE EVE. Needless to say, it went back to Blockbusters immediately. It was just awful especially compared to PARASITE EVE 11. How can a company make one game great and the other terrible.

Well, I'm not here to knocked another game but since it is in the same family a comparison was in order.
PARASITE EVE 11 is just wonderful playing.

Parasite Eve 2 is that fire, December 18, 2001
Reviewer: A gamer from East Cost
this game is gangster,this game makes me angry sometimes,with the stupid dog zombies that takes 20 hits to kill,like you dig when you trying to figure out a puzzle and you keep running into these Stone Cold Steve Austin looking Dogs,the graphics are tight you dig,you got these powers,see what im saying? the worst thing on this game,is when your fighting 3 zombies dogs at the same time, see what im saying? just run like mug. but sometimes you'll have to fight them,see thats that phoney, these monsters are stupid,see you dig on RE(Resident Evil) the monsters on RE are fun to kill,on PE(Parasite Eve) these monsters its best just to run.but heh heh i forgot you'll have to kill them to get your points up to get stronger are you'll have no chance. see what im saying?