PS Game Home - Military Action Games:
Army Men Land Sea and Air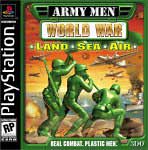 Army Men Land Sea and Air
by The 3DO Company

Platform: PlayStation
ESRB Rating: Teen
ASIN: B00004YKI8

Check price @ amazon.com , amazon.ca , amazon.co.uk


GameSpot Review: 3DO's Army Men franchise is a successful one, with more than 20 games, related books, and numerous merchandising tie-ins. However, despite this success, the games themselves are never any good. The visuals are usually poor, the gameplay is contrived, and the fun factor tends to peak upon your tearing open the wrapper. Bearing this in mind, 3DO is back with the latest in its Army Men franchise, Army Men World War: Land, Sea, Air for the PlayStation. It's been barely seven months since the last Army Men game, but more surprising than its timeliness, Army Men World War: Land, Sea, Air is actually a good game. You read correctly: 3DO has created an Army Men game that's fun to play. Army Men World War: Land, Sea, Air begins its assault rather plainly: The Tan army is up to no good and it's up to you to stop it. To achieve this goal, the game offers three modes: single-player, boot camp, and two-player capture the flag. Using a variety of targets and weapon choices, the boot camp mode acclimates you to the game's controls, which haven't changed since the last Army Men game. The two-player mode lets you and a friend go at it on a few of the game's maps, stealing one another's flags while dodging CPU-controlled bots. While the boot camp and two-player modes are nice, they're throwaways compared to the game's single-player experience. Eschewing the usual run-and-shoot tactics of previous Army Men games, Army Men World War: Land, Sea, Air combines third-person fighting, first-person sniping, Metal Gear Solid-style sneaking, and vehicular combat into a vicarious wartime romp.

At it's core, nothing is different about Army Men World War: Land, Sea, Air's gameplay. You still need to run around killing Tan soldiers while adhering to mission objectives. The game's stock weapons, the M16 machine gun, binoculars, and bayonet remain unchanged as well. Though the bug that got your soldier stuck between rocks has been fixed, the game's controls once again emphasize weapon choice and shooting while limiting your movement in a number of bizarre ways. An onscreen cursor lets you toss a grenade anywhere you can see, but you can't strafe or run backward, and turning around takes forever. Admittedly, while the interface could be better, the game still gives you a decent amount of freedom, allowing you to crawl, crouch, and tiptoe your way through enemy lines. You're going to need this freedom too, as whoever designed the levels for Land, Sea, Air knew what he was doing. Some missions call for quick precision attacks on enemy installations, while others require a modicum of stealth. Unlike prior Army Men games, there are times in Land, Sea, Air when calm use of your bayonet will get the job done quicker and more efficiently than any amount of firepower. Enemy AI has also improved, and while you're not exactly fighting Einstein out there, the Tan soldiers will circle behind your location or feign death to draw you closer.

Topping things off in the gameplay department, Army Men World War: Land, Sea, Air mixes its ground combat offerings with six vehicular and special-weapons levels. Although vehicle control remains on rails throughout, you'll get to partake in a number of activities, ranging from gunner on a bomber plane and handler of an antiaircraft battery to machine gunner on an Apache helicopter and rifleman on a raft. It's disappointing that you don't have more control over driving these actual vehicles, but their presence nevertheless provides a fun diversion. In fact, thanks to the mixture of assault, stealth, and vehicle missions, this is the first Army Men game that actually feels like a real war as opposed to a series of boring skirmishes.

Although it is nice to be able to speak highly of Army Men World War: Land, Sea, Air's gameplay, similar kudos cannot be given to its visuals. While 3DO has fixed the darkness problems from the previous Army Men, copious amounts of graininess, texture warping, polygon dropout, and draw-in plague the game at every turn. On a positive note, the majority of Land, Sea, Air's backgrounds are neither tan nor gray, eliminating another of the previous game's major graphical flaws, that of enemy invisibility. Because the game features mostly jungle and beach motifs, the evil Tan Army can't hide in plain sight anymore. Unfortunately, while Army Men World War: Land, Sea, Air boasts a solid frame rate and plenty of amusing character animations, it's still blockier and grainier than most early PlayStation games. Hands down, Army Men World War: Land, Sea, Air's greatest trait is its sound quality. Gunshots and explosions are loud and alarming, tearing through plastic soldiers with authority. The utterances the enemy soldiers make when walking, grunting, and leaping are also a delight to the ears. Furthermore, the game's background music is overwhelmingly varied and somehow even more majestic and awe-inspiring than the last Army Men game.

There you have it, a situation so surprising it almost hurts: 3DO's first decent Army Men game. Whether you're toting around explosive grenades, pinpoint mortars, or the dangerous bazooka, Army Men World War: Land, Sea, Air is a well-rounded game that's not just for kids anymore. The inclusion of vehicular combat, increased CPU intelligence, and clever level design makes Army Men World War: Land, Sea, Air a game that can satisfy adult gamers as well. It's just too bad the game's abhorrent visuals, combined with a few lingering gameplay quirks, relegate it to the unenviable position of being the best of 1996. Unfortunately, if you've checked the calendar lately, it's the year 2000.--Frank Provo

Customer Reviews:
A 9 yr old gamer's views., April 21, 2002
Reviewer: A gamer from Great Falls, MT USA
I like this game so much! I even beat the game! I used every gun and vehicle. I even went on the battleship. The tank part was one of the most fun parts. When the bridge gets blown up by dynamite it is really cool! Even thought this is rated *T* I think it is a good game for kids around 8 yrs old and up.
Jordan

final front or land sea air, February 13, 2002
Reviewer: Dustin Warren from Wiggins, Mississippi United States
listen closey this game is BAD!i rented it a week ago i its so hard even on easy mode first level is impossible dont listen to ohter reviews there either lying or using a gameshark or something trust me rent it first then see for yourself or buy army men final front its better.

please buy this game, December 15, 2001
Reviewer: An 8-year old gamer from oakland,californaa
I love this game youcangetthis game you will like it tojust I did.I like this game becauseI LIKEARMYMEN if you like armymen game you will lkie thisgame.

The Best Army Men Game to Date, July 9, 2001
Reviewer: A 12-year old gamer from Tunkhannock, PA , U.S.A.
I'm sure that most of you are hardened veterens of the Army Men, Green-Tan war, and are looking for an Army Men game equal to the excitement and the thrill of the other games. Well, here it is!!! Army Men World War: Land, Sea, Air combines the stunning graphics of Sarge's Heroes with the incredibly realistic sound effects of 3D. The new features are more than plentiful. Not only do you fight the tan menace on land, but in a Green heavy bomber, to a PT boat protecting the Green Naval Fleet. New gun sights allow for even more accurate precision shooting, unlike the "Zoom-In" aim which was just plain annoying!!! Also, 3DO fixed the horrible darkness problem that left gamers frustrated and annoyed with the World War. And the controls are easier to learn in a Hurry. And unlike the first World War game, the action starts in the very first level, as you are a part of a Green Paratrooper squad sent to overun a Tan train station in the Alpine forests. The objective: Don't let the Tan train get away and get the Tan war plans which are aboard. Much more action insues in the next level, which I will let you discover on your own. With enough levels of adventure and excitement to keep the player going for hours, this is definatly a "Must-Buy" game!! !!!!!!!!!!!!!!!!Have Fun!!!!!!!!!!!!!!!!!!!!!!!!!!

The truefacts-no lies, January 5, 2001
Reviewer: A 12-year old gamer from Hillsborough,N.J. USA
Hello fellow gamers!I own Army Men:World War.Although the graphics are not the best I have ever seen,the game keeps you entertained 100% of the time.The plot of the game is just filled with excitement.In this game you have to have quick hands and a great mind.You have to know when to bring it on and when to get away before being blown into a pile of plastic pieces.I am so glad I got this game.If you want action and adventure then you HAVE to buy this game

hilariously authentic, November 24, 2000
Reviewer: Pat Forystek from Flushing, MI USA
This is the first game i bought with my new PSone and I love it. It is pretty cool because you get to fly in a bomber and work the gun turrets and you can ride in a tank,pt boat,battle ship,jeep,and chopper. Contrary to the person who wrote a review for this game and said it was easy,well it isn't. He was either lying or was using game shark or something. I have played playstation for a while so its not me thats bad it is a difficult game. Some levels are hard whereas others that are farther along in the game are easier. It is a nice brake to have an easy fun level in the middle of a hard game. Multiplayer mode is out of this world. I love the feature of having some computer player on your team when you play capture the flag. It is a nice change from my old N64 and sarges heroes. It is a fun hard and all around entertaining game which I recomend to all world war or army men fans.

this game is a waste of money, November 4, 2000
Reviewer: A gamer
this game was a waste of my time and money. it was way to easy to beat. i beat the game in 1 day. all of my friends that have played this game didnt think it was worth the time and money...... i should be asleep right now.

Really Good Game, October 14, 2000
Reviewer: A gamer from Belleville, New Jersey,USA
This game is a very good game. It has very good graphics and very exciting rounds. Lots of good vechicles and lots of surprises. But the only thing is it is very hard. So if you like a challeging game this is the game for you.

Go 3DO, October 8, 2000
Reviewer: hornak from PA, Philiadelphia
This game was so cool. It's like Army Man 3-D, Army Air attack, and Army Man World War all mix into one. Only its cheaper and better than all of them. You have so many weapons,and land and air vehicles. I played on it 12 hours non stop, and I'm still not bord of it. This is a "have to buy game".

Pretty good game., October 8, 2000
Reviewer: Henry S Baldwin from Singapore
Being a great series of games I thought it would be hard to come up with a better one. But they have. It's not the best game I've seen, but it looks good. It is very similar to the other games but you get new weapons etc. It is worth the amount of money you pay for it though. Besides it's not that much. I've liked the other army men games and this one does a good job of filling their shoes.