PS Game Home - Military Action Games:
Spec Ops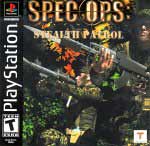 Spec Ops
by Take2 Interactive Software

Platform: PlayStation
ESRB Rating: Teen
ASIN: B00001ZULE

Check price @ amazon.com , amazon.ca , amazon.co.uk


Features:
• 5 intense mission campaigns, each with numerous sub-missions
• Based on real activities carried out by the U.S. Army Rangers
• Multiple weapons to choose from
• 3 difficulty levels
• Use hi-tech equipment (GPS navigation, night-vision goggles, and more)

Product Description: You're in the army now! As a member of the U.S. Army Rangers, you must control your team as it aims to eliminate the targets of its opponents. Can you complete the challenging mission subtasks in the allotted time? Based in huge, detailed outdoor 3-D environments, your missions revolve around several objectives, including reprisal attacks, seize-and-destroy assaults, counterterrorist attacks, and raid-and-destroy missions. Choose between stealth and all-out frontal assaults. Then navigate the team under the cover of darkness across thick jungles, barren deserts, arctic tundra, and dense forests.

Customer Reviews:
[Weak]!, August 27, 2002
Reviewer: phoenecians from Phoenix, AZ United States
I love war type games, and when my brother bought this, I thought it was going to be great. I guess I was expecting a bit much, maybe a lot much. The game's graphics are putrid. awful sounds, and [weak] gameplay. No good plots either. Enemies have the strangest ability of shooting through trees and small hills at you, but you can't shoot them. It took two days to finish it. It was the worst I have played.

The upside - . . .Wait, what upside?

The downside - About everything. If you are thinking of buying the game, do yourself a favor and rent it first. You might just kick yourself about it later.

Since When Can People Shoot Through Hills?, August 15, 2002
Reviewer: A gamer from Harrisburg, PA United States
Maybe I'm loosing it, but since when can your enemies shoot you through hills? I'm all for inventive games but this is just too much. Not to mention it's virtually impossible to find your objectives. But hey, I guess the game magically becomes fun if you own it instead of renting it? I guess I wouldn't know.

For five bucks, not a bad game, April 16, 2002
Reviewer: daveelvis from North East, MD USA
ok, first you have to consider this game originally came out in like 1999 for the old playstation. Of course it's going to look crummy compared to ps2 games or even some of the more recent ps1 games (the few that they still make).

Still, if you like first person shooters and military games like the Medal of Honor series, it's worth the five bucks to get this game. I have all of the Spec Ops ps1 games and they are fun...not great but if you're on a tight budget, it makes for good entertainment

Not even worth getting paid to play this game., December 12, 2001
Reviewer: jay rod from Michigan
I bought this game used for $10.00 a year ago and I wish I would have bought a six pack instead. This game is not user friendly and the controls are a joke. My son who is easy to make happy when it comes to video games said "Dad where you drunk when you bought this game". This is comming from and 8 year old. The graphics [are bad] and everyone I talked to that owns this game said they played it for and hour and haven't played it since. You couldn't pay me to play this game. If you are planning on renting or buying this game dont waste your time or money.

Save your money, November 13, 2001
Reviewer: STEVEN W TVRDIK from Pleasant Hill, IA United States
This game is crummy. Very little fun, and it has a number of flaws. I bought this game dirt cheap, and it wasn't worth even the low price I paid. Buy something else.

Best value for money available, August 13, 2001
Reviewer: mattsanger from New York, NY United States
I am a ps2 user, but bought this gem back when I had a ps1. The game is exceptionally hard in one player mode as you have two charcters who you have to toggle between. The game is both strategic and action oriented. You can blast the enemy with your machine gunner or use the sniper to pick them off from a distance. The game takes some effort to learn, but is well worth it. One of the nice features on two player is that if your partner dies, the screen becomes full-screen for the remaining player. GREAT GAME FOR ONE OR TWO PLAYERS!

Bad Design Flaws, July 8, 2001
Reviewer: A gamer from MN USA
Unless you have supernatural powers to rival those of your enemies or like to lose, don't waste your time on the game. This shouldn't be called Stealth Patrol, there's no stealth involved.

REVIEW ON SPEC OPS, March 16, 2001
Reviewer: An 11-year old gamer from PAPUA NEW GUINEA
SPEC OPS IS A TOTALY, EXTREMELY COOL GAME. IT ALSO HAS WAY BETTER GRAPHICS THEN THE OTHER GUN GAMES I HAVE PLAYED NAMELY DIE HARD TRILOGY 2, SYPHON FILTER 2,ETC. I HAVE ALSO RECOMENDED THIS GAME TO A COUPLE OF FRIENDS OF MINE AND WHEN WE ALL GO TO AUSTRALIA THEY ARE GONNA GET IT. I THINK THIS GAME IS THE BEST AND YOU SHOULD GET SPEC OPS IF YOU HAVE THE CHANCE TO.

For ..., give it a chance!, February 13, 2001
Reviewer: A gamer from St. Francis, Wisconsin USA
Let me start by saying, if this game was the normal ..., I'd be giving this game 1 star...but it was a fraction of that price, which means I did not expect the next Medal of Honor, and I didn't get it anyway.

In the game, you are a Ranger in the United States Army. As far as I know, you get a second player in every level, but I haven't beaten it yet, so who knows?! This game is very hard! But I liked how you can play co-op with a friend...that option wasn't even in MOH.

The levels are okay, but nothing great. I must admit that they weren't even that fun, but for 10 bucks, they're fun enough. The sound of the guns is just terrible! It sounds like you're shooting a paintball gun into a can so it muffles itself. The voice-acting is rare and not very good, but at least they talk, which is better than reading the lines on the screen.

Now, for those of you who are having a tough time beating this game--and I am one of them--I got some ideas to help you get playing again, because it probably sat on your shelf for a long time...and still might be there. If you go to a one player game and type in 'ROCKSTAR' as you're name, there is an invulnerability option when you press start within the level. Also, I read the the programmers mixed up the difficulty level. So if you pick the hardest one, you'll be facing the easiest adversaries, and vice-versa. Hope that helps you a little in your quest to beat the game.

But just remember: it's only .... If you're looking for the next Goldeneye or Perfect Dark, or even Medal of Honor, you'll be sadly disappointed. Go in expecting it to be the worst game ever made, and you'll enjoy it enough to play it.

Don't bother, February 2, 2001
Reviewer: A gamer from Iceland
Do not waste your money or your time. Thought to myself it wasonly ..., even if it ... I still wouldn't be out that much. Well I got the game, threw it in the P/S, watched the cheesy intro(with the most horrible sounding vocals I have ever heard, kinda like talking into a coke can), started up the 1 player mode and started picking my rangers. Ok, at this point, not what I expected, but for ..., didn't expect much. So I pick my first ranger, go to the inventory, and start picking my weapons. First point: If you know anything about military weaponry, you'll know that most of the guns have only a slight resemblence to the real thing(yes I understand that it's a video game, but if the packaging claims to be so realistic, then that's what I expect) So at this point I'm slightly disappointed, but with the hope that it'll get better. Pick my second ranger, start the mission, and that's when I realize only ... or not, this is a game that should've stayed in the designers imaginations. But figuring since I've made it this far, might as well press on. So I get going, only to realize the mission objective is more vague than anyone could imagine and the graphics are a reminder of my original nintendo days. But I finally figure out the point, only to realize it's not difficult, but just annoyingly confusing. Not like a puzzle that I just can't figure out and get mad, more like I just don't want to waste my time. If you want a military game, buy rainbow six. Well to the point, don't let the price fool you. Even for that it's a waste of money.