PS Game Home - Football Games:
Madden NFL 2000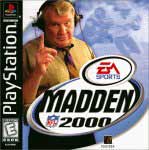 Madden NFL 2000
by Electronic Arts

Platform: PlayStation
ESRB Rating: Everyone
ASIN: B000031KJI

Check price @ amazon.com , amazon.ca , amazon.co.uk


Editorial Review: Tracing the evolution of console football can take you on a nostalgic trip back to games like Tecmo Bowl and Walter Payton Football, but the genre reached the mainstream with the release of the first Madden Football title in the early '90s. Since then, Madden has become the pro football simulation game to beat.

One key to the series' longevity is that it has never deviated from the original formula of perfectly balancing entertaining gameplay with realistic feel. So naturally, Madden NFL 2000 brings that same addictive feel, while being spruced up with tons of peripheral options. The most noticeable changes from last year's version are the faster gameplay and smoother frame rates.

Madden NFL 2000 features all 31 NFL teams, all-time Super Bowl teams, the Madden Millennium team, and 200 more that can be "unlocked." The game uses the patented TV-style presentation with play-by-play commentary by John Madden and Pat Summerall. Improved player and play editors, comprehensive player movement, trading for draft picks, and the awesome franchise mode, all combined in one package, produce a title that is unparalleled in console gaming. It's time to tackle Madden NFL 2000 and make it one to own. --Sajed Ahmed

Pros:
Smooth graphics and animation
Play historical or created scenarios in Situation Mode
Up to 30 consecutive seasons, with full statistical tracking
Lots of options and features

Cons:
Madden just doesn't have that "Oomph!" in his commentary anymore
END

GameSpot Review: Madden football is back once again, and it has more features and options than ever before. With the new play editor, Madden Challenge feature, and faster gameplay, fans of the series will undoubtedly call Madden NFL 2000 the best incarnation of the series thus far.

The game is by far the best version of Madden football on the PlayStation yet. Madden NFL 2000 features the usual array of game modes, like exhibition, season, franchise, create-a-player, and so on, and it includes the full NFL license with all the teams and players. EA beefed up the franchise mode by allowing you to play up to thirty consecutive seasons with statistical tracking for your dynasty. Along with statistics this year are fluctuating player attributes that allow players to have hot and cold streaks. A player in a slump will fumble the ball more often than someone who's in the zone and catching everything you throw at him. This little feature really makes you pay close attention - if one of your guys is going through a rough time, you'll know to avoid giving him the ball. In addition to these extras Madden NFL 2000 has three really big new features - a play editor, arcade mode, and the Madden Challenge.

The play editor is rather nifty; it lets you create your own plays by assigning each player his own route and/ or command. The editor doesn't really let you make any crazy plays, but it does let you do just about anything within reason. While the play editor is an enjoyable extra that is sure to keep football fanatics busy for quite awhile I'd like to see it become a little easier to use next year. The arcade mode really isn't anything special - the only noticeable differences are superficial things like a weird glow that surrounds a player when you press the turbo button. Plus, just about every hit results in a dramatic animation of a player flying through the air as though he had been hit by a car.

The Madden Challenge feature is by far the best new thing about the series. The Madden Challenge is just that - a bunch of specific objectives that are outlined for you. For instance, you must complete a pass for thirty or more yards, complete three passes to three different receivers, and hold a team in a game at seven or fewer points. Once you complete one of these goals in a game a little icon comes up on the screen to let you know. At the end of the game it tells you which ones you completed and what secrets you may have unlocked for completing them. The secrets include hidden teams, bonus stadiums, and modes like more injuries. This new feature really adds fun to the game. Sure, for the average football fan Madden football is fun enough, but with these little extra objectives you'll really want to keep playing to see what you can unlock.

In terms of gameplay, M2K feels pretty much the way a Madden football game should, although with a distinctly tighter feel this year. The controls are extremely responsive and match up with the game's onscreen visuals quite well. The analog stick really lets you put your player right where you want him, when you want him there.

The AI of the computer is actually quite easy on the regular setting, although for us Madden veterans, if you crank the difficulty up, the AI kicks in and plays a bit more aggressively. The receivers and cornerbacks play the ball well and really make you battle to get a hand on the ball, whether you're playing defense or offense. The running game of the computer is strong, although every once in a great while the running back will get stuck behind one of his own guys. While this is annoying it is literally one of the only flaws in the game, and it happens very rarely.

Visually, the players look a little blocky and basic, but the frame rate of the game and the animations of the players running, catching, and tackling more than make up for it. The game moves at a brisk pace and captures the feeling of fast, furious, hard-hitting football action like never before. The player models are scaled differently, so that the linemen are bigger than the receivers and quarterbacks, giving the game a more authentic look than before.

Madden 2000 also delivers authenticity in the audio department as well. Pat Summerall once again calls all the play-by-play action along with John Madden, who, of course, provides his unique color commentary. The calls and commentary are usually right-on, although every once in a while you'll here something from John that doesn't fit the situation at all. In addition to the chatter during gameplay, Madden, Summerall, and sports announcer James Brown do a quick little TV-styled pregame show. It should be noted that when you play the game in the new arcade mode, a different announcer takes the mike. It should be noted that when you play the game in the new arcade mode, a different announcer takes the mike, and it's actually the guy who belts out the "EA Sports! It's in the game!" slogan at the beginning of every EA sports title. His dialog isn't so good, but the full-motion video opening sequence features a surprisingly good rap ditty that will have you chanting the song's chorus: "Whatcha want? The rock in the palm of my hand? Whatcha got? I got John Madden!"

Overall, Madden NFL 2000 is the most fun I've had playing a Madden game in a long time. The control and new Madden Challenge mode alone are reasons to pick this game over the competition. I still prefer the total-control passing of NFL Gameday 2000, but I must admit that in the end I had more fun playing Madden. Madden 2000 just has a great feel to it. I've been a Gameday fan for awhile, but this year I have to pick Madden over Gameday. --Ryan Mac Donald

From the Manufacturer: Madden NFL 2000 has the look, the feel and the excitement of NFL football. For PlayStation owners who love football, Madden NFL 2000 delivers all-new motion captured hits and unique moves that allow you to control the action on the field. New, dynamic commentary from John Madden gives you the play-by-play perspective from in the booth, and new on field audio lets you hear it from the crowd. Add in Madden's legendary, tournament-tested gameplay, and Madden NFL 2000 brings the NFL to life on your PlayStation.

Customer Reviews:
A fun game but..., July 15, 2002
Reviewer: A gamer from NY
Even after a couple of years this version of Madden can still be fun to play. It looks and plays better than the previous version. You get plenty of options such as the ability to play great games from the past, such as the playoff game between The Dolphins and Chargers from the early 80's and a madden challange, such as completing certain tasks during the game to earn points, unlocking secret teams and stadiums, and the franchise mode can be played up to 30 seasons and is the best feature. Unfortunately, I've noticed as I've progressed through the franchise mode, some of the games I play tend to freeze up, which can be very annoying, specially if your having a good game. Sometimes I've had to skip to the next game after I've restarted the game a few times, and it would freeze up during gameplay again, booooo! I wonder.. if EA actually tests their product out to make sure it runs ok before releasing it. When I used to play Madden '96 and '97 on The Super Nes I'd create players and save a season only too find out after a short period of time the memory was back at zero again and I never deleted anything. In Madden 2001 for Playstation I tried to load my season some time ago but got a message how the file couldn't be loaded. It's too bad such a problem like this has to occur in an overly good game or any game.

Hey, even though im 12, read my review, May 11, 2002
Reviewer: A 12-year old gamer
Hey, if you like football, than go and buy this game. The graphics are superb. All the madden challgne make the game nore better than the rest. Go on many season. O yea, theres one thing that [is not good] that makes it a four star, i can cream the other team in offense but not in d-fense. I can get over 1,000 yards passing every game, with the Dallas Cowboys and have 7 players to have over 100 yds per game in yds in catching. and all running backs over 200 yds each. But in defense the other team gets over 600 yds, but i beat them like 200 to 16, but itz fun. So if you like football, than get this game, ...!

Madden at it's best, February 21, 2002
Reviewer: JerrodBell from Jackson ms
This is one of the best madden games that came out for the Psone

Everything about this game is great except the players really stink up the place when they get injured.

I love this game, December 3, 2001
Reviewer: Phil Quinn from West Islip, NY USA
I got this game for my birthday a couple of years ago. Ever since ive been hooked i won the super bowl, had an undefeated season and completed all of the madde challenges. It is very creative and has good graphics, it is also very realistic. Ive never had any problems with it and if you buy it youll love it too.

Up all Night, August 29, 2001
Reviewer: rolando6969 from Salt Lake City, Utah
This game was one of the best values for the playstation. I've been up all night for weeks seeing how many times I can take a last place team to the superbowl with the right trades and draft picks. This is one of the most realistic simulations of a sports game out there. The only thing that gets old is the commentary, but it still gets five stars because you can turn it off.

GREAT!, March 11, 2001
Reviewer: Matt Muzzy from Detroit Metro, MI USA
When I first played this game I thought it was OK. When I found some secret codes I was in heaven... Alright back to this game, the graphics are great and the playbooks are perfect holding every play in the NFL. When I was St. Louis and the computer was Seattle I won 257-3! Dang. High scoring makes me very happy, and each time I play I score 100+ points.

The 1965-1997 teams are a good idea to add to the game yet 25% of them stink! This game is the greatest PSX football game I ever played outmatching NCAA Football 2000, NCAA Gamebreaker, NFL Madden 1999 and Madden 98.

Otherwise I am saying that this game is great and is the best football game ever besides the Super Bowl, ha-ha-ha!!

This game RULES!!!, February 16, 2001
Reviewer: rojo978 from Glendale, NY United States
This game is excellent! The graphics are good the controls are easy to learn, and they have signature moves and playbooks. You don't have to play just the boring old 1998 teams, but you can play with teams from every year from 1965 to 1998.

The start of a great Madden series begins here., November 1, 2000
Reviewer: Mike Goetsch from Enfield, CT
This game would have of had a five if the graphics were better and the commentary was improved. The graphics aren't that great and you will get used to the dull colors used in the game. The commentary should be more like "Madden" or my favorite Chris Bergman to keep you on your toes. He says the same thing over and over again. But you can't get to perfection in that area. What I liked about the game is the franchise mode. You can sign Free Agents, Release players, Negotiate Contracts, and have a Draft. One thing that bugged me was if a lineman caught an onside kicked it will only track his kickoff stats for the rest of the season. Also what keeps the game alive is the 2000 Madden Points you need to get. Everything from catching a 30 yard pass to beating Green Bay at Lambeau Field. If you want a great buy and don't got much money go here. But if you do have money buy Madden 2001 for PS2 if you got one but for playstation it is still good.

Awesome, October 21, 2000
Reviewer: Adenrele Ojelade from Princeton, NJ
This game is my favorite of all my PS games!