PS Game Home - Boarding & Blading Games:
Cool Boarders 4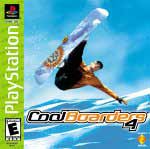 Cool Boarders 4
by Sony Computer Entertainment

Platform: PlayStation
ESRB Rating: Everyone
ASIN: B000034DBX

Check price @ amazon.com , amazon.ca , amazon.co.uk


Features:
• Snowboarding simulation
• 16 professional riders
• 8 tricks new to the series
• 5 challenging mountains, each with 5 events
• Multiplayer tournament mode

Editorial Review: If 13-year-old Shaun White can ride with the big guys in the professional snowboarding circuit, then certainly you can master a snowboarding game simulation. Right? For the first time in the Cool Boarder series, PlayStation owners can challenge the likes of Mr. White and 15 other pro riders who have been digitally re-created for the game.

Add eight new tricks (such as hand plants in the half pipe) and a complete build-a-rider mode (which allows you to create your own snowy superstar), and you've pretty much summed up the major differences between Cool Boarders 3 and Cool Boarders 4. One of the coolest new effects in the game is that riders now sink into deep powder instead of skating right over it. A signature of the series is the ability to throw punches at other riders during races, but players can choose to turn that feature off for a cleaner challenge.

Players who were gaga over Cool Boarders 3 will be pleased with the enhancements in this game. But with gameplay that is essentially the same as its predecessor, gamers looking for a unique thrill may wish to carve a turn and look elsewhere. --Jeff Young

Pros:
16 real pro snowboarders, 30 new courses, and nine board manufacturers add to realism
Customized athletic ability, clothing, and board

Cons:
Fourth incarnation of game not exactly fresh

GameSpot Review: Fans of the first two Cool Boarders learned the lesson that a better-looking game doesn't always mean a better game when Cool Boarders 3 was released with inferior controls. Cool Boarders 4, thankfully, doesn't have nearly as many control problems as the previous game, resulting in a much better overall experience.

Of course, new options and features are added to any new game iteration. New to the series this year is the ability to create your own boarder and board. The create-a-rider feature lets you alter his height, weight, and clothing color. The board editor mode lets you pick from several designs and change the color to suit your liking. More importantly, you are given the option to tweak the board to give it a higher top speed, more stability, and greater response. All three of these settings are important, depending on what type of event you are competing in.

Also new this time around is the inclusion of 16 real-life professional boarders, like Jason Brown and Jim Rippey. At the game's outset, only a few are available, but every time you win a tournament you'll unlock more riders.

There are five mountains to master, and they are located across the globe, from Colorado to Japan. Each mountain has five events to master. Downhill is a simple race against three other boarders. CBX is another type of race in which you must navigate through slalom-type gates. Slope style is a downhill event filled with various jumps and objects to jump off and rail slide on. Big air is one big jump that sends you soaring. While you're in the air you try to execute as many tricks as possible before the ground comes rushing up. The half pipe is self-explanatory. Each mountain also has a special event that opens up after you've beaten it on the pro difficulty setting.

Cool Boarders 4 controls and feels much tighter and much more in tune with Cool Boarders 2 than Cool Boarders 3 did. Pulling off multiple grabs while spinning and flipping through the air feels and looks so much more natural than before. The responsive controls make it easy to execute moves directly after carving hard up the side of the half pipe and letting go of the jump button.

Visually, Cool Boarders 4 is on par with last year's title. The boarders move and look very realistic, whether they're twirling through the air pulling off grabs or just leisurely coming off the mountain. The courses and environment are all fairly detailed. The snow itself has lines and marks and uneven patches on it, giving it a realistic texture. You'll even find patches of deep powder if you get off the beaten path, as well as trees and obstacles that you must watch out for. Signs and onlookers standing around the starting gates and finish lines give the game an even more realistic look.

In the end, with its tighter controls and better courses, CB4 is basically a better version of CB3. Whether or not you were a fan of the last title, if you're a fan of the series, you should definitely give Cool Boarders 4 a try. --Ryan Mac Donald

From the Manufacturer: After three top sellers, Cool Boarders is still the slickest competition on the slopes. Cool Boarders 4 features big names like Jim Rippey, Ross Powers, Michele Taggart, J.P. Walker, Andrew Crawford, Shaun White and others; big boards like Burton, Fourm, K2, MLY, M3, Salomon, Ride, Morrow, Santa Cruz; big mountains and big features; big customization; a big trickmaster mode; big events; a big multiplayer tournament mode; big tricks; and big brawls.

Customer Reviews:
Painfully slow., March 23, 2002
Reviewer: Ben Rowland from Toronto, Ontario Canada
I bought this game expecting some fast, exciting, off-the-wall snowboarding action. I got quite the opposite. This game is weak, with snail-pace action, little incentive to do all the fancy tricks, and unremarkable graphics. I can tell that they were going for more of a simulation game, but this game is so difficult to control and frustrating that you are not likely to make it far before shutting off the game.

There are a few pros. The 16 different boarders give you a diverse selection of strengths and weaknesses. I also like the ability to customize your boarder, which can give you the upper hand in a competition. But this doesn't amount to a whole lot. The game is still too slow. When it comes to the tricks, I was just tapping different keys randomly, trusting my luck. It gave up after a while.

I have heard that Cool Boarders 3 was quite good, so maybe I will give that a try. But as for this one, I would pass on it altogether.

Some huge air to go along with this game!, March 18, 2002
Reviewer: jcnelson from Bountiful, Ut United States
This game may seem a little weird at first, but once you've played it for a day or so you tottally love it and get addicted to it. It has plenty of challenge, especially Japan's Big Air, I just barely won it today! The special courses that go along with the events just [kicks] and are very interesting and challenging. I would reccommend buying this game if you have the money. It just makes you wanna go out and snowboard! Oh yah, did I mention.... You can also create a character and design your own personall board, or you can choose from numerous characters to proffessianol snowboarders...

Graphics???, February 7, 2002
Reviewer: Dina Purdon from Bronx, NY
I bought this game because I really liked Cool Borders 3. When I started playing I really got turned off. The graphics really stink

Wicked Dude, February 22, 2001
Reviewer: rjjays from Gig Harbor, WA USA
I got this game for Christmas and I loved it. The only problem is it takes a lot of hard work and dedication to get Alaska, France and Japan. (personally) I think this is the best game in the Coolboarders series. They should let the tournaments be simpler and the Trickmasters easier.

I gave this game a 4 star but get it and you won't regret getting it. It's a game the family can play.

embarassingly bad, November 23, 2000
Reviewer: A gamer from Portland, OR USA
1. Controls are awkward 2. Graphics are a joke. They remind me of old Pc games from 5 years ago. 3. it is way too slow. The boards move like bricks, the players have no speed to them 4. The courses are weak. The halfpipe is too short, there are very few jumps and little variety.

I'm glad I bought this used. Absolute garbage. I've snowboarded for over 10 years, and this game is NOT even close to being a simulation. It's awful.

Want a good sport/freestyle game : Tony Hawk Pro Skater !

The fun continues in Coolboarders 4, July 16, 2000
Reviewer: A gamer
I owned Coolboarders 3, so when I heard about 4, I ran out and bought it right away. I was not dissappointed! The tricks and boards are rad and I liked the addition of the real boarders. The coolest thing about this game is racing the avalanche. I have had this game for about three months and still have not beat it. It drives me crazy, but I keep trying!

Very Cool Game, June 27, 2000
Reviewer: A gamer from York, Pennsylvania
I am a big fan of snowboarding games. I've played practically every snowboarding game out there and by far this is one of the best one's yet. At the first, the game doesn't seem so great, but once when you become experienced the game grows on you. It starts to become more and more addicting. This game is packed full of cool tricks and courses. I don't understand why anybody would give this game a bad rating?

rent it, March 6, 2000
Reviewer: A gamer from WV
This game is a lot of fun. The controls are hard to figure out and the graphics are blocky so just rent it to see.

CoolBoarders4 is cool, February 17, 2000
Reviewer: A gamer from Connecticut
I am a huge fan of cool boarders 3 and loved it. When I was playing it I couldn't think of anything that could make it much better. But then tried CB4 and it was better! It has a lot better graphics than #3 did. Also, I read a lot about how #3 had a lot of control problems, but I thought that both #3 and #4 have about the same controls. At first I thought the controls were confusing but after you get used to it the buttons become second nature. Being able to create players and boards is definitely a +. Moreover, I thing that is a far better game than CoolBoarders 4.