PS Game Home - Bike Games:
Mat Hoffman's Pro BMX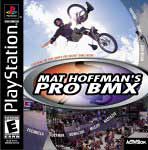 Mat Hoffman's Pro BMX
by Activision

Platform: PlayStation
ESRB Rating: Everyone
ASIN: B00004TEXX

Check price @ amazon.com , amazon.ca , amazon.co.uk


Features:
• BMX extreme-sports game
• Utilizes Tony Hawk's Pro Skater game engine
• Play as Mat Hoffman, or one of 7 other BMX pros
• Hundreds of trick combinations
• For 1 or 2 players

Amazon.com: Mat Hoffman's Pro BMX uses a refined version of the game engine found in the original Tony Hawk's Pro Skater. The modes, menu, and trick system are identical. The main difference is that instead of skating around, performing tricks, and collecting videotapes, you're riding a bike, performing tricks, and collecting magazine covers. To accommodate the physics of bicycle tricks, the level design is different from THPS. Some of the levels are good, but most are relatively bland and aren't as clever as what we've seen before. Despite this flaw, it is the best BMX game currently on the market, but in the context of other extreme sports games it falls short. It's too similar to the original THPS and not as good as THPS2.

Despite the fact that it's mostly derivative, the game has a few outstanding features. It contains lots of full-motion video sequences, albeit at the expense of load times. The real gem is the soundtrack, which is a nice mix of punk, electronica, hip-hop, and rock. It's definitely one of the best video game soundtracks ever.

If you're looking for the best BMX game on the PlayStation, this is it. If you're a fan of extreme sports in general, you'd be better served with THPS2 or waiting for THPS3. --Raymond M. Padilla

Pros:
Outstanding soundtrack
Gamers familiar with the Tony Hawk's Pro Skater series will feel right at home
Plenty of full-motion video

Cons:
Long load times
Mediocre level design
Not enough enhancements from Tony Hawk's Pro Skater

Amazon.com Product Description: Tony Hawk fans, take notice! Mat Hoffman's Pro BMX uses an enhanced version of the same Neversoft engine that's used by nearly everyone's favorite extreme-sports series, Tony Hawk's Pro Skater, which means it has a wide range ofmotion, excellent graphics, and hundreds of trick combos. The game features 10-time world vert champion Mat Hoffman and seven other top BMX Pros, as well as realistic BMX physics, two-player competitions, a course editor, and street, dirt, and vert tracks.

DailyRadar Review: It's been a while since we looked at Matt Hoffman's Pro BMX, and we're pleased to say that it's looking much improved. Running on an enhanced version of the now legendary Tony Hawk engine, the title enables gamers to perform hundreds of gravity-defying tricks over a variety of courses, including vert, dirt and street. We had a chance to go a few rounds with the game today, and judging from our time with it, both fans of BMX and Activision's seminal skateboarding sim will likely be very pleased with the final results.

The game is in development by Runecraft, and anyone who's played a sports title of the "extreme" variety should know the drill. Players ride around massive levels in two-minute increments, accessing hidden nooks and crannies, grinding off of every edge imaginable and trying to score as many trick points as humanly possible. While the game's controls are very similar to its skateboarding cousin's, the nature of the event should open up some interesting new opportunities. For example, there seems to be lots more emphasis on distance jumps, and players will be able to ride and even perform tricks backwards.

While Mr. Hoffman (a 10-time BMX World Vert Champion) is the star of the show, gamers will be able to choose from seven other pro-riders -- including Mike "Rooftop" Escamilla, Dennis "DMC" McCoy, Simon Tabron, Kevin Robinson, Joe "Butcher" Kowalski, Rick Thorne and Cory Nastazio -- to take out for a thrashing. Each rider will have a set of signature tricks; upgradeable skills and equipment should make learning them a bit easier.

Sampling a few of the levels, we skated the London Underground (riding among the subways), a factory and a competition level that takes place in a massive dirt-course arena. True to the genre, each level features innumerable opportunities for flashy antics, and the skilled (or diligent) will find plenty of hidden areas crucial to opening up later courses.

The game features a front end and menus that strongly resemble that of THPS, but we're not complaining -- after all, familiarity is fine when you're referencing one of our very favorite games. Likewise, the in-game visuals don't stray too much from what we'd expect, though some of the details -- such as dynamic shadows that accurately reflect the character's motions -- look quite promising.

Not all the development has been spent on gameplay; already the load times are quite brief, and plenty of cool extras are scheduled to be included. Expect a couple of two-player options -- including H.O.R.S.E. and splitscreen Destruction Derby and Graffiti modes -- to add even more to the game's replayability, while a BMX course builder should suit the obsessive type quite nicely. Naturally, players will be able to save their courses to a memory card and submit them to their friends and peers for sampling.

Considering this title's length of development, we're expecting a polished final result. In fact, most everything seems to be in place -- so between now and the game's May release, most of the work should be of the tweaking sort, such as collision physics and the like. By that time, the PSOne market for quality titles (here in the States, at least) will probably have pretty much dried up, and PS2-less gamers will probably be starving for something worth their money. Know that we'll be watching this one closely, and you should too.

Customer Reviews:
my review (please read), April 17, 2002
Reviewer: Billy from bangor, pa
The game is pretty much the same as tonyhawk proskater except for the fact thats it is bikes. although the game just dosent have that special something to make it a great game like the tony hawk pro skater series. although it is still fun to play every now and then.

Matt Hoffmans Pro BMX / dudes, March 14, 2002
Reviewer: A 12-year old gamer
This game is very good. The tricks are so real. When I bought this game I did not know it would be this great. When your going to hit a jump it seems like you really know what your doing in real life. This game stinks really bad.

everything is great but nothin challenging!!!, January 18, 2002
Reviewer: sk8ter 182 from ???
id say everything is great but the levels only have 5 challenges if you want a really good challenging game get tony hawk 2 or tony hawk 3.But if you are one of those who do not like challenging games this game is for you.

Vahsek - Amazing Tricks!!!, December 23, 2001
Reviewer: A 10-year old gamer from Sugar Land, Texas USA
This game is a good game. The tricks are amazing and the graphicks are good. The only problems with this game are that the game gets a little boring after a while and there is no 2 player free ride. I did free ride all the time with my brother in Tony Hawk's Pro 2 and 3, but if you like to play by yourself this game is for you.

one of the best biking games, November 26, 2001
Reviewer: A 12-year old gamer from hemet,ca usa
This game is one of the best biking games there is. It still has the same stuff like tony hawks pro skater such as special moves. This game has ten different palyers you can be counting the two secret chareters. In all this is a very good game.

A REALLY GREAT GAME!!!, November 19, 2001
Reviewer: A 10-year old gamer from USA
mAT hOFFMAN'S pRO bmX IS a really cool game. the cool things about it are: you can be 5 Or 6 different riders, there are cool levels, each rider has thier own special tricks, and you can unlock new bikes. i think everyone should buy this game! you can unlock 2 secret characters. heres a tip: start a game in any mode with any character, then keep restarting the level abot 10 times.

then the game should say : "you ride like a granny" then choose end run from the pause screen and go to the rider select screen. there shold be an old lady that you can choose as a playable character

this game is wack, September 27, 2001
Reviewer: A gamer from Somewhere USA
this game looks like an old bad ps1 game and isn't any fun

BEST OF DA BEST, August 26, 2001
Reviewer: A 12-year old gamer from Parma, MI USA
I don't care about what everyone else says, this game is truly awesome. It's packed with tons of tricks and moves to pull off on Mat Hoffman's park. Play in career mode to earn 7 more coures. If those get boring (which they certainly won't) build your own dream park. I read a review, recently written by a guy who pulled off a combo of about 30,000 pts. Not to brag (although I am) I, within 2 weeks of playing the game, pulled a combo worth 40,380 points. This game has the same game engine as Tony Hawk's Pro Skater so aside from using bikes instead of boards, differents tracks, and different riders, it is basicly the same. Lookin' for a BMX game? No doubt this is the one you should buy.

The Best, June 21, 2001
Reviewer: A gamer from Seattle, WA USA
Tis was the best game i have ever played , it is interesting , fun , cool , and its just awesome. It was a great idea to make another game like tony hawk pro skater and I think this game was a lot better.