PS Game Home - Basketball Games:
NBA ShootOut 2003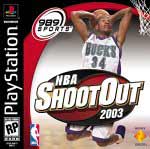 BA ShootOut 2003
by Bandai

Platform: PlayStation
ESRB Rating: Everyone
ASIN: B0000690ZC

Check price @ amazon.com , amazon.ca , amazon.co.uk


Features:
• TV-style presentation
• Commentary from Ian Eagle and Bill Walton
• 6 modes of gameplay
• 18 one-touch player controls
• Total Control Passing feature

Amazon.com Product Description: NBA ShootOut 2003 replicates the NBA with a lifelike TV-style presentation, complete with a two-man booth made up of Ian Eagle and Bill Walton. There are six modes of gameplay, including exhibition, season, and playoffs. There are also 18 one-touch player controls, including screen, auto defend, pump fake, and special dribble. Lifelike player motions are the result of more than a dozen NBA stars being motion-captured in all aspects of the game, including dribbling through traffic, passing, shooting, and performing more than 50 signature dunks.

Customer Reviews:
Great game, October 8, 2002
Reviewer: A gamer from Newcomerstown
Good graphics for a ps1 game but it is even a lot better on the ps2. It has a great career mode. It is definitely my choice for playstation but on ps2 it is Nba 2k3.