PS Game Home - Basketball Games:
NBA Shootout 2001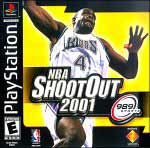 NBA Shootout 2001
by Sony Computer Entertainment

Platform: PlayStation
ESRB Rating: Everyone
ASIN: B00004U4RD

Check price @ amazon.com , amazon.ca , amazon.co.uk


Features:
• Redesigned game engine and controls
• 29 NBA teams, with updated rosters
• More than 400 motion-captured animations, including 50 signature dunks
• Team-specific playbooks, with over 450 plays
• Gameplay modes include exhibition, tournament, NBA All-Star Game, NBA Playoffs, and NBA Finals

Amazon.com Product Description: NBA Shootout 2001 returns to the PlayStation with a redesigned game engine, more than 400 motion-captured animations, and an enhanced TV-style presentation that features commentary by New Jersey Nets broadcaster Ian Eagle. All 29 NBA teams are included, along with NBA playbooks, NBA arenas, and the NBA All-Star Game, NBA playoffs, and NBA Finals. Touch Shooting and Advanced Dribbling Control allow for more precise gameplay. Players can create athletes, plays, and customize their dunking style. Up to eight players can get in on the action via the separately sold Multitap accessory.

Customer Reviews:
989 tosses up an airball, January 7, 2001
Reviewer: A gamer from MA

I have never played a game in the Shootout series but have heard they are all similar. Well then they must all be bad. 989 Sports may want to know that most nba players do not shoot granny shots, because besides dunks that all they do in this. If you play on rookie mode with the option of keeping the score close on , there will be a 35 point difference at halftime. Thr create a player and dunk modes are awesome ,but with the option of creating a dunk why didn't they include a slam dunk Contest. Shootout yes Shootout is also missing a 3 point shootout. If you have PS2 wait for live. If you do not, but do have PSX get live. If you must rent this.

Okay, but similar to the rest, November 4, 2000
Reviewer: A gamer from somewhere in L.A.
This game is pretty good, first of all. But if you have 2000, then there's no use in getting 2001. The graphics ar just a very little bit better, and the game still has the hundred some slam dunks, which is cool. Has no new features or anything amazingly attractive, but still a good game. I only reccommend it if you don't have 2000.