PS Game Home - Basketball Games:
NCAA March Madness 2000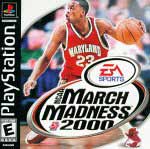 NCAA March Madness 2000
by EA Sports

Platform: PlayStation
ESRB Rating: Everyone
ASIN: B00002R28E

Check price @ amazon.com , amazon.ca , amazon.co.uk


GameSpot Review: NCAA March Madness 2000 does so many things right that even video-game basketball fans who have never cared about college sports should give it a try. The control, AI, and overall presentation is top-notch. EA Sports has completely outdone itself with March Madness 2000, since the game offers more options and features than even NBA Live 2000. The game offers so much for fans of college ball. For starters, it has more than 150 Division I teams, 16 women's team, plus 20 of the greatest college basketball teams ever, including the '64 UCLA Bruins, the '83 North Carolina Tar Heels, and the '91 UNLV Runnin' Rebels. In all, the game features more than 200 teams, each of which has specific playbooks, styles, and fight songs. You can take any of the teams through the tournament or go for a quick game. The game's dynasty mode lets you take the same team through several seasons, recruit players from all over the country, and red shirt your players. There's an overwhelming number of other team-management features, the most notable being the sheer number of plays you can call. One of the greatest things about NCAA March Madness 2000 is how you can adjust just about every single setting - from the game's overall speed to the difficulty of making a basket. Being able to tweak so many of these settings may seem like overkill to casual fans, but for hard-core basketball fans it means being able to set up the experience exactly how you want it. Playing the game feels similar to last year's title, although the addition of what EA Sports calls "dynamic ball control" really changes how you the game. Moves like crossovers, stutter steps, and spins that had been assigned to one button have been broken up so that you can perform any specific move at any moment. This, of course, takes some time to get used to, but when you do, the level of control over the ball handler is unprecedented. The AI of the computer-controlled teams makes mistakes and misses shots on the default difficulty. But on the game's hardest setting the computer makes sound decisions - but it isn't perfect. Every so often you'll see the computer run out of bounds for no good reason, regardless of the difficulty setting. Either way, March Madness 2000 breaks the tradition of making a game harder by simply letting more baskets fall for the computer. March Madness 2000's presentation is of the highest quality. The game's frame rate runs at a nice, consistent 30 frames per second. Player models vary enough to give everyone a little bit of a different look so that the centers have taller, bigger bodies without looking like giants. All the basketball courts look fairly accurate, with all of the home-team's garb hanging from rafters and tables. In the audio department, March Madness has so much going on that if you crank the volume up loud enough it really does sound like a college game. The crowd has a constant droning roar that explodes into cheers and stomps when the home team scores. Plus, various fight songs erupt, as well as general big-band samplings. Dick Vitale, if you're a fan of his style, really adds excitement to the game, although his "Awesome, baby" gets old after awhile. Overall, if you're a fan of college hoops, you really can't go wrong with March Madness 2000. The game controls well, looks good, and, most importantly, it's a whole lot of fun. For fans of last year's March Madness who are wondering if this year's title is different enough from last year's to warrant a purchase, the answer is yes, it most definitely is.--Ryan Mac Donald

Customer Reviews:
College Basketball fans stay away, March 25, 2002
Reviewer: A gamer from Illinois
The game is to unrealistic. I play the pro basketball games and they are much better than this. First, there are only some mid-majors. The odds are if your team isn't a major school it wont be on there. Second, it is to unrealistic. You can be Howard and beat Duke by 20 even if it's your first time playing. You just go in for the steal and slam it and score. If you fail to steal you can just block it. If you try to drive the lane using back turns and crossovers the player just runs right out of bounds. They make it way to easy to shoot. If you play 20 minute halves you will find yourself with 70-80 points at halftime. On the other hand, the commentary is good and it is the only place with women's action. I would NOT recomend this game.

March Madness it's unbelievable for Playstation, March 9, 2002
Reviewer: JerrodBell from jackson ms
March madness 2000 is an okay game for ps one. What makes it worth buying if you have a psone is it's one of the last college basketball games for ps one, has 150 teams to choose from. It's only a psone game this game can only be so good. It has 16 womens teams and other features. A good ps (one) game............ the end

This gamw rocks, March 23, 2001
Reviewer: Kevin from Wisconsin
I think this game rocks its hardcore basketball all in one. I have read many reviews and everyone said they hated it but and say the computer blocks all the shots in the paint- Try a move!!! duh. and I think they just do not have a good stragete you have to have game plan heres a tip!!!! Get it up court before the defence gets back. well I think this game is a must buy its not like NBA LIVE 2000 where you womp everyone its a challange so Get this game

March Madness 2000 Review, May 21, 2000
Reviewer: A gamer from Atlanta
I think that the folks at EA Sports should just take the same program they use for NBA LIVE 2000, and change it for College Hoops. It's great that Dick Vitale was on their, however, the problem that I have with the game is I'm so use to using my Analog Controller on my other games, I was very disappointed you can't use it on March Madness. Second of all, it's not good that you can't even bring the ball across half court without it getting stolen, and then you have a wide open jumpshot get blocked. It's not as good as March Madness 1999.

three s game super sentalating sensatinal baby....., March 21, 2000
Reviewer: A gamer from Louisville, KY
I just recently purchased a playstation. I have been playing n64 for the last two years. It was the unavailability of this type of title that shuved me toward buying a playstation. If you have never played a game with multi season option you must because it makes a world of difference in how often you want to play it. The only flaw I see is the anouncing can be repeatative if you play the game as much as I do. WELL WORTH THE MONEY!

It'll get you to the big dance, but..., February 12, 2000
Reviewer: A gamer from Missouri
I rented it first. It wasn't nearly as bad as I expected. Infact, I rather enjoyed it. First, the bad: The graphics, as with mostEA Sports titles, are about three years behind the rest of the market. I don't know why they insist on doing this because it always makes a great game just good and a good game just average. Recruiting, a feature that has really improved their football titles, is a big pain in this game. Now the good: Difficulty options. There are so many ways to customize these settings that the game can be ultra hard or ridiculously easy for younger players. Multiplayer on this game is about as good as it gets. It places emphasis on communication and teamwork, unlike the Live series which is more or less a free for all. I like this game because of its quirks. They give it a feel you can't find elsewhere. It isn't polished or refined the way Live is. That allows it to be exactly what it is: a good college hoops game, not a smaller version of an NBA title. I feel like anyone who enjoys the differences between the college and pro game will probably like this game.

MARCH MADNESS 2000, February 10, 2000
Reviewer: A gamer from NEW ORLEANS
Who creates this game? Because let me tell you this game has not made any improvement over the last 4 years I think it's getting worse. First of all the back ground is horrible, you can't even read the stats.Second of all where are all the other conferences such as the sunbelt and so fourth. It is not callenging. I took the worst team to the final four the first time I played it. I think NCAA football creatures should get together, and use the same concept as they did when creating NCAA football. I will never buy this game again.

This game is good., January 15, 2000
Reviewer: A gamer from New Compton, California
So you didn't take the time to look into the games options to see most statistical aspects are able to be tweaked to your liking. Or that if there are a bit too many blocks for your skill level, you might want to play a lower level. One thing: This game is very good. I didn't like the camera settings, at first. Then I used a different television. I liked the camera angle. Its a game I like easily, just like many probably dislike it easily. If I've confused you, its only because I truly am confused.

Good Game...just get the lil guys in there, January 9, 2000
Reviewer: A gamer from Hartford, Connecticut
This is a fun game to play with excellent graphics and great plays. As a La Salle Alum I found playing with my team fun, though they didn't get the color right on 2 of the characters. The crossover dribble and fakes take a lil while to learn but can help you win effectively. You can beat up on some of the lower end teams, even with a middle of the pack team like La Salle or Santa Clara. The Senior level is adequate for a while but can be beaten as well. The addition of more teams is great, but adding in all of the D1 teams would be the best addition to 2001.

Not a very good game, January 7, 2000
Reviewer: A gamer from Columbus
I love every EA sports game I have ever picked up, except this one. I can't understand how the same company can produce the greatest basketball game I've played - NBA Live 2000, and the worst - this one. The graphics are sub-standard, the game play is not smooth, some of the controls don't always do what you want them to. On anything above the lowest difficulty level, the computer will block every shot you take in the paint.

I am very frustrated by this game. I think I may trade this in for Final Four 2000 by 989 sports. I usually don't like their games, but it can't be any worse than this one.