PS Game Home - Basketball Games:
NBA In the Zone '99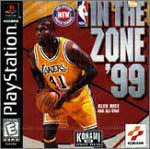 NBA In the Zone '99
by Konami

Platform: PlayStation
ESRB Rating: Everyone
ASIN: B00000IRD8

Check price @ amazon.com , amazon.ca , amazon.co.uk


GameSpot Review: If head coaches have nightmares, they probably look a lot like the games played in NBA In the Zone '99. Although this PlayStation game offers crisp graphics and a few new additions, its highly questionable AI makes offense a breeze and defense a joke at all difficulty levels. Those coaches who stress that defense wins ball games may want to stop reading here.

From a features standpoint, this game matches up evenly with its competitors. Aside from the expected exhibition, season, and playoff modes, the game also has a three-point contest and a new-to-the-genre slam-dunk competition. The three-point tournament requires quick reflexes: You match a rising cursor with a "hot zone" that shrinks as the competition goes on - mildly fun, if a bit on the easy side. Oddly, the size of that "hot zone" isn't determined by a player's season shooting stats, which would've made more sense. The slam-dunk competition is a disappointment, as success depends on memorizing and regurgitating random button sequences. It would've been more appealing if it injected reflex-testing gameplay into the mix.

This game also delivers plenty of now-standard game options: everything from an extensive create-a-player menu to a choice of ball color so you can see it better. It also has updated 1999 NBA rosters, except for several notable late trades (such as game endorser Glen Rice's move to the Los Angeles Lakers).

The well-drawn graphics are perhaps the game's strongest point, especially in the dunks and instant replays. Nifty animations for knocked-down players and slingshot passes add visual flavor. Like the Nintendo 64 version, it offers a fully adjustable camera that zooms and tilts to offer the best view, which helps tailor the game to any gamer's preferences. While sparse, the stadium commentary by ex-Chicago Bulls announcer Ray Clay makes the grade.

However, no matter how good a game looks, it's the AI that makes or breaks a basketball game. Sadly, players will quickly see instances of gameplay suitable for a hoops-themed sequel of Dumb and Dumber. On fast breaks, the computer pulls up even though it has numbers. On scoring drives, the computer passes or freezes despite having a wide-open lane to the basket. The computer refuses to foul late in a game and goes for two points even though it needs three to tie - even during playoff games!

It gets worse when it comes to defensive AI, which can be most colorfully described as chickens with their heads cut off. Players run in circles and refuse to offer help when a teammate's burned - they won't even turn to watch the basket scored on them! Plus, the computer rarely misses at tougher difficulty levels, so solid defense isn't rewarded. Fortunately, the AI is horrible at defense against human players, so it's possible to rock the computer's world with a good three-point shooter such as Reggie Miller. This essentially turns games into offensive clinics, with plenty of dunks and easy shots - fun that's hardly real and gets tired quickly.

The laundry list of AI flaws extends to one innovative yet ineffective gameplay nuance. When players meet, they get into a lock-up animation as they push for position. It's possible to use this animation to push a computer dribbler out of bounds, or prevent a player from stymieing the AI. It's effectively legal holding, which doesn't seem fair.

Rather than offering extensive playbooks as in the Nintendo 64 version, the game gives wannabe coaches generic play sets and team-strategy meters. The latter tells the computer players if they should focus on fast breaks, defense, rebounding, and so on. If that weren't enough, you can adjust the degrees of defense on individual matchups. Although the play sets help to a degree, the team strategies and individual defense options seem to have no effect on altering the already shaky AI, reducing whatever usefulness they may have to spicing up gameplay.

If players are willing to forgive its various AI flaws, NBA In the Zone '99 may have some multiplayer value. But with so many smarter, better-playing NBA video games available for the PlayStation, it's hard to recommend this one, no matter how good it may look. --Nelson Taruc

Manufacturer Description: This classic NBA title is back and improved with all new AI. Alone or with friends this sure to be a slam dunk fest. Choose from your favorite all-star players and enjoy the real life rivalaries. Actual player attributes and signiture moves but you in the middle of the NBA action. Take it strong to the whole and let the trash tallking begin!

Customer Reviews:
In your face NBA action., April 18, 2001
Reviewer: Andy Urtz from Oneida, NY USA
This game is the best NBA game yet. I like being able to make the ultimate team witt all your favorite players. It awesome to make make a player who can destroy any competition. The real attributes can be a little off. Like Shaq scoring all his free throws, even though everyone knows that Shaq isn't good enough to make all his free throws. Other then that, this game is the best.

100% PERFECT!!, March 16, 2001
Reviewer: Matt Muzzy from Lincoln Park, MI USA
This game is the greatest B-Ball game ever. Like every other Sports Game I have it contains high scoring. I was Detroit the PC Milwaukee. I won 426-101. Although a lack of competition I still like the scoring.

I was heading to the playoffs with Chicago but then had a 8-game losing streak. My record was 19-12 after the streak but then rose to the occasion and finished 52-20. In that span I went 33-8 and took the Bulls to the Finals where they lost to Utah in 5 games (1-4) OVERALL:65-28 so I am pretty good at this game.

I like creating myself (Matt Muzzy) with super attributes and I average 100+ points a game with me. (Highest 149)The rosters are nice and the graphics are great.

All I am saying is that this is a great game.